A waterfall packed hike in SW Washington. Beautiful views, but there is one big downside….
This is a hike that has been on our list for a long time. It's one of the hikes featured in 60 Hikes Within 60 Miles of Portland. It's an easy 6-mile trail that parallels a river and includes multiple waterfalls. Sounds great, right? The only problem, it's nearly 2.5 hours away. That whole 60 miles thing might not apply for this one.
Once we arrived it was a great little hike. A fairly easy trail, with a very mild uphill on the way on way in and great river views the entire way. I was expecting to be right next to the river the entire way, but instead the trail follows a ridge above it. The views are great, but it is too dangerous for toddlers to walk around, we had to keep her in the backpack until the third waterfall, where we took a break for some rock throwing on the river's edge. It was warm the day we were there and there were lots of people swimming and playing in the water, especially near the lower and middle falls.
On the day we were there, a section of the trail near middle falls was closed, so we had to take a detour up to the middle falls parking lot. It added a little climb in, but nothing too serious as far as distance or difficulty.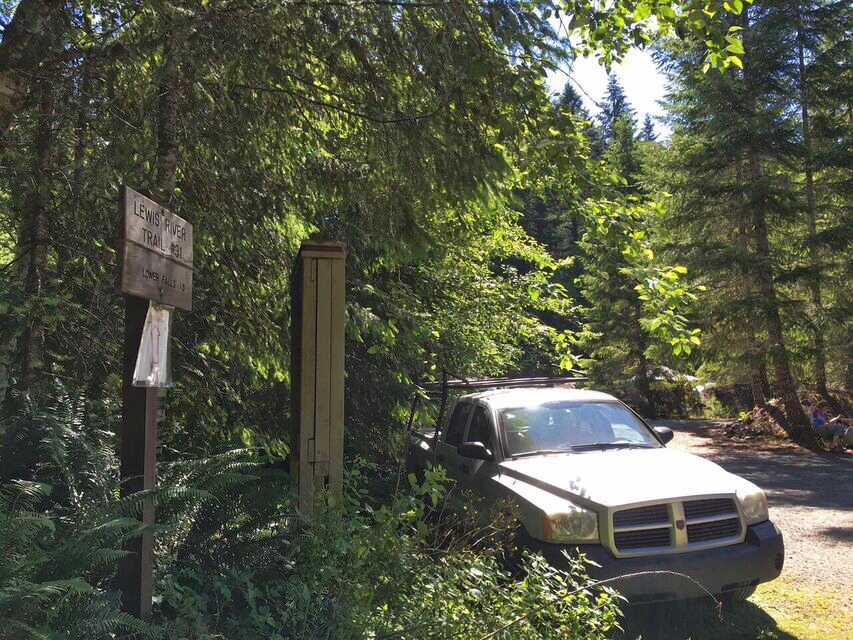 The only unfortunate thing about this hike is the driving distance. I probably won't do it again unless we decide to camp in the beautiful campground at the trailhead, because it is a pretty long way for a 6 mile hike. There are two ways to get there: drive east through the Columbia River Gorge to Carson, then head north for about an hour or drive north from Portland to Woodland then go east, driving about 45 minutes past Cougar. The drive is beautiful, but it's long and slow.
The hike starts from the Lower Falls Campground. Which is a beautiful campground in a forrest of tall evergreens. I would really like to camp here someday. It would be a great spot for a hot august day with lots of shade and a river full of swimming holes. Bottom line: this is a nice hike, but a long way to drive. Happy trails!
LEWIS RIVER FALLS HIKE
6-MILES
DIRECTIONS TO TRAILHEAD HERE.