A quick stop at an old-fashioned soda fountain for an ice cream sundae, plus my lament about the busy days of summer.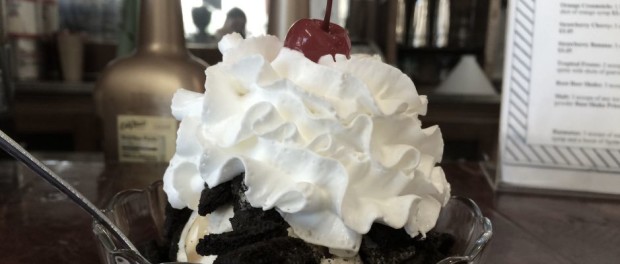 I feel like I've entered the final straightaway of summer. It's a race to finish with every weekend packed and weeknights filling up fast. Swimming, peach picking, bike rides, BBQs, river floating, hiking trips. Can we squeeze it all in? I feel the pressure mounting each night as the sun goes down earlier and earlier and rises later and later. (I have a baby so I frequently get up before the sun.) It's exhausting, but I'll rest in October. I'll rest when football season begins.
So yesterday I made a little time for some ice cream. There should always be time for ice cream right? So we stopped at the soda fountain inside Fairley's Pharmacy. They don't make places like this any more. (Ok, actually they do it's called the Dime Store and it's downtown). But this place has history. It's more than 100 years old. We sat at the counter and ordered a two topping sundae . It was made with Umpqua ice cream, chocolate chip cookie dough, caramel sauce, Oreo crumbles, whip cream and of course a cherry. It was way too much for me and I felt a little sick afterwards but it was worth it. Hope you're enjoying the summer too.
FAIRLEY'S PHARMACY & SODA FOUNTAIN
7206 NE SANDY BLVD
M-F: 9AM-6:30PM, SAT: 9AM-3PM