Portland Plates: Peach & Cherry Stone Ice Cream
Skip the long lines, make your own Salt & Straw at home!
Holy cow. It's hot again here in Portland. I live in an old house in NE Portland, which I usually love, but in the summer…. ugg! I get a little stir crazy because we all end up huddled in the bedroom, where we have our one AC unit. We tried to put in a second one in the baby's room, but it blew out all the power.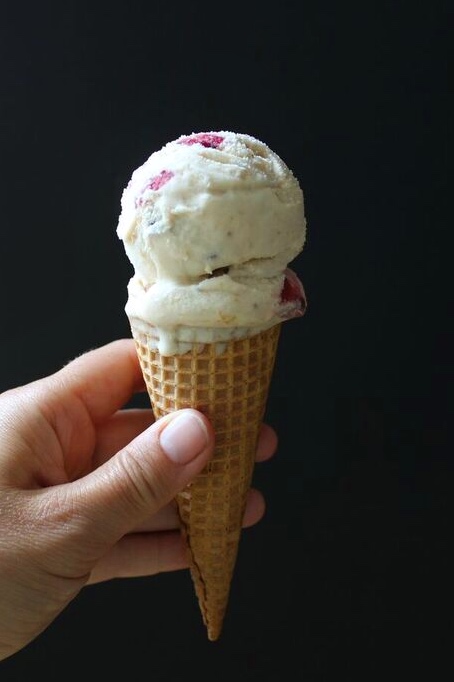 In an effort to beat the heat, I did make some ice cream! I do not have the patience to stand in line at Salt & Straw, so I decided to make it at home. They have ONE RECIPE online (that I've been able to find) and it's great! Peach & Cherry Pit Ice Cream. I know you are imagining a cone full of teeth breaking cherry pits, but don't worry, they are just used for flavor then strained out.
A couple notes: I only quartered the fresh cherries, but I find them a little too big, so I suggest cutting them a little smaller. Xanthun gum is kind of expensive but I did find it in the bulk section at Winco and Bob's Red Mill if you want to buy just the tiny bit this recipe calls for.
Peaches are in season, so get to it. Happy churning!
Peach & Cherry Stone Ice Cream
2015-07-15 19:16:40
A recipe from Portland ice cream giant, Salt & Straw
Peach Ice Cream Base
1 1/2 cups Heavy Cream
1 1/2 cups Whole Milk
1/2 cup white cane sugar
1/4 cup brown sugar
1/4 cup corn syrup or tapioca syrup
3/4 tsp. xanthan gum
1 very ripe peach, skinned and puréed
10-20 dark sweet cherry stones, save the cherries
To taste: salt, amaretto, cinnamon, chopped walnuts
1 additional Tbs sugar
Ice cream base
To prep the cherry stones, crush them by beating them with a rolling pin.
Prep the sugar, brown sugar, salt and xanthan by gently mixing them together.
Pour the milk in a pot, whisk in the sugar/xanthan mixture and add the cherry stones.
Add the corn syrup.
Heat the milk stirring constantly until it thickens and the sugar is completely melted into the milk.
Strain the cooked milk mixture through a mesh strainer to remove all of the cherry stones. They'll add a really pleasant flavor to the milk.
Add the cream, peach purée, salt and if using, amaretto, cinnamon and/or chopped walnuts. Cool this ice cream base in a refrigerator for 12- 24 hours.
Churn the ice cream
To start, chop the saved cherries and toss them in 1 Tbs. sugar to macerate them; this will loosen them up a bit and make them even yummier mix into the ice cream.
Freeze the ice cream using your ice cream machine's instructions.
Churn the ice cream until it is a soft-serve consistency.
Fold the cherries into the ice cream and package into container.
The ice cream is ready to serve in the soft state or can be frozen overnight to get a scoopable texture.
Note
Winco, Whole Foods and Bob's Red Mill carry xanthan gum.
Cherry stones in large quantities can be toxic. This recipe is not dangerous but just so you know…
Adapted from Salt & Straw
Kristi Does PDX: Adventures in Portland, OR https://kristidoespdx.com/