A short hike with a big payoff: a suspension bridge! Check this one out on your way to the coast.
I've been trying to get to this hike for a couple years.  It's in my favorite hike book, 60 Hikes Within 60 Miles: Portland, but I think 60 miles is really stretching it.  The trailhead for this one is nearly in Lincoln City!   So I've been waiting for the day when I'm driving to or from the coast and had a couple hours to spare.  Luckily, that day came this weekend.  I was working the Amazing Race casting call at Chinook Winds and got to leave earlier than expected, so we decided to stop on our way home.  The weather was beautiful, and we wanted to take advantage of it.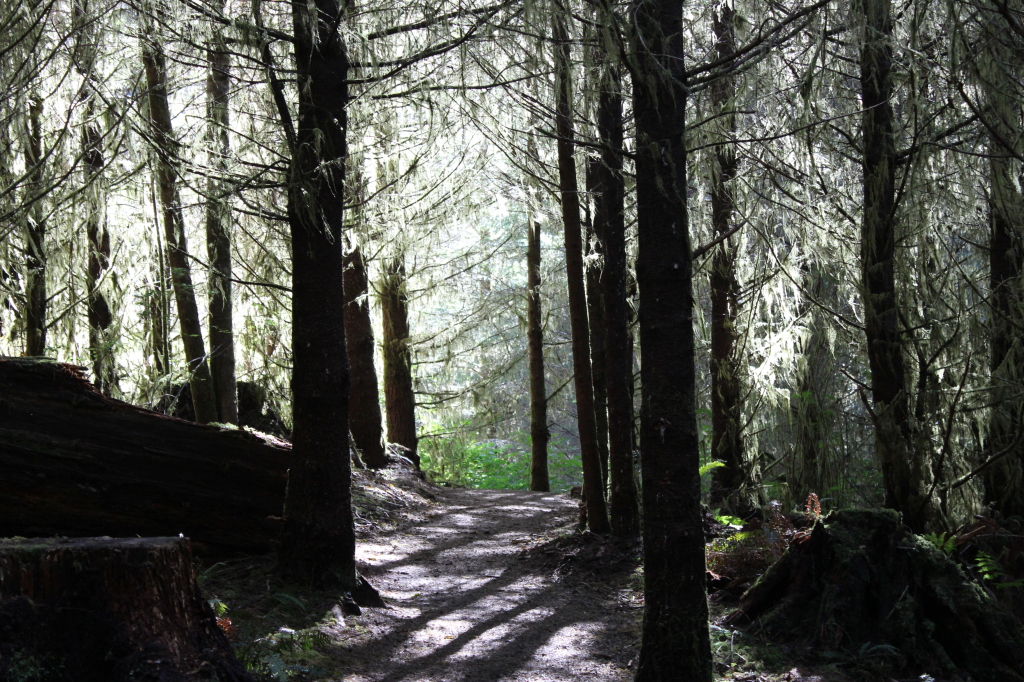 At 3 miles round trip, this was just about the perfect length for me, as I head into my seventh month of pregnancy.  As hikes go, it's pretty tame, but has one big attraction that draws the crowds… a suspension bridge!  The suspension bridge is 1.25 miles in, you can turn around here, or continue down a little further for a view from the river bed.
 The trail is very wide, smooth and well-maintained.  Along with this pregnant lady, there were a few families with small kids and baby, so you can imagine it's not too strenuous, although I did break a sweat on the way back up.  I think you could easily do this hike year-round, the weather was great today but I bet it would be fine most of the winter as well.  Maybe just a little slippery.
As I said earlier, this is a great hike if you're on your way someplace else.  It's probably not worth coming all the way from Portland just for this.  But keep in mind it's a little bit of a drive off the main road.  The route is well marked but it's 10 miles off the highway on narrow winding roads, so it might take you 20 minutes each way.  But overall a great way to stretch your legs and have a little adventure on the way to or from the Oregon coast.
 Here are directions to the trailhead.  Happy hiking!