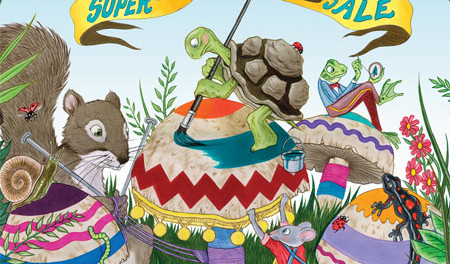 I've been going to Crafty Wonderland since the beginning. A few years ago it was a craft show in the basement of the Doug Fir. They'd hold it once a month, selling homemade jewelry, knitting, locally made clothes, journals and all kinds of other stuff. But then I'm not sure what happened, but it exploded. It was too crowded to even shop, there were lines out the door, the organizers got overwhelmed and they decided it was time to go big.
So they scaled the dates back to twice a year, and scaled up the venue to the Convention Center. Now it's held in May and December, and they fill an entire convention hall with people and vendors. It's called the Super Colossal Spring Sale and the next event is happening this weekend, May 11, 2013! They have been so popular they've even opened up a year round store in downtown Portland, they have a lot of great stuff in there but it's no where close to the selection at the big sale.
I think there is a common misconception about craft fairs. This is not the craft show you used to go to with your mom. You probably won't find macrame plant hangers, lace table clothes, or dried flower arrangements. You will find hats sewn from of recycled clothes, painting and prints from local artists, super cute baby clothes, and accessories for your iPhone and laptops. For men, there are cycling bags, belts made from recycled rubber, and manly scented soaps. Check out these Super Mario Decorations for your garden!
I always go to the Christmas show to buy gifts. It's a great way to find something fun and unique that you can't find at the mall. But it's always a little bit of torture, because at that time of the year, I can't justify buying stuff for myself and there is SO much I'd love to buy. So this weekend, I'm headed for the May edition of Crafty Wonderland to shop for me. I'm hoping to score a dress, maybe some new prints for my house, soaps… whatever strikes my fancy.
This time they're also having a special section just for weddings, if you happen to be planning a big day this might be a great chance to score some cool stuff! I would have been all over this when I was planning my wedding.
One of the best parts of the show, is simply inspiration. So many artists and crafty people with thousands of great ideas. Whether it's ideas for your wedding invitations, a t-shirt or a painting, you I always leave with my head and heart full of ideas.
If you have a few minutes free on Saturday, or just need a short escape from the hot weather…. swing my the convention center and check out Crafty Wonderland's Super Colossal Sale. It's FREE to get in and at the very least you'll leave there inspired to go do some crafting on your own.
CRAFTY WONDERLAND
808 SW 10TH AVE
PLUS BI-ANNUAL SALES (MAY & DECEMBER) @ OREGON CONVENTION CENTER