People travel from all over the country for this one: Goat Yoga! I took the class read on to fid out what it was like!
Yes! Goat yoga is a thing. And I did it!
A few weeks ago, my best friend and I loaded up the car and drove to Corvallis to spend an hour doing yoga in a tent with bunch of adorable baby goats. It was weird, sweet and surprisingly relaxing.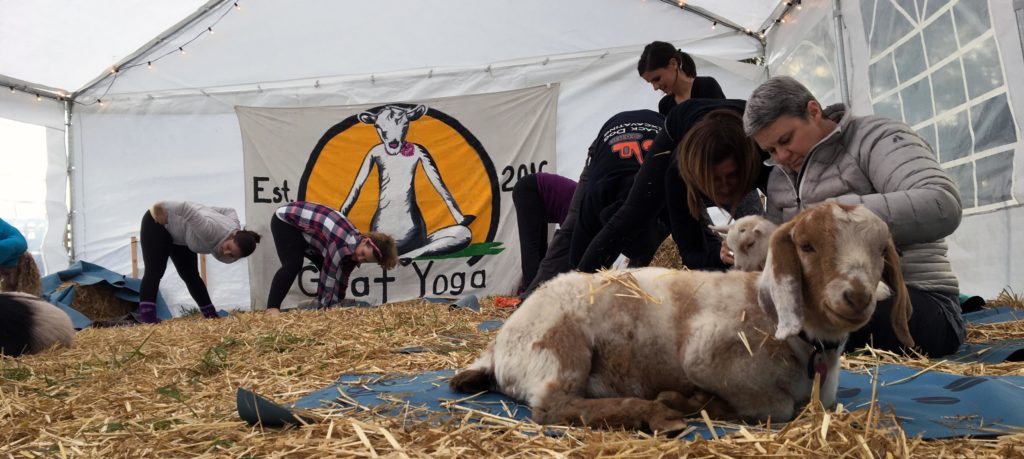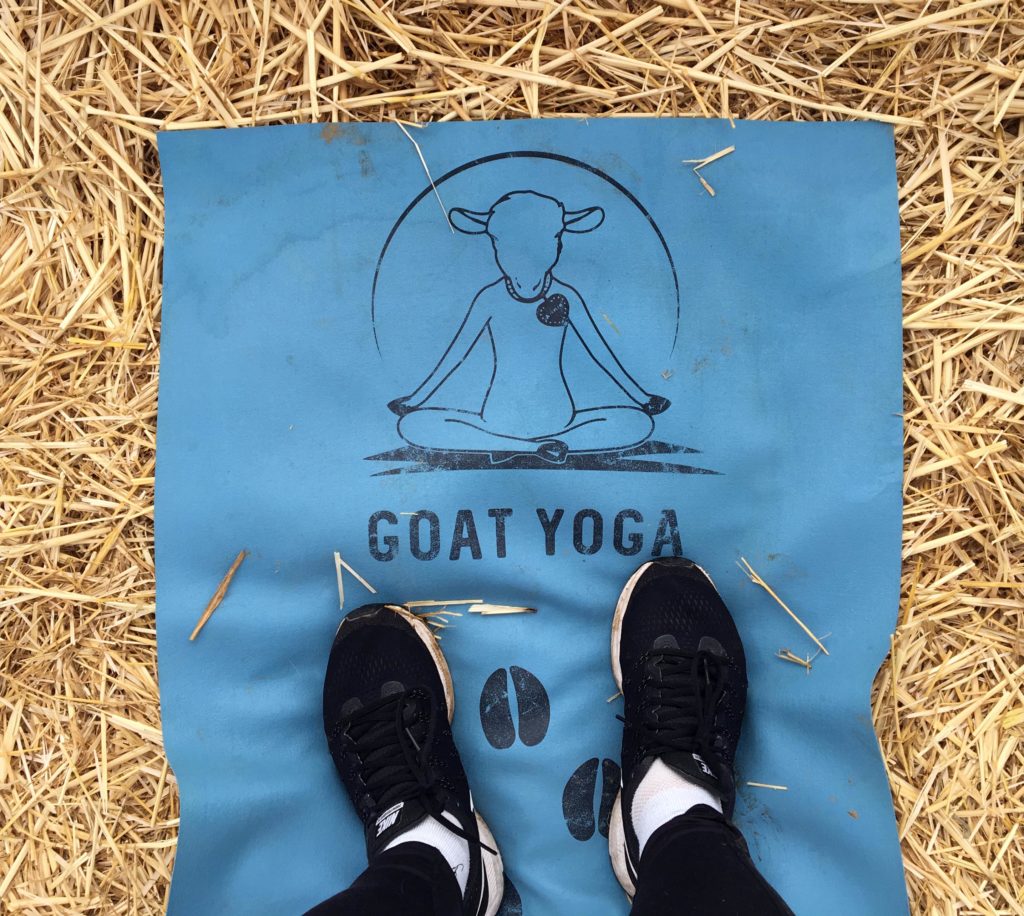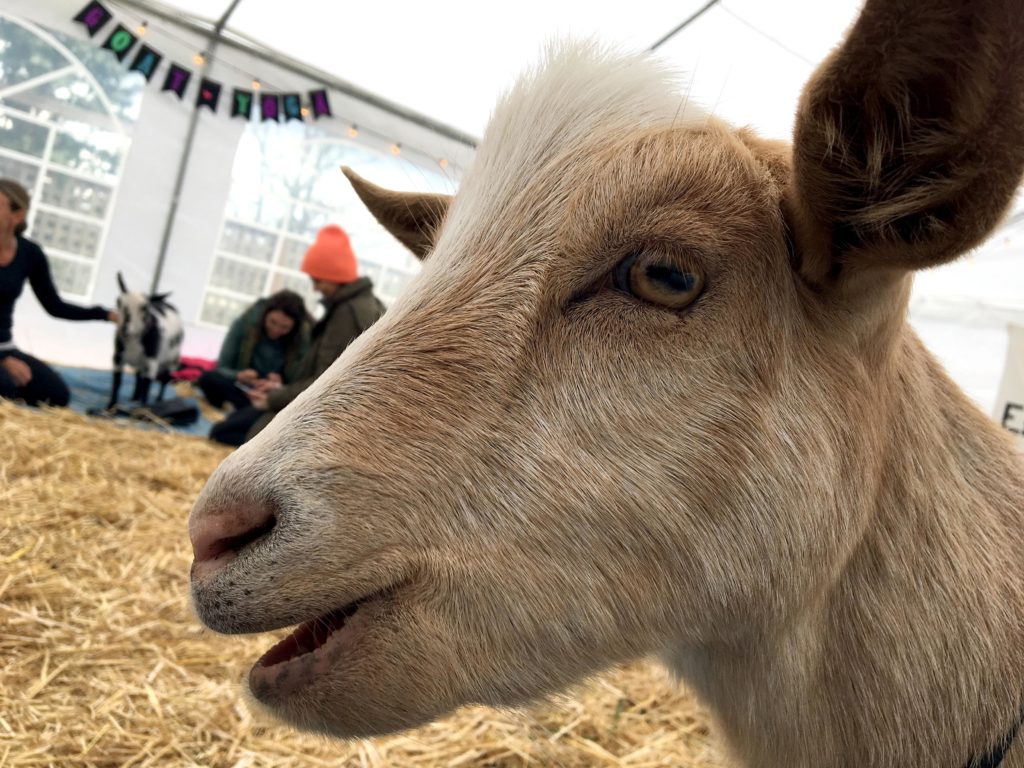 The event we went to was held outside of a bed and breakfast very close to the Oregon State University campus. (Although most of these are held in Monmouth) After checking in, we entered the tent and picked out some mats near the door. They provide mats for you, which is a good thing because there is a good chance your yoga mat will come in contact with some goat pee and/or poop. (Twice I narrowly avoided them peeing/pooping on me). All part of the fun!
While you wait for class to begin the goats come around for petting. There are about 10 of them and they love this. We just sat on our mats and they just walked up to say hello. All of them have collars with tags so you can get to know them by name. Most of them are very affectionate. Our friend Erin had little Poppi fall asleep on her 3 times throughout the class.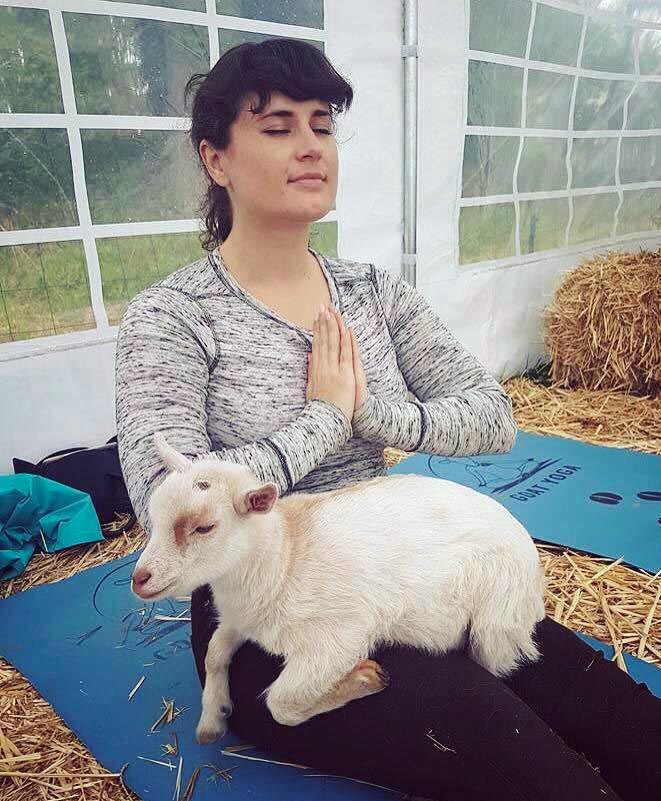 Once the instructor begins, she sets a great pace for class, making it clear that you should do what you feel like. Maybe it's yoga, maybe you want to take a breather and pet the goats. Let's be real, it's the goats that brought us all there, the yoga is just an added bonus. As for the yoga, she does a very easy routine standard positions. Someone who has never done yoga before will be FINE in this class.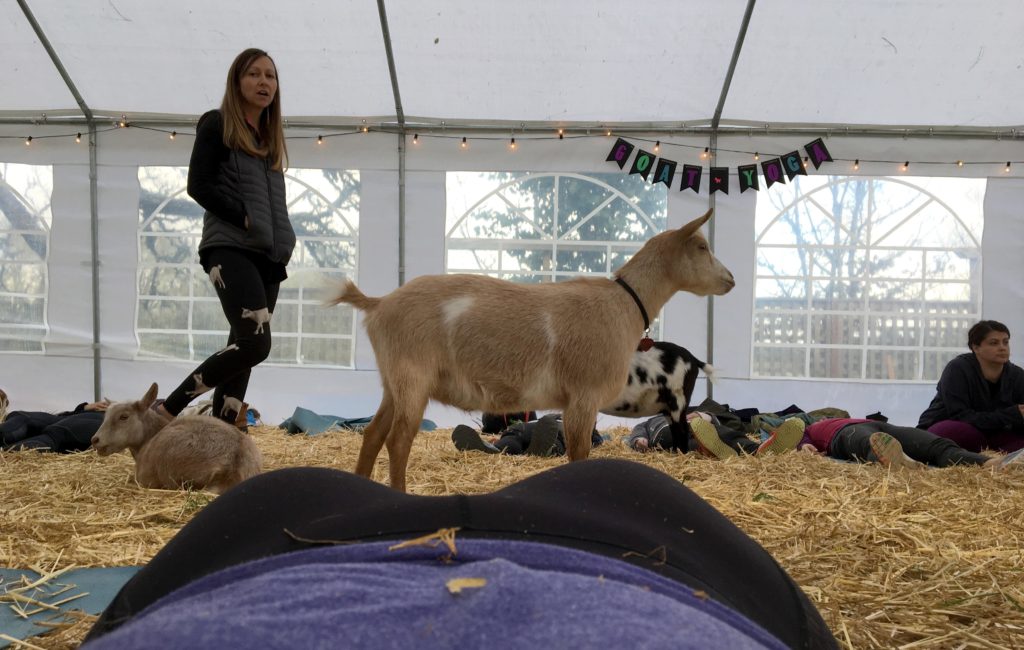 The class was about 45 minutes. One of the goats liked to stand on people while when they were in downdog or plank and it happened to me! Amazing! Basically the coolest thing that's ever happened to me in a yoga class.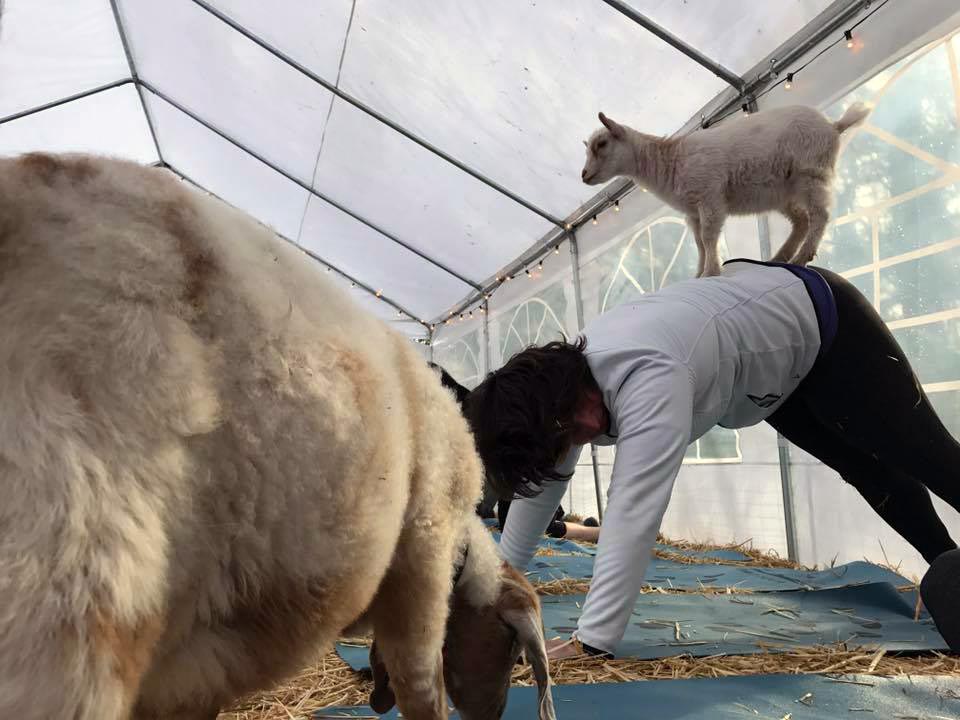 A few goats settled down for naps on the mats. There was a little goat fight at one point. I stopped about 20 times to take photos and so did most everyone else. Plus to keep the animals lively, they owners brought around treats a few times, so each person could be sure to have a moment with the goats.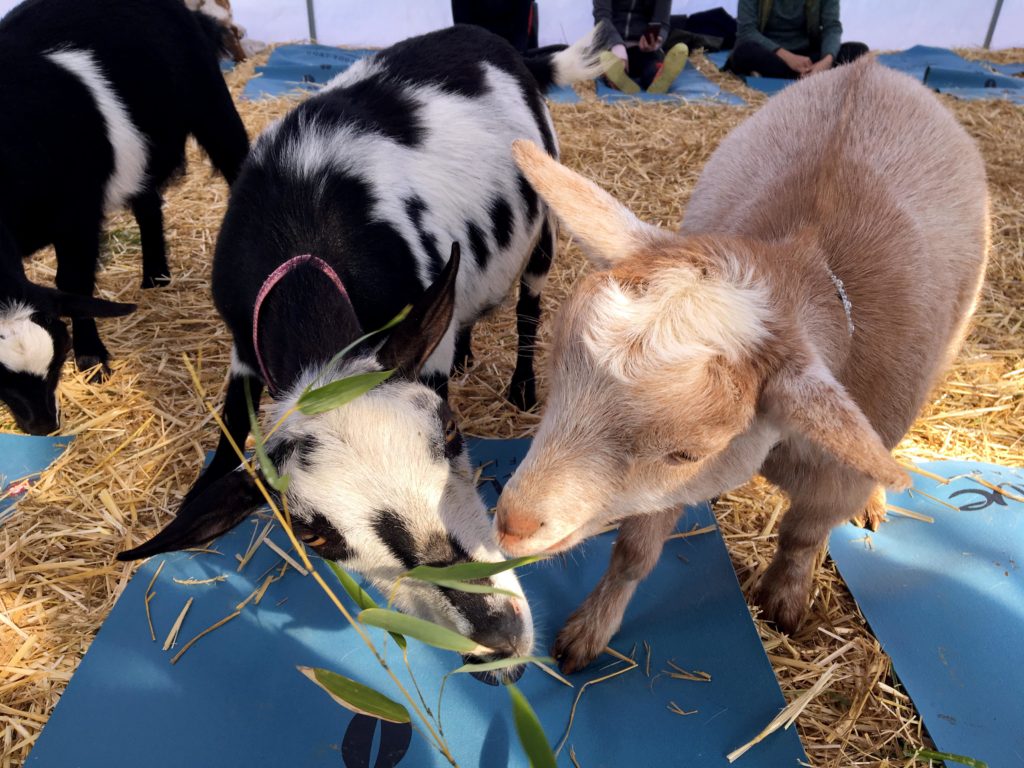 Overall the experience was fantastic. Everyone was smiling and laughing the entire time. We were there for a wine tasting day, so at the end we had even more time with the goats, while they passed around samples of Oregon wine. Altogether we had about 2 hours with the goats.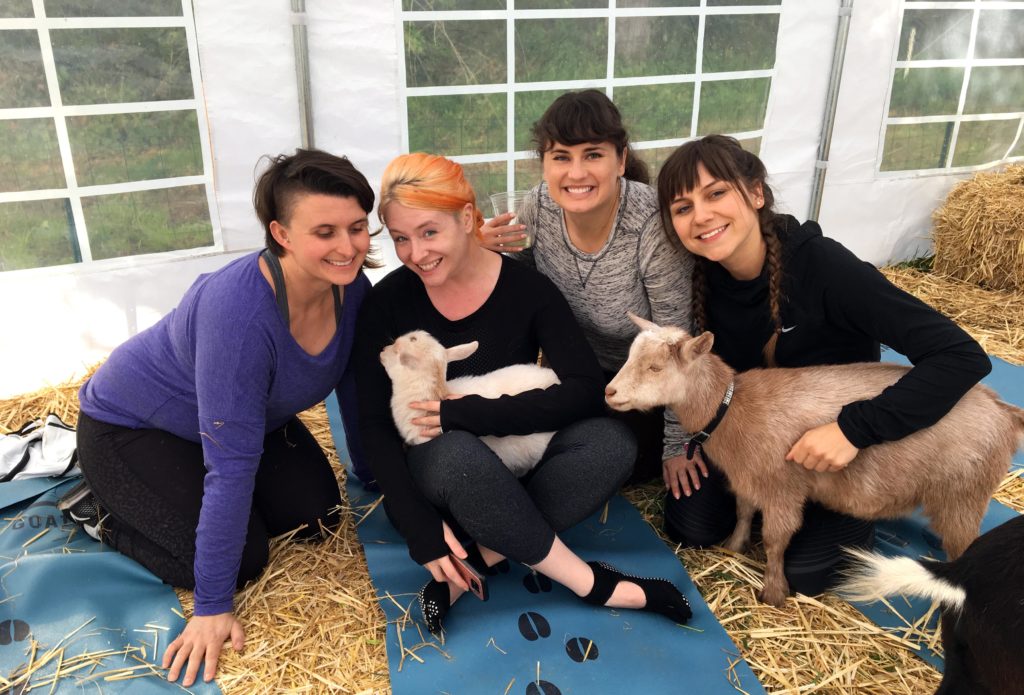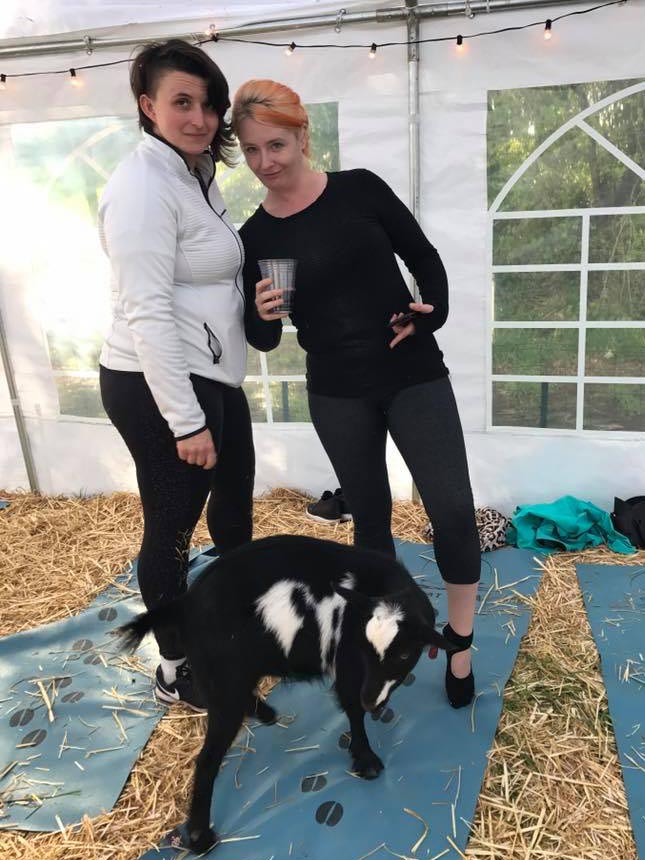 If you want to sign up, do it soon! I just checked and a lot of the classes are already filled for the summer. Most of the classes for the general public are on the weekend in Monmouth, but during the week they offer classes in Corvallis for students. Namaste!
GOAT YOGA
MONMOUTH, OREGON
SEASON MARCH-NOVEMBER