Riverhouse on the Deschutes
My report on our two-night stay at the Riverhouse Hotel in Bend, Oregon. What we all loved and why I really want to visit again during the summer. {Sponsored Post}
I don't know about you, but I love Central Oregon. The weather is beautiful and sunny, the high desert scenery is gorgeous, there are unlimited things to do outdoors plus an amazing beer scene. There has been so much growth in recent years that it's not hard to see why people are moving here in droves. A number of my own extended family members are included in that number too, so I was pretty excited when Riverhouse on the Deschutes asked** my family to come over and try out their hotel.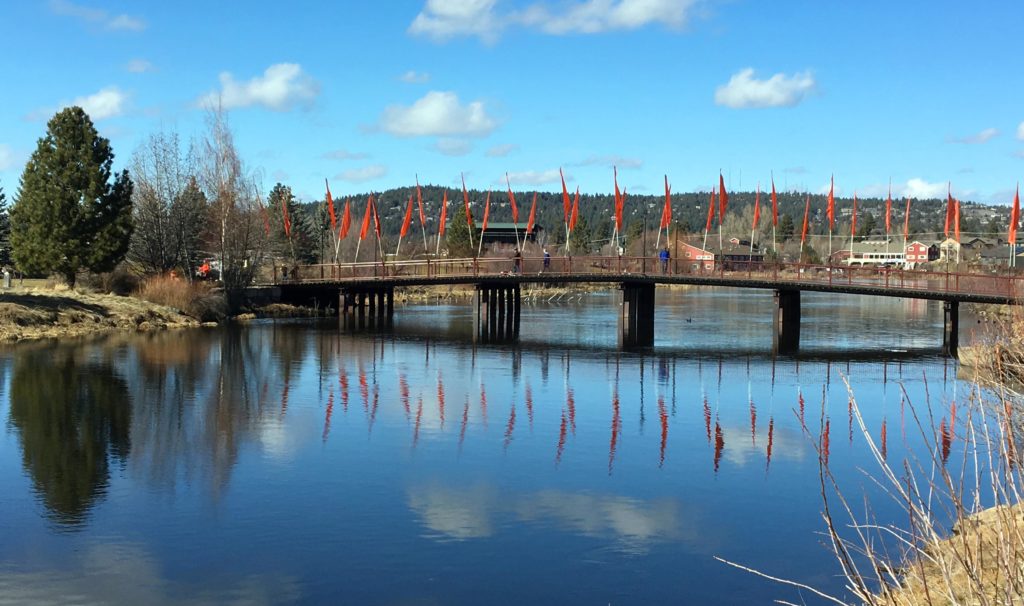 Before this, I had never heard of the Riverhouse, but I should have because it has been around for years. But don't let its age fool you, this place looks great, and is lots of fun for adults and families. The lobby and restaurant have had very recent upgrades, and the rooms are modern, comfortable and beautiful. During our two night stay, we tried out pretty much all of their amenities: ate in the restaurant, worked out in the gym and swam in the pool twice.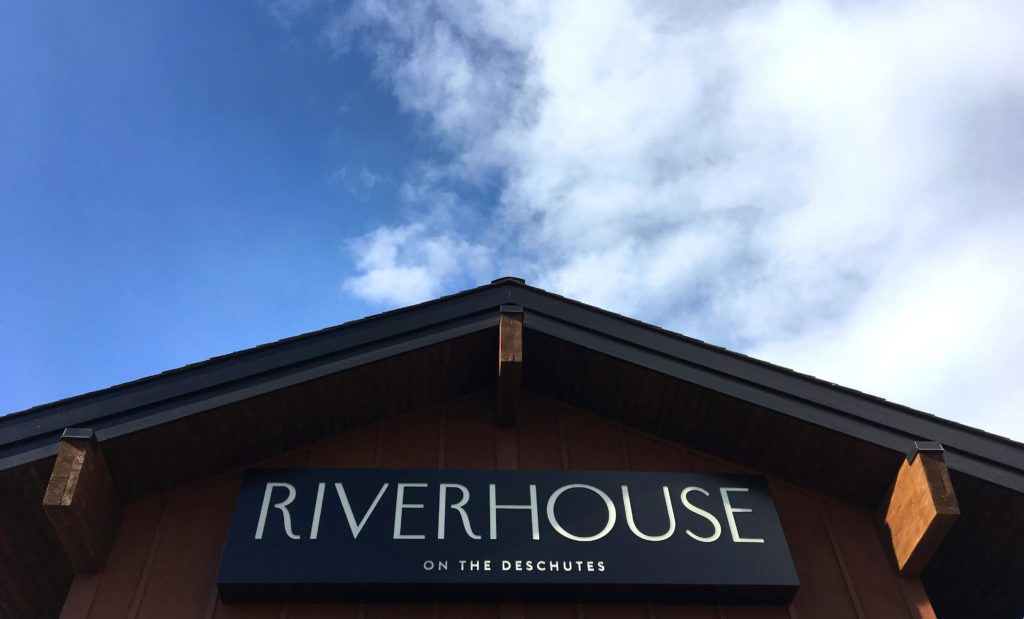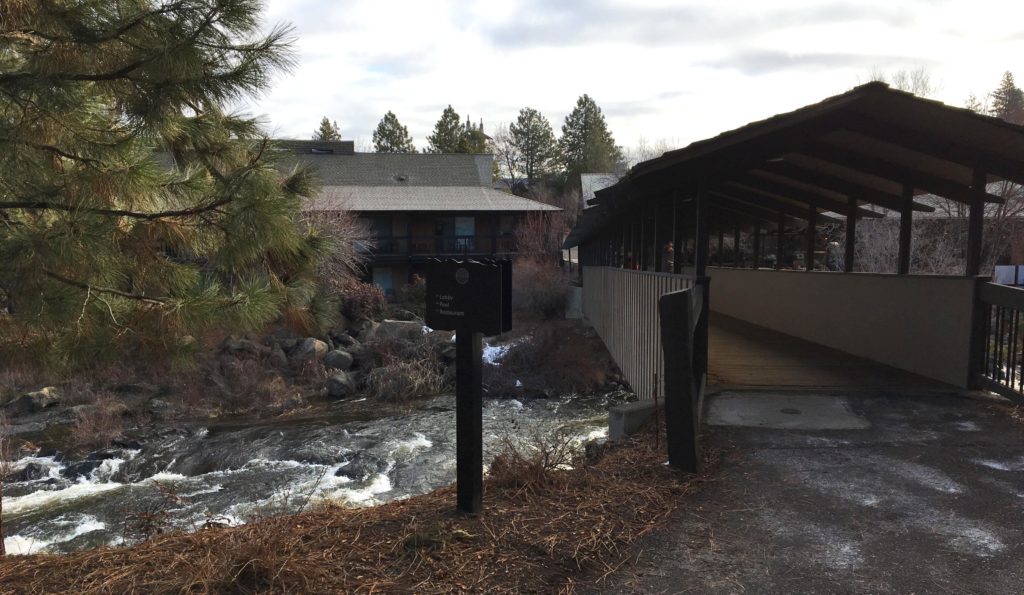 The best feature of the hotel is definitely the location. It's right on the Deschutes river. And I mean ON it. The river literally flows through the middle of the property, in fact half the hotel is in the opposite side of the river from the lobby. That is where we stayed and our daughter, along with all the other kids we saw, loved crossing the bridge. The only tough part was walking back from the pool at night, it was very cold when you have wet hair and clothes.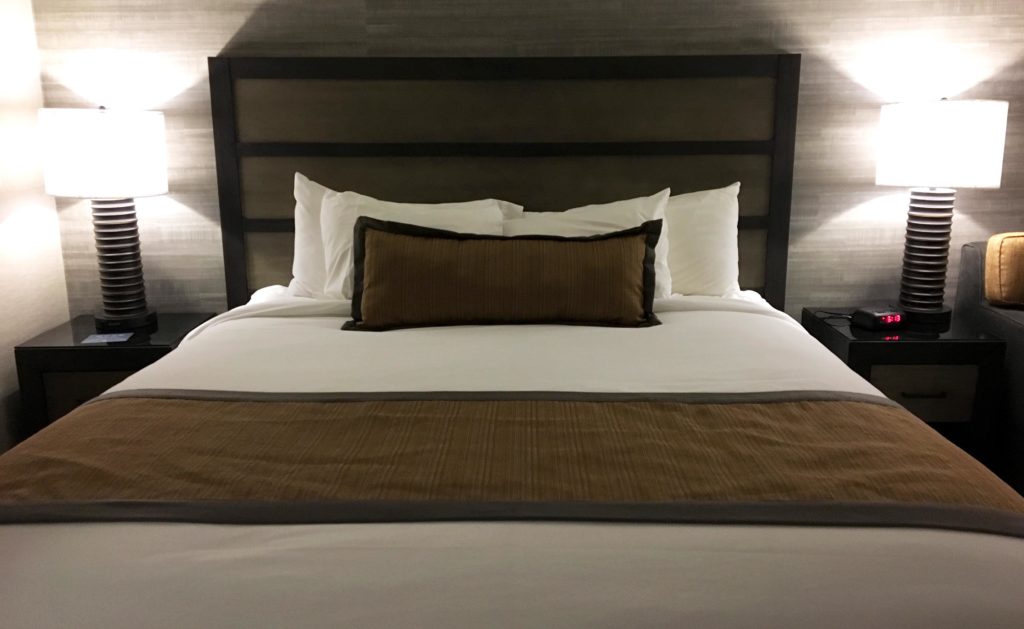 Out room was perfect for us. Spacious enough for the adults to relax with enough room for Brigitte to run around. It had a king size bed and a couch with a hide-away for Brigitte. There was also a balcony with a view of the river and an old cabin that was originally part of the set on an old Katherine Hepburn movie! I would have liked to spend more time out there, but like I said earlier, it was really cold. The rest of the room was pretty standard, but I thought the Keurig was a nice touch. We spent a lot of time in here since Brigitte still takes a big afternoon nap and we were all pretty comfortable.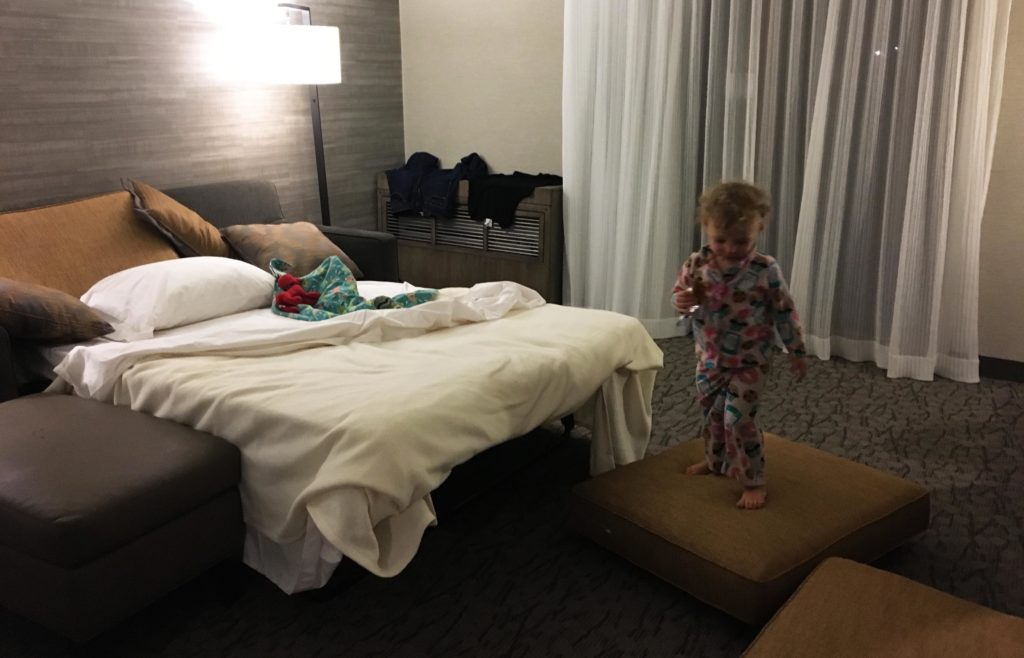 The best part of the hotel is probably their bar and restaurant. It was recently remodeled and looks AMAZING!!! We had a lovely breakfast one morning with a view of the river with excellent service. We arrived with a crying child and they VERY QUICKLY got her the food she needed to calm down. Hungry toddlers are not to be trifled with.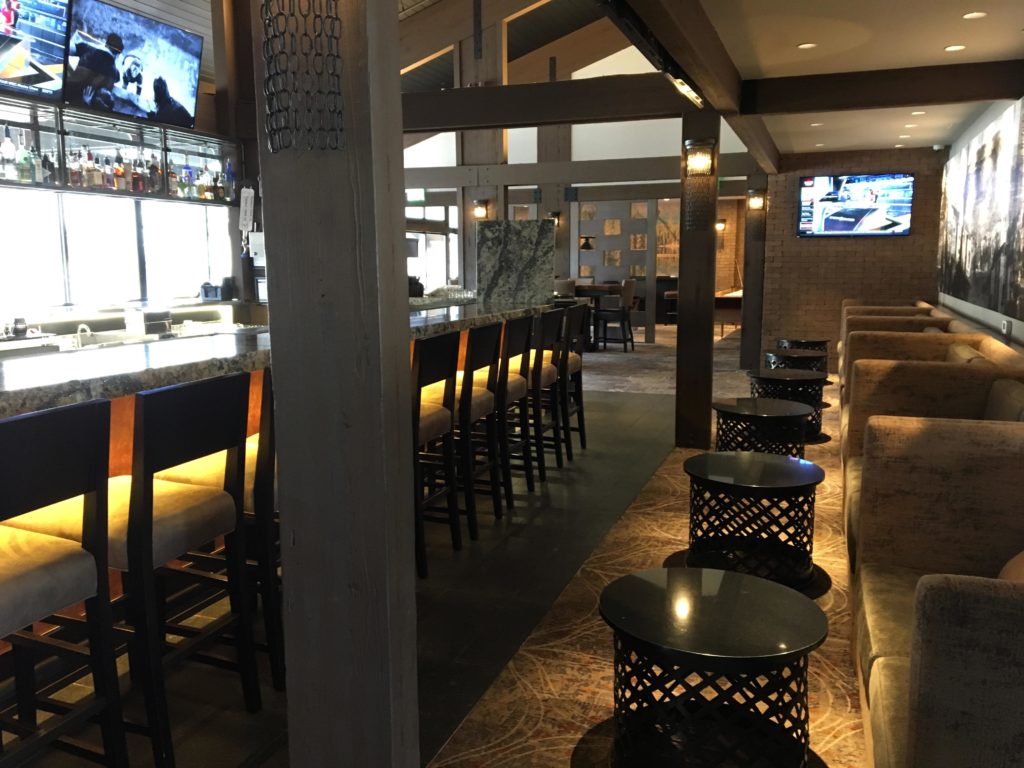 The food was great (none of my photos came out), but I was a little sad not to be able to enjoy their epic patio. This would perfect on a summer day with tables overlooking the water and plenty of fireplaces. It had me dreaming of warm weather and cold beer.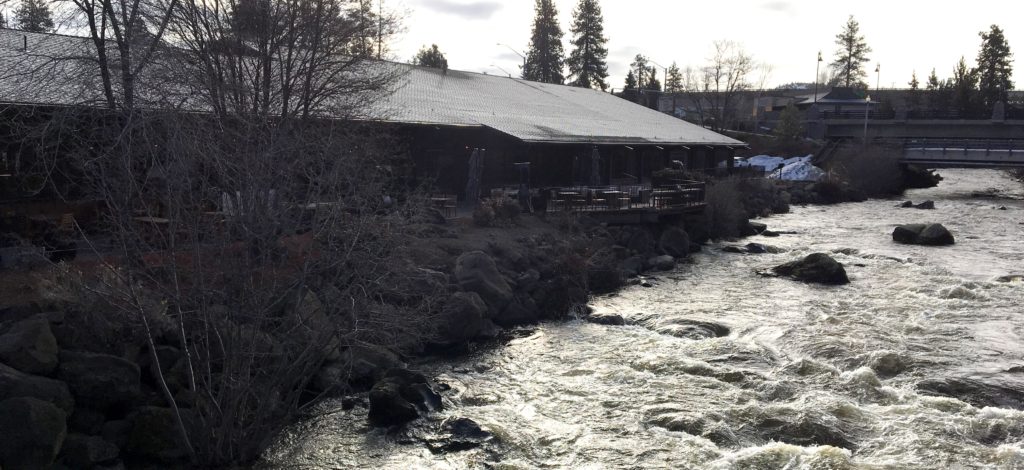 The only problem we had during our stay was at the pool. There were so many people swimming, they kept running out of towels! It wasn't that big of a deal thought, we just had to use our room towels. Other than that, the pool was great. I love the night time mood lighting. The outdoor pool was too cold to use, but I bet it is incredibly popular in the summer.
I worked out in the gym both mornings! I used to use vacations as an excuse NOT to workout, now that I have a kiddo, gym time is a luxury. I was impressed with their equipment. They had our standard elipticals and treadmills, but also weight machines and some specialty equipment like medicine balls, resistance bands and yoga balls. Not bad.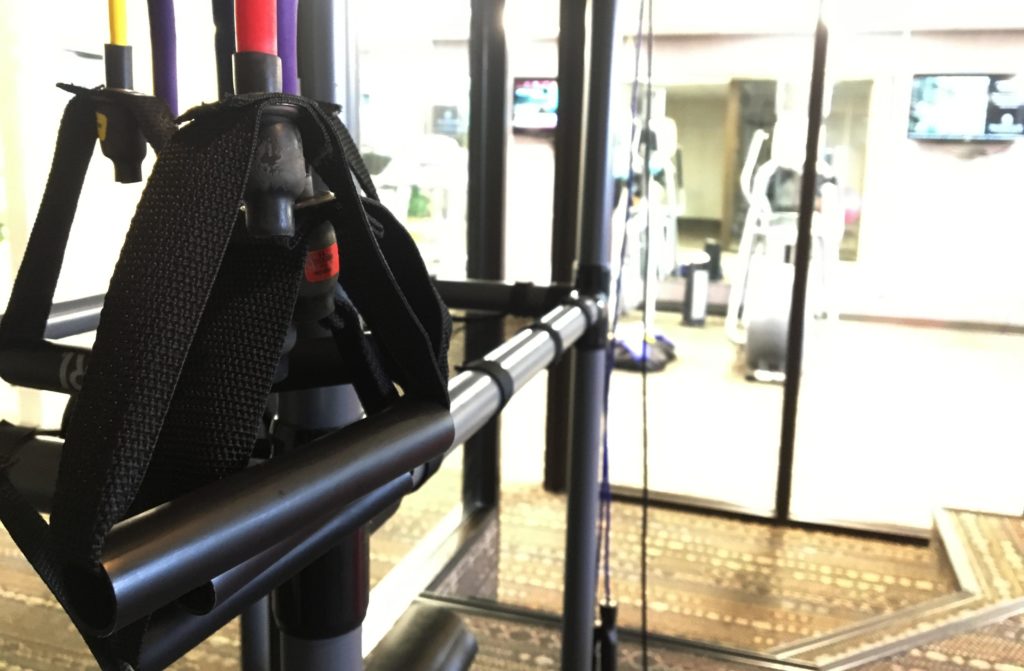 Beyond the hotel, we had a nice but fairly uneventful visit to Bend. We spent most of the time visiting my family, but also drove up to the Tumalo Falls trailhead so Brigitte could play in the snow, walked around downtown and the Old Mill District and spent some time at Smith Rocks while Brigitte slept in the car.
Overall we had a really nice visit. I love this area and would like to spend more time (probably during the warmer months) exploring and hiking and this place will be the top of my list of hotels to stay at in the future. One note about the location, this hotel is not in downtown Bend, it is a little to the north, and only a short drive. I hope you'll consider it on your next visit. Happy travels!
**{Sponsored post: The Riverhouse provided my family and I with a two night stay in exchange for a review. No other compensation was provided. All opinions in this review are my own.}
RIVERHOUSE ON THE DESCHUTES
3075 N. BUSINESS 97,
BEND, OR 97703