Do you have what it takes to solve a…. murder? I'm taking you inside the local theater company that's bringing murder to the masses.
If there is one thing I love, it's interactive art. That is why I love Portland's TBA Festival so much, why I've seen Tony & Tina's Wedding THREE times, and why I love murder mystery parties. Until this weekend, the only type I've been to were the DIY variety that come in a box. Like this or this. I've hosted them myself and been a guest at a few others. So I was thrilled when a local theater company, the Murder Mystery Company, invited me to come see one of their shows.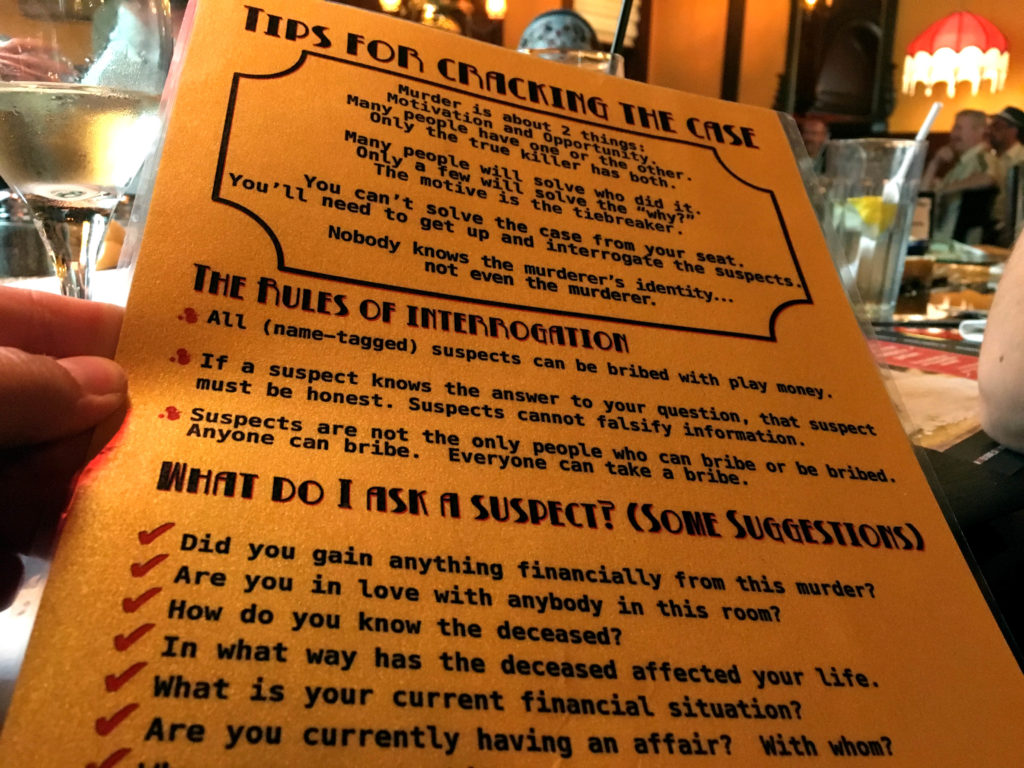 This company produces shows for the public a couple times a month, plus you can hire them for parties. I don't know about you, but after some of the BAD company parties I've attended I would be pretty happy to solve a murder with my co-workers.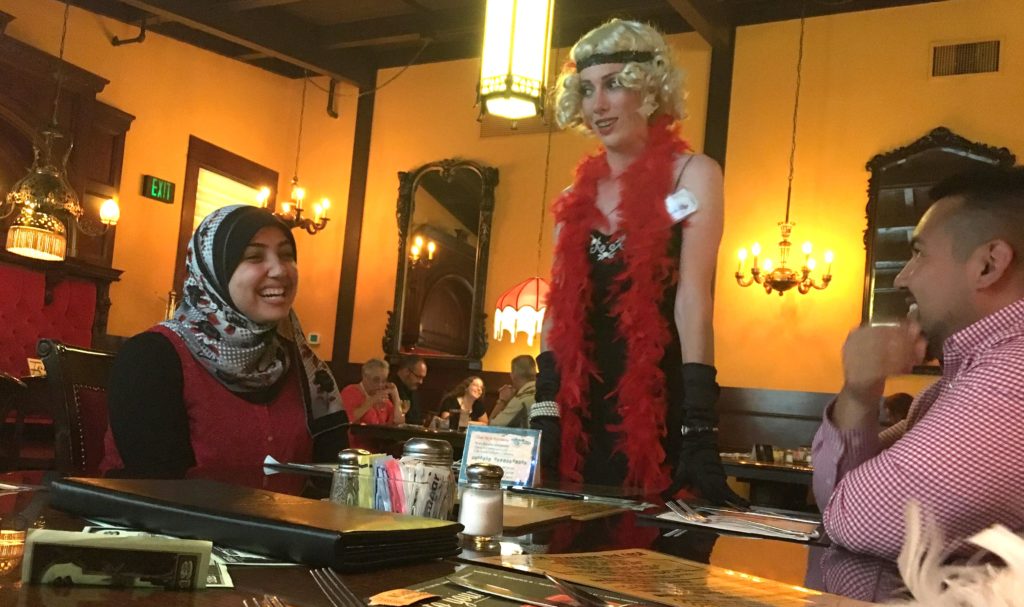 Now, I don't really want to give anything away about the actual show I saw, but I'll share how it works. You are invited to show up in costume. I did not, but lots of people did. So go for it. You won't be alone. Our show was a 1920's mobster theme so there were lots of flapper dresses, pinstripes and pearls. After arriving you are seated at a large table. Unless you came with a big group, your companions will probably be strangers, but never fear, the actors help you get to know each other. For our show there were 3 actors. They do most of the heavy lifting, but be prepared for lots of audience participation as well.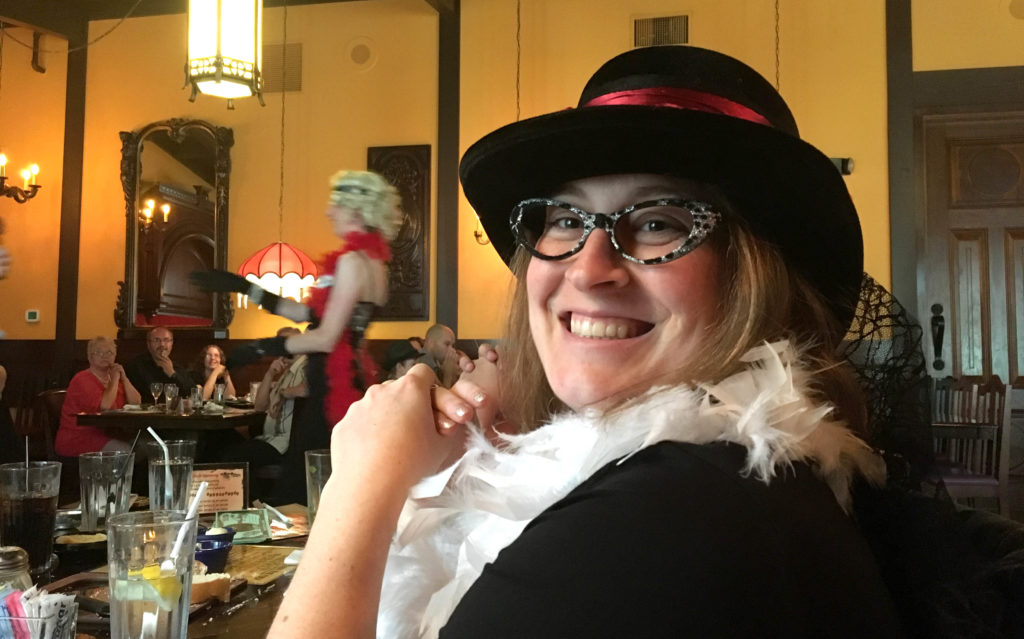 At each table they ask for a volunteer to be a "suspect". My lovely best friend Gloria (my date for the evening) no sooner raised her hand than she was decked out as a fetching librarian. Throughout the evening she was called on to deliver information and participate in a few scenes, but the actors REALLY help you along.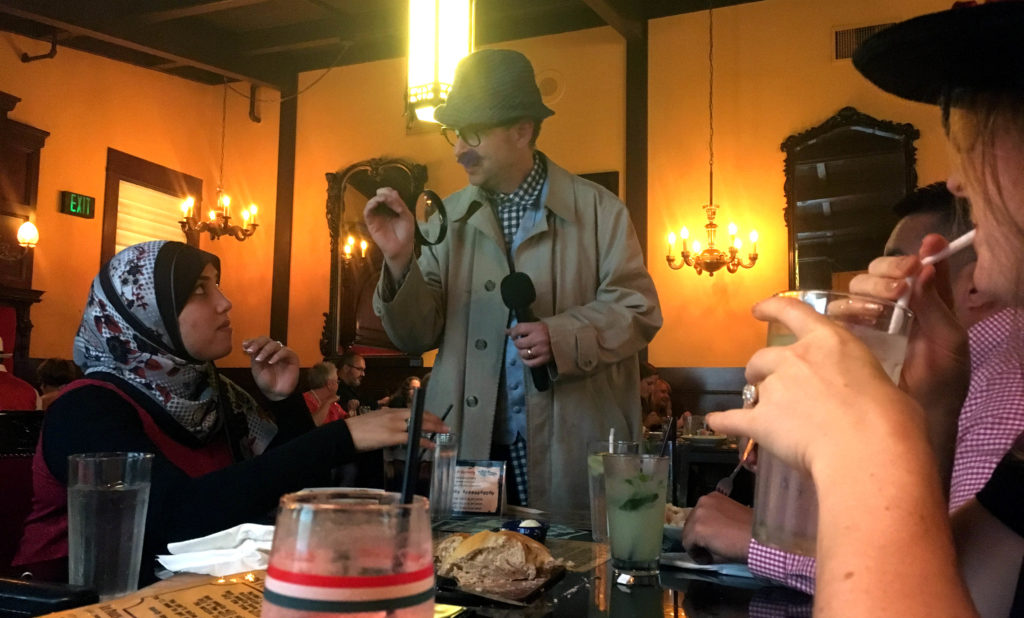 The whole thing was organized really well, with binders of information for each table and note taking supplies. Through it all, you are served a three-course dinner. The show is held at the Old Spaghetti Factory (Portland & Hillsboro locations), so the food is decent, not great, but I'm kind of a Portland food snob. You can also order anything you want to drink: beer, wine, cocktails, Italian sodas (for an extra charge).
When it comes to the actual case, our table had a tough time. With some hints from one of the actors, we figured out the culprit, but got their motivation wrong. I'm kind of glad, I would rather have it be difficult to solve than too easy. The most impressive part of the evening was the actors. They have to keep straight about 12 characters, each with an elaborate backstory, in order to keep the show and the guests moving along. It's a lot to remember in addition to their own lines.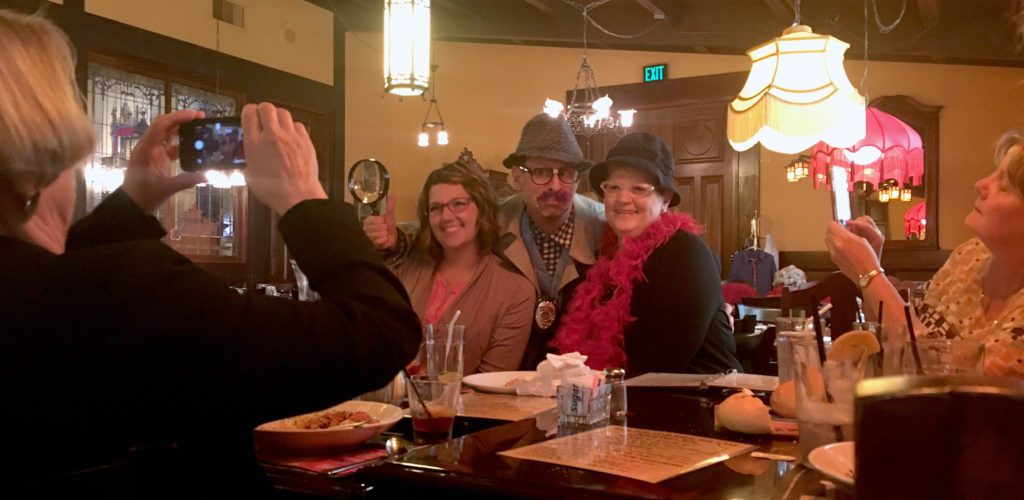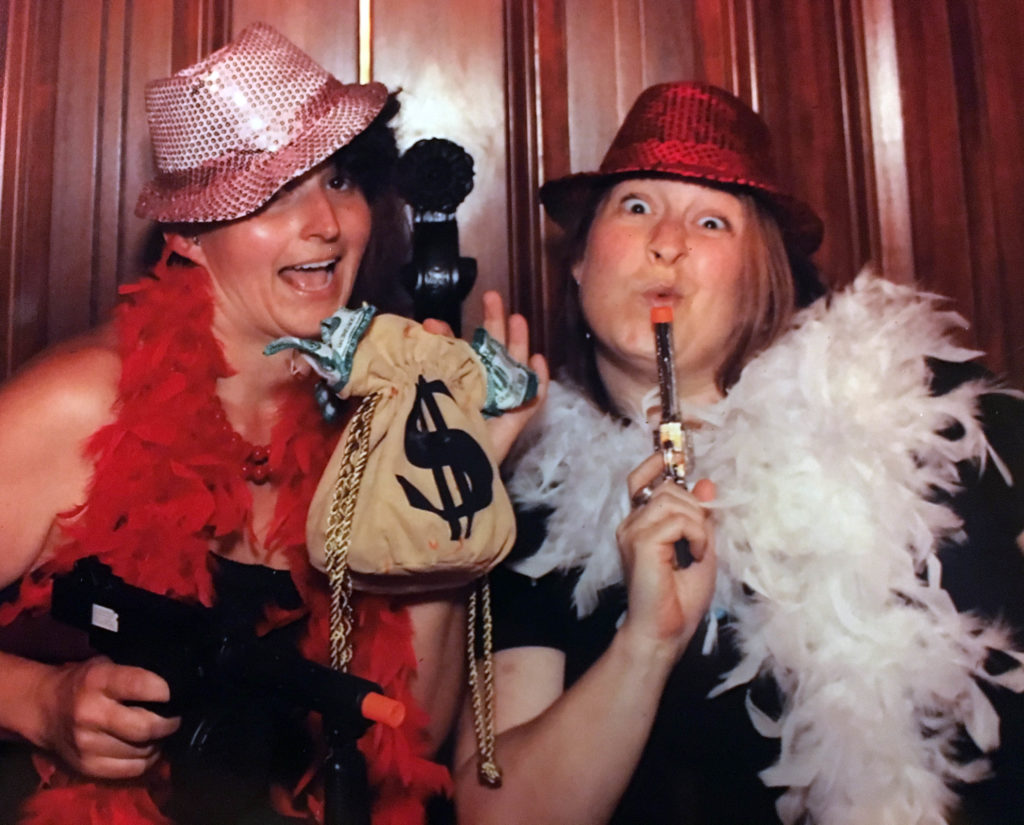 All in all, a fun way to spend an evening. By the time we left we had lots of laughs, full tummies, and some fun photos to bring home. I would highly suggest this for a big celebration like a birthday, anniversary, graduation. It would be a lot of fun to have an entire table of friends to help solve the mystery together. Or if you have the occasion, a private party. Happy sleuthing!
{Disclosure: The Murder Mystery Company provided me with complimentary tickets to the show, but all opinions are my own.}
MURDER MYSTERY COMPANY
PUBLIC SHOWS: OLD SPAGHETTI FACTORY
PORTLAND & HILLSBORO
SEE WEBSITE FOR DETAILS