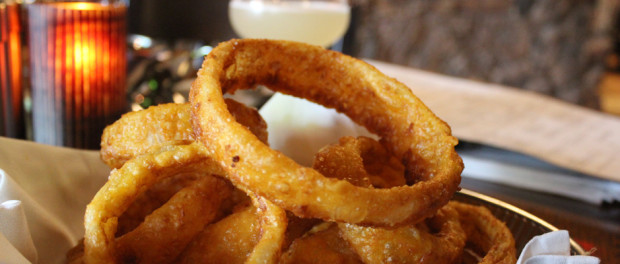 Ringside Grill recently invited me to have dinner ON THEM at their recently renovated restaurant at the Glendoveer golf course. Even more surprising, they asked me to bring my toddler along. Ok! You asked for it! So we loaded up the car and headed east to 141st & Glisan, not sure what to expect when fine dining with a 15-month-old.
Ringside Steakhouse and Ringside Fishhouse are dining institutions in downtown Portland. The Ringside Grill is nine miles away from the other two, nestled on the far edge of East Portland. Like the other locations, the food, service and ambiance are exemplary.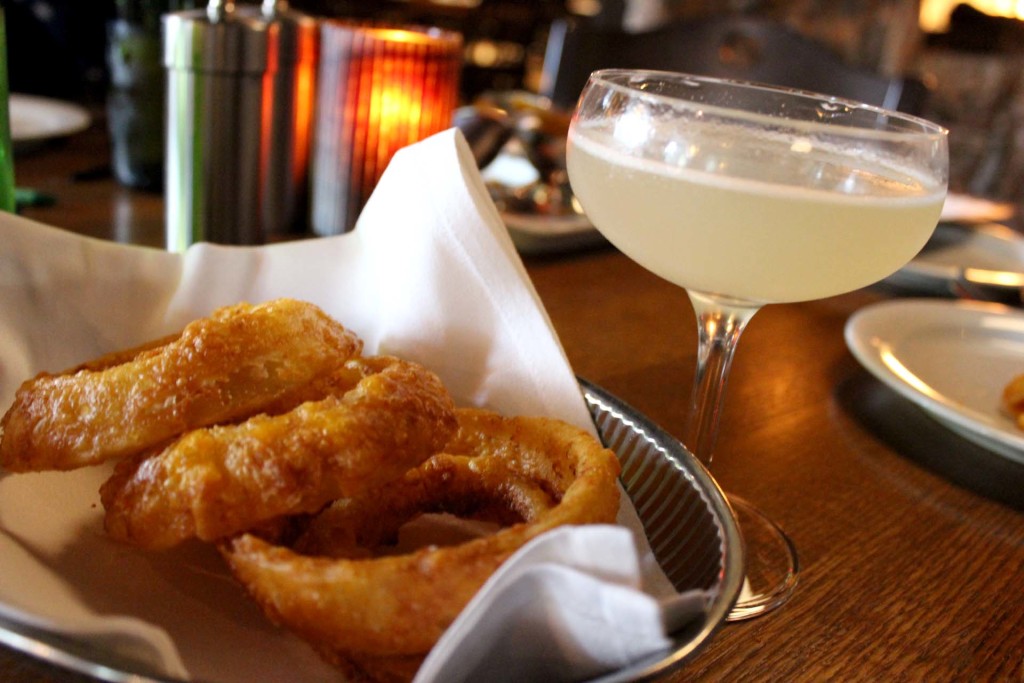 I'll go into more detail about the food in a bit but the service was really the highlight for me. They were attentive, accommodating and so patient with our little girl. To her credit she did very well, considering the length of our multi-course meal. We had to take her outside for a walk twice and over to the fireplace numerous times for a closer look, but mostly she was well behaved (this means not screaming).
I really appreciated their kids menu, because it included food for children of all ages, everything from cheeseburgers to ants on a log. I often find there is nothing for tiny kiddos on the menu. We ordered the fruit cup and let me just say, this was a great fruit cup. They even cut the skins off the oranges! Someone in the kitchen knew what they were doing. Good show, Ringside. Ok, back to the adult food.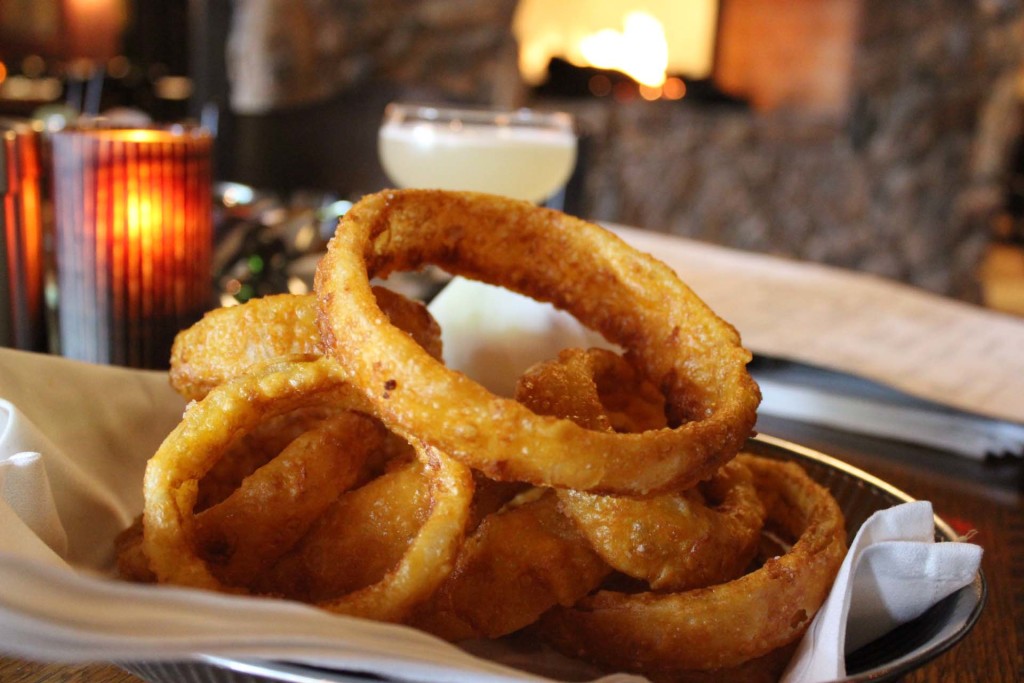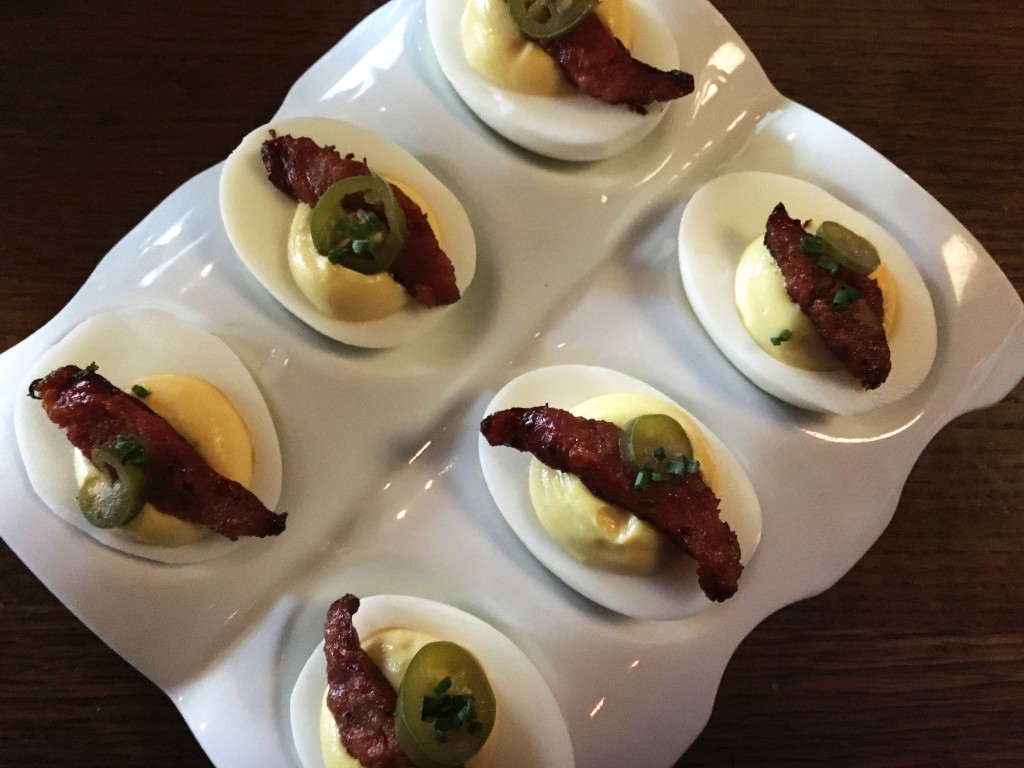 We started with cocktails and onion rings. I hate to say it, but the onion rings may have been my favorite part. They were tender, crispy, not too thick, and easy to eat without falling apart. Plus the sauces they come with are amazing. After that we tried the deviled eggs with chorizo sausage. They were spicy, creamy, and zesty. Hint: These are on the happy hour menu too, and would go great with a beer. Speaking of beer, they had a really great beer list. My husband was impressed, but we stuck with tequila cocktails…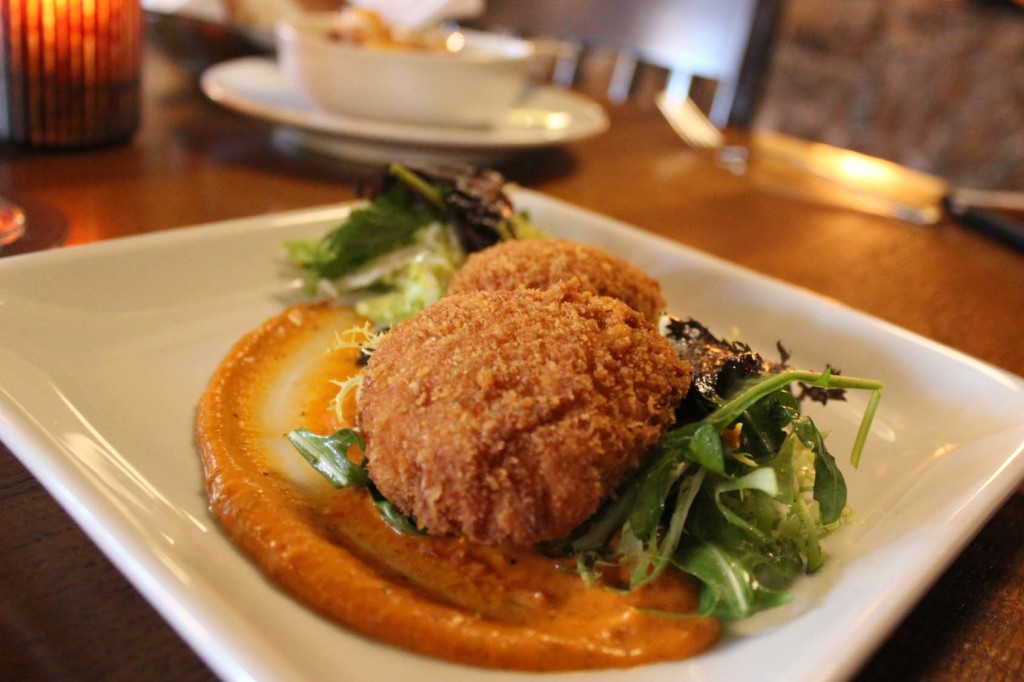 Next: Crab cakes. Crunch on the outside, soft and meaty on the inside. As with the onion rings, the sauce was really the star here. Ringside sure knows how to sauce its food!
Finally, we had an order of ricotta meatballs. Honestly, this was my least favorite dish of the evening. Nothing was really wrong with them, but something has to come in last place, right? I liked the idea, meatballs served with crispy polenta cubes, but for me the flavor wasn't really there. But that's okay… It's time for the main courses.
We had the rotisserie chicken and prime rib. The chicken is from Draper Valley and it was excellent. It was perfectly cooked and very moist, but the flavor was my favorite part. It was rich and nuanced. For someone who usually eats bland grocery store chicken, it was a good reminder of how great roasted chicken can be, when made with a quality animal.
By the time the Prime Rib arrived, I was so full my eyes were about to bug out of my head, but I pushed on. Anything for my blog, right? The Prime Rib was thick and tender with a delicious au jus sauce (another excellent sauce!) broccoli rabe and a twice baked potato. If only I had a second stomach, I would have loved to eat that entire potato. The prime rib also came with fresh grated horseradish, which I had never had before. It had a lovely crunch and a kick, but not enough to blow your tastebuds away.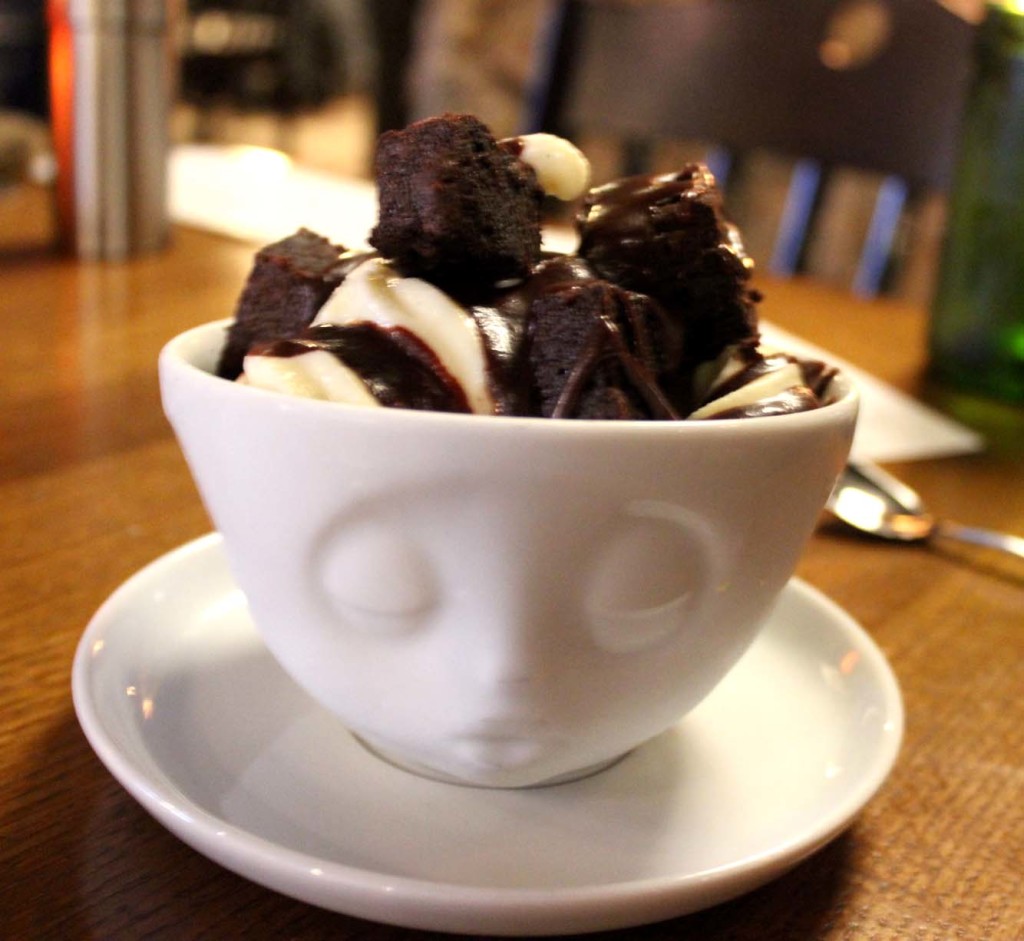 Finally dessert. They brought us two! Oh my. First, a sundae made with their frozen vanilla custard and big fudge chunks served in the cutest little dish. Second, a stacked lemon torte, topped with candied grapefruit. I loved the tart, my husband loved the sundae. Baby refused both. She made a big mistake.
In the end, it was a fantastic meal. By the time we left, the place was packed. There was a giant mess under the baby, but they waved off our concerns numerous times, declaring "this is why you eat out, so someone else can clean up," which is very nice and made me feel better.
While Ringide Grill is a steakhouse, I was surprised at how affordable much a lot of their menu was. Sure, filet mignon or prime rib is going to cost you a pretty penny, but burgers and french dips are only $13. I bet they are fantastic, especially if they use that same au jus. And if you do want a steak, I can't imagine a better place. Like its downtown counterparts, Ringside Grill has a happy hour that includes their famous steak bites. If you haven't tried them, it's a Portland must. And don't forget, beer and onion rings would make a great meal too. Bon appetite!
Ringside Grill provided my family a free meal at their restaurant, but all opinions and photos in this post are my own. No further compensation was provided.
RINGSIDE GRILL
14021 NE GLISAN @ THE GLENDOVEER GOLF COURSE
OPEN FOR LUNCH & DINNER EVERY DAY
SEE WEBSITE FOR SPECIFIC HOURS