Do you have any skills? Good ones, that you can teach other people? I've been thinking about this ever since I took a Cake Decorating class last week with PDX Skillshare. PDX Skillshare is a local non-profit that "helps neighbors teach their neighbors valuable skills". I'm all about community building so I decided to give it a try and I picked cake decorating (of course) for my first class.
It was taught by Hannah Hitchcock, who taught herself cake decorating as a hobby and is now sharing her skills with Portland. She is charming, incredibly knowledgable and very helpful. Overall a very good teacher. Her class was held at Tabor Space (Which I've written about before) on a Saturday afternoon. She gave a short presentation on baking and decorating fundamentals, then guided us through hands on practice, giving us lots of time to work. She taught us traditional pastry bag decorating techniques as well as fondant. Like many people, I have always had a dislike of fondant, but after this class I'm more open to it. I still prefer buttercream, but I'm much less turned off by a fondant covered cake.
Hannah made each of us 6 cupcakes plus huge tubs of buttercream and plenty of homemade fondant to go around. I never would have though about making my own fondant, but it turns out it is just marshmallow and powdered sugar. I can do that! We practiced lettering on plastic sheets (great idea!) and she shared a few fast & easy techniques for piping a cupcake. I think this will come in hand in my coming years as mother to a toddler. Everyone had so much fun, no one left when the class was over. We all kept working. Check out the work space at the end, a technicolor frosting explosion!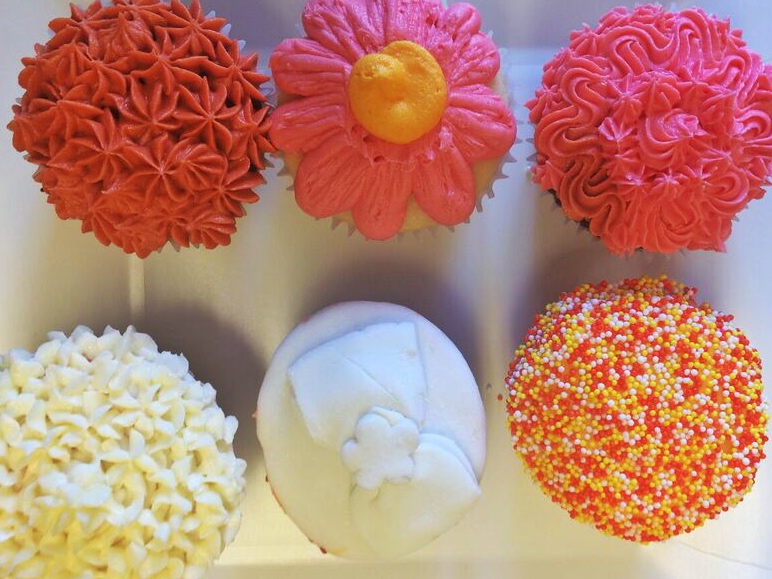 I had such a good time, I'm trying to think if there are any classes I could teach. Maybe WordPress, blogging, video editing? I love the small, intimate class size and the casual attitude. If you are interested in learning or teaching check them out. It's a great local organization and the next few classes sound awesome too: Financial Planning, Oragami & Knife Skills.
Disclosure: PDX Skillshare provided me with a free class but the decision to blog about it and all opinions are my own.