I'm going back in time at the John Day Fossil Beds. Stunning formations, trails and vistas just down the highway from Oregon's famous Painted Hills.
The family and I just got home from a fantastic road trip through Northeastern Oregon. Traveling with a baby went better than I expected. It's true what they say, babies are adaptable. We timed our big drives to her naps and gave her plenty of time play in the morning and before bed and everything went really well. The main goal of our trip was to see the Wallowas and the Painted Hills. I'll be sharing my photos of those over the next few weeks, but first, I thought I'd share one of the big surprises: The John Day Fossil Beds.
Technically, the John Day Fossil Beds include three sections, spread out over 100 miles: Clarno, Sheep Rock and the Painted Hills. Everyone always drives to see the Painted Hills, but if you are going to go that far, I highly recommend driving the extra 40 miles, to see the Paleontology Center and the Sheep Rock Unit. I actually found it more impressive than the Painted Hills. (Gasp!) It reminded me a little bit of Bryce Canyon in Utah.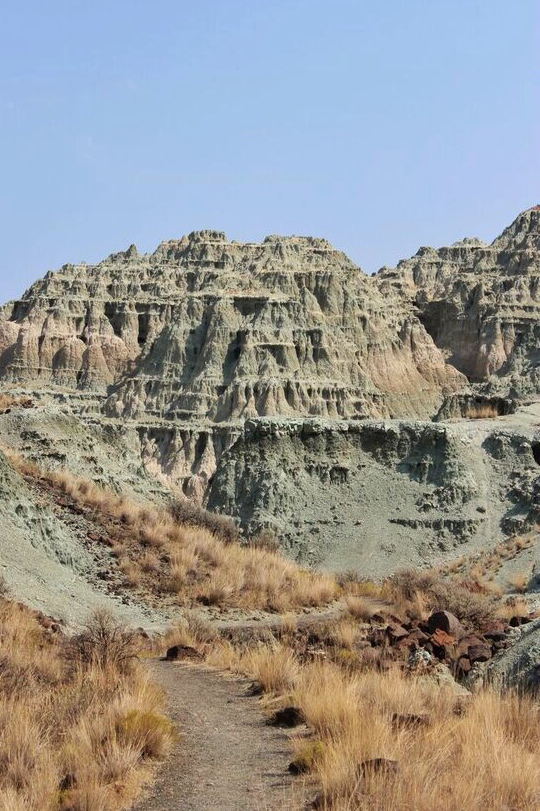 The visitor's center is really interesting, filled with bones, skulls, and plant fossils. We had a squirming baby at the time so our visit was rather short, but it's definitely worth the stop. The real highlight for me was our hike at the Blue Basin. We took the short 'Island In Time' trail up the middle of the canyon and it was phenomenal. As with most landscapes, my photos don't do it justice. The rock formations on the walls are otherworldly, and in a way they are from another world: Earth, millions of years ago.
Up the road, we couldn't resist hiking the 'Flood of Fire' trail, that lead you to a vista of a dramatic cliff face. Like many of the trails in the John Day Fossil Beds park, it was very short and well worth our time. At both the Fossil Beds and the Painted Hills, most of the trails are under a mile, so kids can do them, and you can squeeze a lot into a day. Look for my photos of the Painted Hills next week.
JOHN DAY FOSSIL BEDS NATIONAL MONUMENT:
SHEEP ROCK UNIT
CENTRAL OREGON
OPEN YEAR ROUND