Highlights from Feast Portland 2015, including the Sandwich Invitational, Brunch Village, Drink Tanks and Oregon Bounty Grand Tasting.
Well, I made it through my first Feast Portland festival. You hear a lot of people discussing Feast in terms of "survival" and while it's hardly a life or death situation, it is a real challenge to eat that much food in such a short time. Talk about a first world problem!
If you've never heard of Feast before it's a food festival in Portland, Oregon that happens every September. While most of the participants are local, chefs from all over the country participate. There are three big marquee evening events, plus a big tasting event in Pioneer Courthouse Square, a bunch of smaller chef hosted dinners, classes, drink tasting panels and a huge brunch to finish it all off. I attended the Thursday night Sandwich Invitational, Oregon Bounty Grand Tasting, two Drink Tank panels and the Sunday morning Brunch Village event.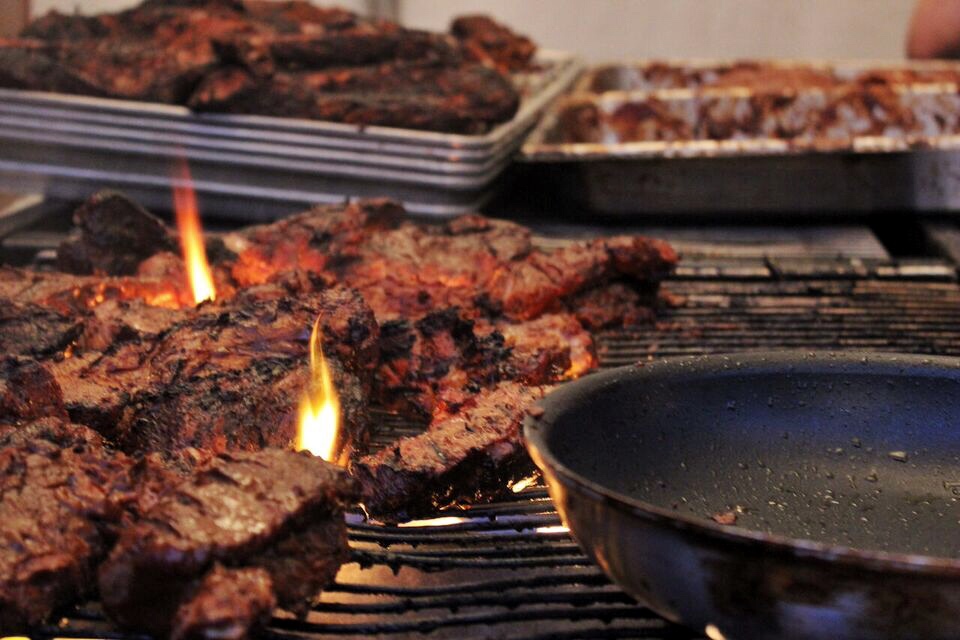 The food is, of course, fantastic, great beer and wine flows freely and best of all, it is run exceptionally well. Every detail from line monitors outside the events, to the schedules and the venues is considered and it really proves that this is festival worthy of national recognition. But enough on the planning… lets get to the food! I went to 5 events, and took a lot of photos, so here we go: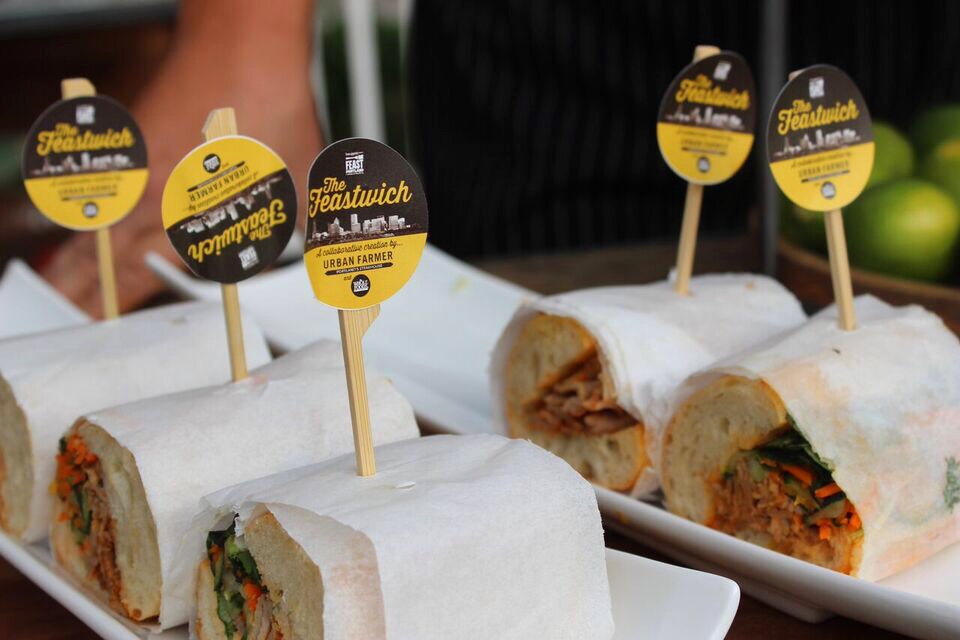 Sandwich Invitational: The Sandwich Invitational is the first big event to kick off the Feast weekend. It is a sandwich competition held in Director Park in downtown Portland. I like it because it is casual. It's just a bunch of people eating sandwiches and drinking beer. Of course these are no ordinary sandwiches, they are made by some of the best chefs in the country. Two awards are given out: one from a Tasting Panel, the other Audience Choice. Altogether there were 14 sandwiches, I managed to eat 11. My four favorites were from: Eggslut (LA), Departure, Imperial and Little T Baker. And wouldn't you know it, Departure won the big award with a Pork Pastrami, Pickled Turnip, Hoisin BBQ Chinese Crepe and and Imperial won the Audience award with a Soy Braised Pork Belly Fry Bread Taco.


One nice touch was the availability of the beer: Widmer had refill stations all over the place so you never had to worry about long beer lines. But the lines were kind of intense. There were some long lines (the longest I waited was about 30 minutes for Departure) but by the end, I didn't mind because I was getting so full.




Oregon Bounty Grand Tasting: The Oregon Bounty Grand Tasting is held for two days in Pioneer Courthouse Square. I might call this the Feast "starter event", it has tons of wine, beer and food from all kinds of chefs and local artisans…. chocolates, salts, pies, honey, soda, fresh fruit…. and gives you a good idea of what the rest of the events are like. Some businesses used the event to premiere their new products (Like Sunshine Dairy and Moonstruck Chocolates's new Drinking Chocolate) others were just there to remind you of why they are so great (Fifty Licks Ice Cream!!! Best thing I ate). I made the mistake of eating breakfast before I went so I didn't eat as much as I would have liked, but I did have a great time listening to a little class from Bon Appetit on how to take better Instagram photos and sampling fantastic Oregon wines.
Drink Tank: I attended two Drink Tank panels on Friday and they might have been my favorite event of the festival. This year they were held in the courtyard at the Art Museum. Since my days training to be a Coffee Master at Starbucks, I've loved guided tastings. I feel like I learn a lot about flavor and my own preferences. Plus I love it when you walk away from events feeling like you've learned something. It's also important to note that the Drink Tank events are cheapest Feast events (In case you want to check out Feast but are a little turned off by the prices)


I'm In A Cult

: This panel was all about rare beers. What makes them rare, what makes them good and how to appreciate them. I enjoyed hearing from Sarah Pederson, the owner of Saraveza, she is so knowledgable about her experience with beers and what she looks for when stocking her shop. It was also cool to know a Deschutes beer made their list. Here are the beers we tasted:
Margarita's Moment:

This one was held on Friday afternoon at 4pm. What better way to end the week than with 4 margaritas and a shot of Tequila?!?!? Actually, this one was a little over the top for me. I could NOT drink all the booze! It was just too much on top of the beer and wine I'd already put down at Feast that day. But it was fun to taste 4 different Margarita recipes. My favorite was, surprisingly, the one made with Mezcal rather than tequila!



Brunch Village: This was second favorite event of the weekend. Maybe that's because I just love breakfast foods. Plus, it was fun to just hang out in Pioneer Square chatting with old and new friends. We took lots of photos, jumped in the photobooth bed and drank a lot: Bloodys, Mimosas and Rose (yes, I had all three plus some more wine).



My favorite dish was a collaboration between Pine State Biscuits and Tillamook: A tart with bacon jam and a scoop of Tillamook Ice Cream. I died. It was everything I wanted breakfast and dessert at the same time. I also loved the Almond Croissants from Beaucoup (Vancouver, BC) and the fried chicken and waffles from Simpatico.








So that is my first Feast Portland festival in a nutshell. I have wanted to go for a couple years but I'm a procrastinator and I'm cheap. One note about the cost: Most of the main events are spendy (in the $100/person range) but it's important to note that tickets includes ALL YOU CAN EAT & DRINK, plus this is a fundraiser for No Kid Hungry and Partners for a Hunger-Free Oregon.

My advice: Buy tickets early. Many events sell out quickly. If you want to "test the Feast waters", try a Drink Tank or Hands-On Class. They are the most affordable and I always feel pretty happy if I learn something at an event.
Thanks for reading this super long recap. I had such a great time and can't wait for next year!
FEAST PORTLAND PROVIDED ME WITH A BLOGGER PASS, THAT INCLUDED TO ACCESS TO ALL EVENTS MENTIONED IN THIS POST IN EXCHANGE FOR BLOG AND SOCIAL MEDIA COVERAGE, BUT ALL OPINIONS ARE MY OWN.