Sharing Sunday: Duct Tape Obsession
Exposing my duct tape obsession. See how I use it all over the house!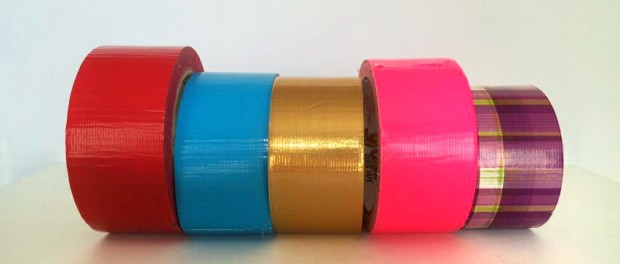 I'm not huge DIY-er especially when it comes to my home. I try to be, but I know my limits. Experience has taught me, some things are just going to look terrible if I do it myself. Like the time I put up crown molding in my bedroom. It was (and still) is a mess. Do not look at the corners. Lesson learned.
It wasn't possible with my crown molding project, but whenever I can I turn to duct tape to solve my problems. I know it's kind of a fad from the early days of Pinterest…but I'm still going strong. In fact, I recently realized that I use it all over my house.
When I refused to pay $12 for a plastic bathroom cupboard organizer. I used duct tape and a shoe boxes instead. Ugly coffee tins and baby wipes? Duct tape!

My wallet. Duct tape of course. I use a pattern I got off the internet years ago, then alter it for my needs. I've been sporting a houndstooth print for a couple years but I'm going to upgrade to gold soon. I have even been perfecting a men's duct tape wallet that my husband uses. It is the width of a credit card with 3 stacking pockets. One of these days I'll share my pattern.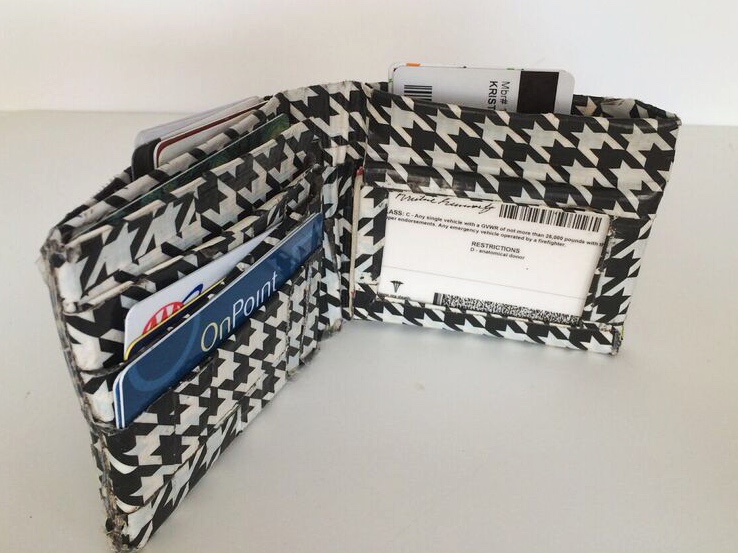 I guess I'm a little obsessed. But the stuff is so durable and comes in every color. Here are a couple tips I've learned along the way.
Alway cut. Never rip. Sharp scissors work fine or an exact-o knife.
It stretches. Use that to your advantage when covering objects with curved edges.
Learn how to make a duct tape sheet. Once you get that down you can make almost anything.
Happy taping!