The chicken that's building an empire. Check out the new brick-and-mortar spot from one of Portland's best food carts.
A consider myself a very good baker and a decent cook. Except for when it comes to chicken. I kind of suck at cooking chicken. I don't know why, but I have a serious paranoia about raw chicken. So I always overcook it. Always. I know, I know, a meat thermometer would solve my problems but all of mine are broken or out of calibration. But my point is, I can not cook chicken worth a damn. So I really appreciate good chicken. And Nong's Khao Man Gai knows how it's done. Their motto is "Chicken and rice. That's all we do." And they do it well.
Nong's has always shown up on Portland's 'Best Restaurant' lists, going head to head with the biggest chefs, even though it was just a little food cart. But not any more… now Nong's has a brick-and-mortar space in inner SE Portland. It's a little shop off Ankeny Street, right behind Rontoms. The white space with steel tables and chairs give it a little bit of an industrial feel, but it's really casual and welcoming. A place to grab a quick bite, nothing fancy.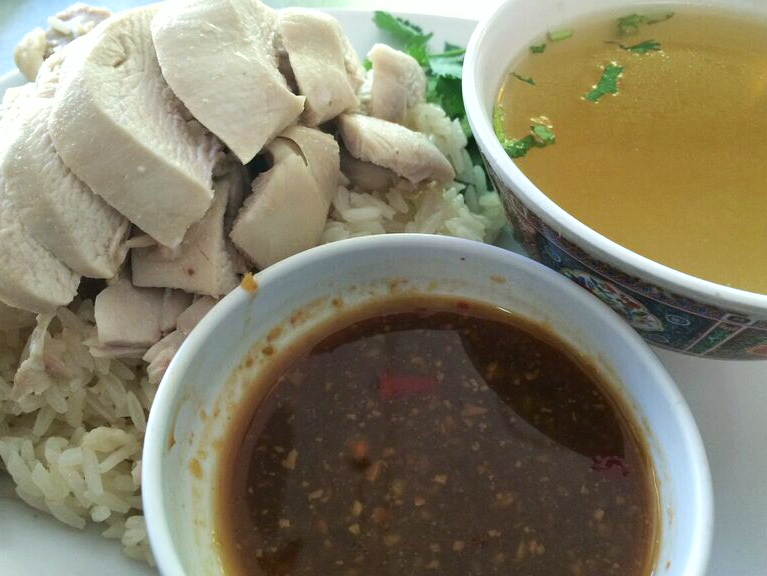 Unless you are vegetarian, just order their main dish, Khai Man Gai (chicken and rice). It's excellent. You need to see what everyone is talking about. You get a pile of rice, the best cooked chicken you'll ever eat, along with a bowl of their famous sauce and a cup of broth for $8. There is just something about this meal that's so satisfying. And I must say it's much easier to eat off a plate. It was a messy situation, trying to maneuver take out from the cart at my desk at work. For the newbies, they even have a "how-to" card, but the staff was super friendly and happy to explain everything.
We tried the peanut sauce chicken too. It was good, but I think the #1 dish is where it's at. At the very least, it's about 1000 times better than the dry rubbery "chicken" I make at home.
Note: Nong's carts are still open in downtown and at PSU. The chicken is just as good there if the carts are more convenient.
NONG'S KHAO MAN GAI (RESTAURANT)
609 SE ANKENY SUITE C
EVERYDAY: 11AM-9PM