Sharing Sunday: Lessons From Press Publish
I attended the first ever, Press Publish blogging conference hosted by Wordpress. This is what I learned.
This was my first blogging conference, and I hope not my last. I go to Portland Blogger events all the time but not big conferences like this. PressPublish is hosted by WordPress and since kristidoespdx is a Wordpess site, I figured I could really learn something. Press Publish is small on the scale of blog conferences, but it had all the pieces: The day was divided into 6 one-hour sessions. During each session there were 3 rooms to chose from. One room was "Blogging U" where they had classes on WordPress, writing and CSS. In the other two rooms, successful bloggers gave talks and WordPress employees did small breakouts on WordPress features like widgets, dashboards, podcasting, photos, etc.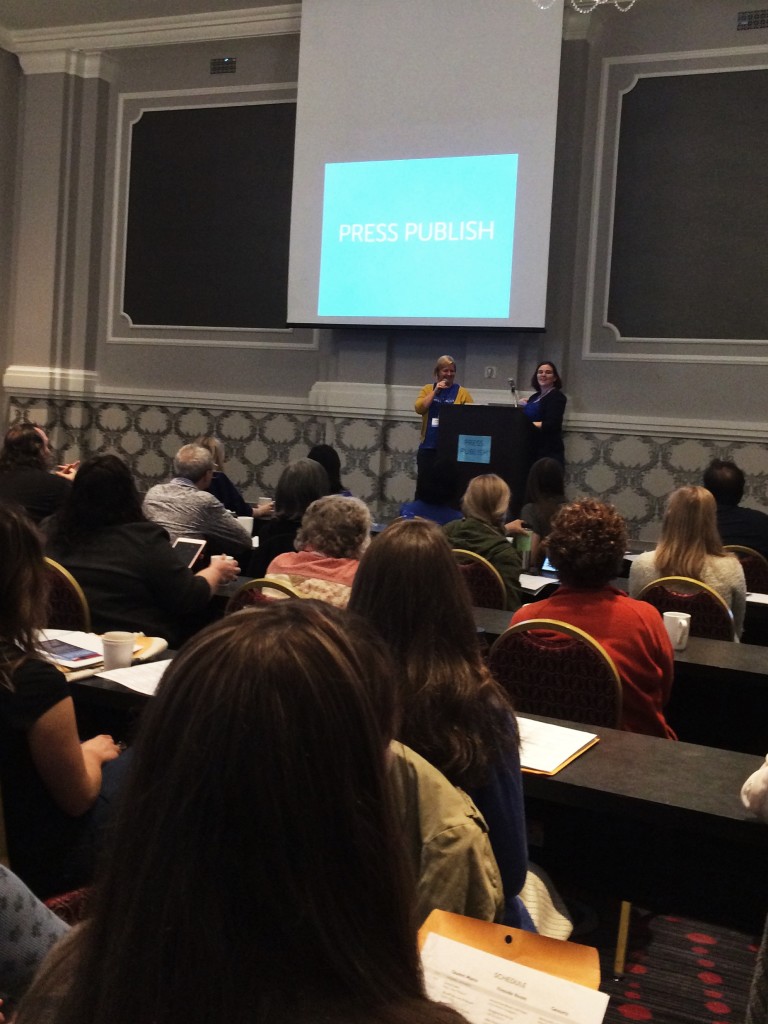 The Good: I have never been to an event that was so punctual. Not one session, NOT ONE, ran over. Everything started and finished right on time or early. All the bloggers that spoke were informative and inspiring. The food was EXCELLENT and they served beverages and snacks all day. Not just coffee, bottles of soda, San Pellegrino and a lovely selection of Steven Smith tea. Plus there was great schwag: sunglasses, tote bags, notebooks, buttons and stickers.
Needs improvement: Need visible signage about Wifi and hashtags, I was there early and wanted to do some work and start social media posts, but I couldn't figure out how to get online. I did not attend Blogger U but I heard others say the skill level was all over the place. They need to indicate whether classes are beginning, intermediate or advanced skill levels. Also the WordPress breakouts need to be more specific. I loved the Podcasting talk because she told us exactly which microphones and programs to use, but some of the others did not include "how-to" information.
But that's all the boring stuff…. here is the really good stuff. The best things I learned at Press Publish, some big, some small:
Put Yourself Out There: Mary Laura Phillpot is a humor blogger who initially stayed anonymous on the internet. But then she took the plunge exposing her true identity, it paid off. Now she runs a literary magazine, has a book coming out and writes for US Weekly.
Tap into your passions: Ananda Leeke started writing about the things she was passionate about like, Barack Obama's campaign, empowering women and Haiti and people took notice. She ended up as a blogger at the white house.
You need to have MANY revenue streams to turn a blog into a business: Kelly Bejelly site A Girl Worth Saving has website ads, affiliate products, books and sponsored posts, plus she does coaching and brand ambassador work. Lots of revenue streams ensure you won't be left without money when one runs dry.
How to pitch a stories to larger outlets: If you have an idea, or even an finished article, write it up and send it out to editors at publications you like. E-mail the editor. If you don't hear back, re-pitch. They are usually swamped, it's easy to be overlooked.
The most valuable asset a blogger has is a robust e-mail list: These are people who are already your fans, not faceless followers. A great lists makes you more attractive to brands and sponsors.
The best inexpensive microphones for podcasting are: Blue Yeti, Snowball or Samsung Meteor.
When photographing kids, take a picture when they are expecting it, then another one right afterwards, when they've let their guard down. It's the best chance of capturing their real personality.
Know your SEO keywords. You should have about 50 and use them in your writing and tagging.
Every blog, no matter the size, should have a press kit that includes: high resolution photo, short bio, long bio, any press mentions and stats about blog like target audience, demographics, traffic, social media numbers and most popular posts. It does not have to include everything, just what is relevant and favorable.
Helpareporterout.com is a resource for free PR. Become a source for reporters and get your blog and name mentioned in print.