Portland Plates: Fish Sauce Wings
Pok Pok's famous Vietnamese chicken wings are my featured recipe this month in Portland Plates, an ongoing series where I recreate popular Portland dishes.
Arguably one of Portland's most famous restaurants is Pok Pok. With a number of locations around the city, plus new outposts in New York and LA, it's big time. And the most popular dish is, of course, Ike's Vietnamese Fish Sauce Wings. Sweet, salty and spicy, they go great with beer or an exotic cocktail. So this month it's the featured recipe in my "Portland Plates" series, where I recreate iconic dishes from popular portland restaurants that you can make at home.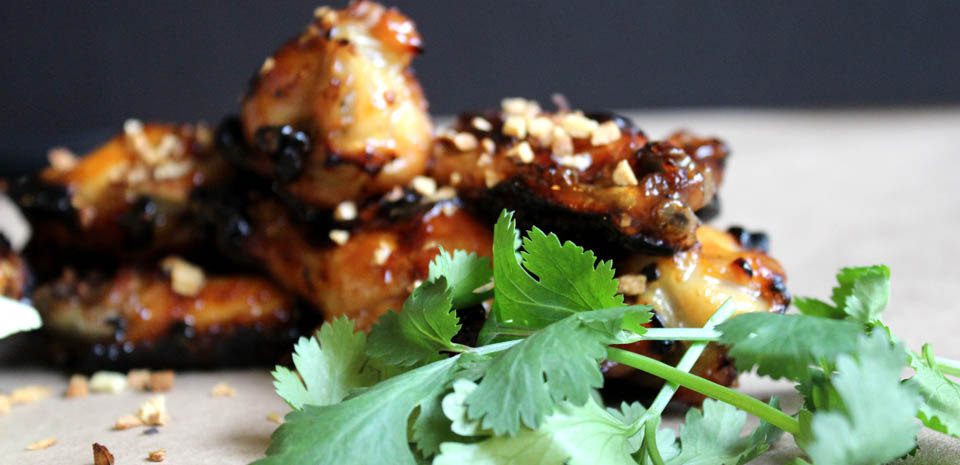 At first I thought Pok Pok wings would be too easy because they already published the recipe in Portland Monthly. But then I read it and realized…it's long, complicated and you have to deep fry the wings. No one wants to do that! Way too much work. So I simplified the recipe a little, making it a little healthier at the same time. So here you go, enjoy my baked Fish Sauce Wings ala Pok Pok. Perfect for summer BBQs, hoilday appetizer tables and of course Timbers, Blazers or Seahawk games. Enjoy!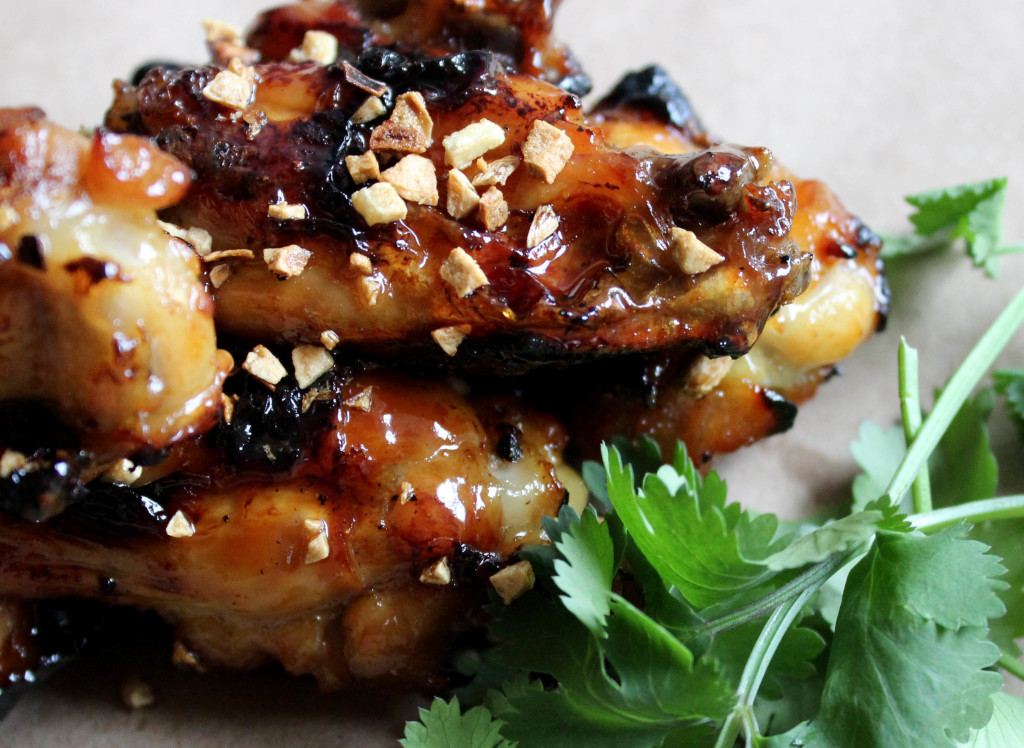 Ike's (Baked) Fish-Sauce Wings
2015-04-22 13:19:25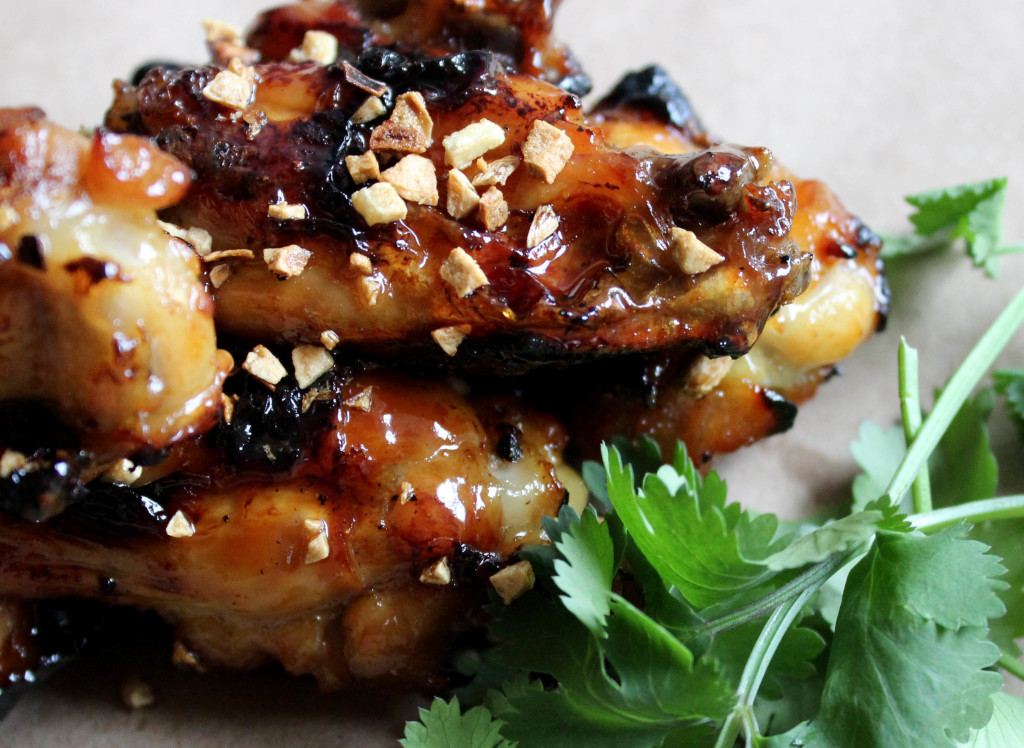 Serves 4
A faster, easier and healthier version of the famous fish-sauce wings from Pok Pok in Portland, Oregon.
Ingredients
8 cloves garlic, peeled
1 tsp kosher salt
1/4 cup warm water
1/2 cup Vietnamese fish sauce (Phu Quoc or Three Crabs recommended)
1/2 cup superfine sugar
2 lbs party wings
Vegetable oil
For "spicy wings": 1-2 tsp naam phrik khao soi (roasted chile paste)
Make Sauce
Chop garlic finely, then sprinkle with salt and chop again for 15 seconds.
Scrape into a small bowl, cover with warm water and let sit for a few minutes.
Pour garlic mixture through fine sieve over a bowl. Use the back of a spoon to stir and smoosh garlic against sieve. Reserve garlic leftovers.
Add fish sauce and sugar to bowl and stir until dissolved.
Place wings in separate bowl, add 1/2 cup fish sauce mixture, toss well. Save remaining fish sauce in refrigerator.
Cover wings and refrigerate for at least 4 hours, or overnight, tossing occasionally.
Cook
Place oven rack 6-8 inches below broiling element. Pre-heat oven broiler on high. Line 2 cookie sheets with foil, coat with cooking spray.
Divide marinated wings between cookie sheets and bake under broiler for 10 minutes. Flip wings and broil for another 10. Checking frequently to make sure they aren't burning. They should charr a little but not turn completely black. They are done when the meat is falling off the bone.
While wings are baking, heat vegetable oil in a non-stick wok and fry the leftover garlic until crisp. Drain on a paper towel.
Finish
Add 1/4 cup water to remaining fish sauce.
Combine 1/4 cup of the remaining water-fish-sauce mixture and half the chili paste (if using) and bring to a full boil in your nonstick wok. Reduce for about 45 seconds.
Add half the wings and toss every 15 seconds until a caramelized glaze coats the wings, about 1 minute.
Add one third of the fried garlic, toss well and cook for 30 more seconds.
Rinse and wipe out wok, repeat with the second batch of wings.
Top with remaining fried garlic and serve with pickled vegetables, cucumber spears and herb sprigs.
Adapted from Pok Pok Recipe in Portland Monthly
Kristi Does PDX: Adventures in Portland, OR https://kristidoespdx.com/