An innovative new hot dog shop in a Portland suburb. The food is excellent… find out why I probably won't be back.
UPDATE APRIL 2016: UNFORTUNATELY CLUTCH SAUSAGERY IS NOW CLOSED.
I live in Northeast Portland now, but I grew up on the west side in a little community called Cedar Mill. It's a little bit of an odd pocket: the mailing address is Portland, it's in unincorporated Washington County, and the schools are Beaverton. My parents still live there as well as a few friends so I stop in fairly regularly. Recently, there's been a lot of growth: a gorgeous new Market of Choice grocery store and big housing developments. Nothing too exciting until one little restaurant started showing up on Eater and Portland Monthly. Why was a little sausage shop in Cedar Mill getting so much attention? This week, I went to find out.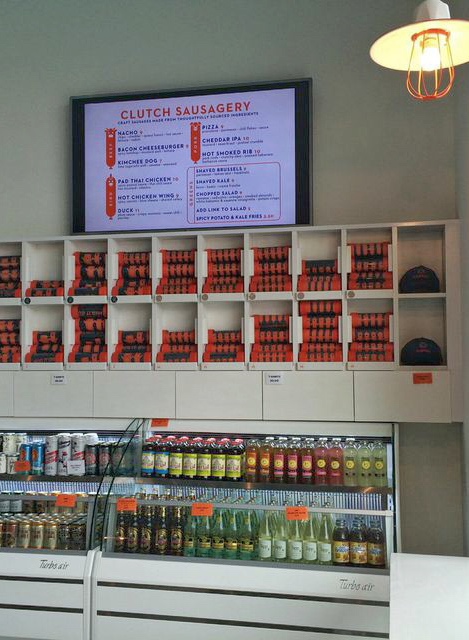 Clutch Sausagery is tucked away inside the Timberland Town Center shopping center off of Barnes Road. It's a bright white strip mall shop but it was virtually empty when we got there. Oh no… is that a bad sign? Why is it empty at lunch time? A quick look at their menu might give you a clue… it's kind of expensive! Not expensive expensive but expensive for a hot dog shop. They average around about $10! But these are no ordinary hot dogs. They are "craft sausages made from thoughtfully sourced ingredients" as it says on their website.
We ordered the Duck, Pad Thai and Nacho along with some soft drinks and chips. They came to the table fairly quickly in adorable little orange boxes. I love their graphic design, don't you? The "Duck" arrived topped with crispy wontons, plum sauce, sweet chili and parsley. I think the Pad Thai was the most attractive, served with a spicy peanut sauce, hot mustard, cilantro and peanuts.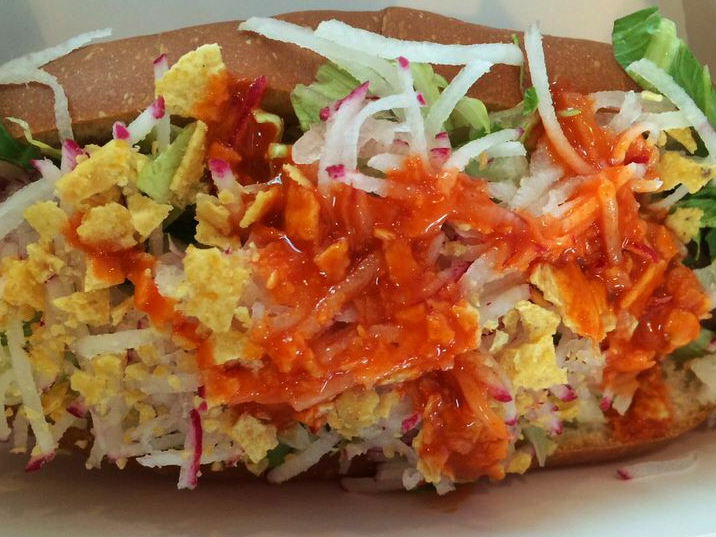 I ordered the Nacho because it sounded like fun and I've been craving nachos a lot recently. It had chips on top, along with shredded lettuce, radish, cheese and hot sauce. It was spicy, crunchy and super flavorful. My favorite part was the snappy casing on the sausage, something I think most hot dogs are missing. We didn't order any sides, but I wish now that I'd tried the spicy potato and kale fries.
These were GREAT hot dogs but I don't know if I will be back. I hate to say that because I like this place but it's the truth and it's honestly an issue of the price. I get it… they are hand-made, with great ingredients by a trained chef. It was just a number of dollars more than I want to spend on a hot dog. I hope Clutch finds it's audience, but if they want my advice, lower the prices or increase the size of the sausage. This nursing mama left still feeling a little hungry after her (delicious) Nacho sausage, chips AND a soda.
CLUTCH SAUSAGERY
TIMBERLAND TOWN CENTER
NW 118TH & BARNES ROAD
11AM-8PM EVERY DAY