Portland Plates: Maple Bacon Doughnuts
Introducing my new monthly series, Portland Plates, where I recreate a famous Portland dish. This month a version of the famous Maple Bacon Bar that you can make at home!
I've had an idea kicking around in my head for a little over a year. It's a simple little idea that combines my passion for exploring Portland with my love of cooking. Over the past few years I've done a few cooking posts: Vanilla Confetti Cookies, Valentine Heart Cookies, Homemade Amaretto, Strawberry Jam and Homemade Croissants, but they really don't have much to do with Portland! So now I'm presenting the first of my new monthly series: Portland Plates.
Once a month I'm going to recreate and re-imagine an iconic Portland dish. It might be something baked, it might be a main course, it might be a cocktail! But it will always be a dish that's popular here in Portland. To kick off the series, I'm sharing my take on one of Portland's most famous foods: Voodoo's Maple Bacon Doughnut.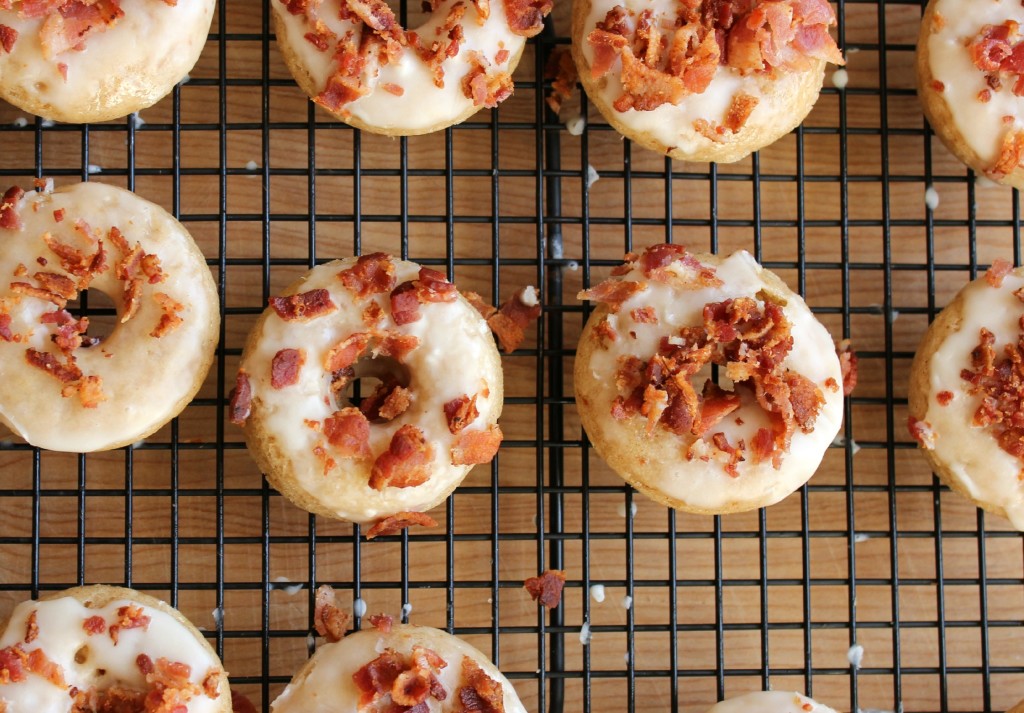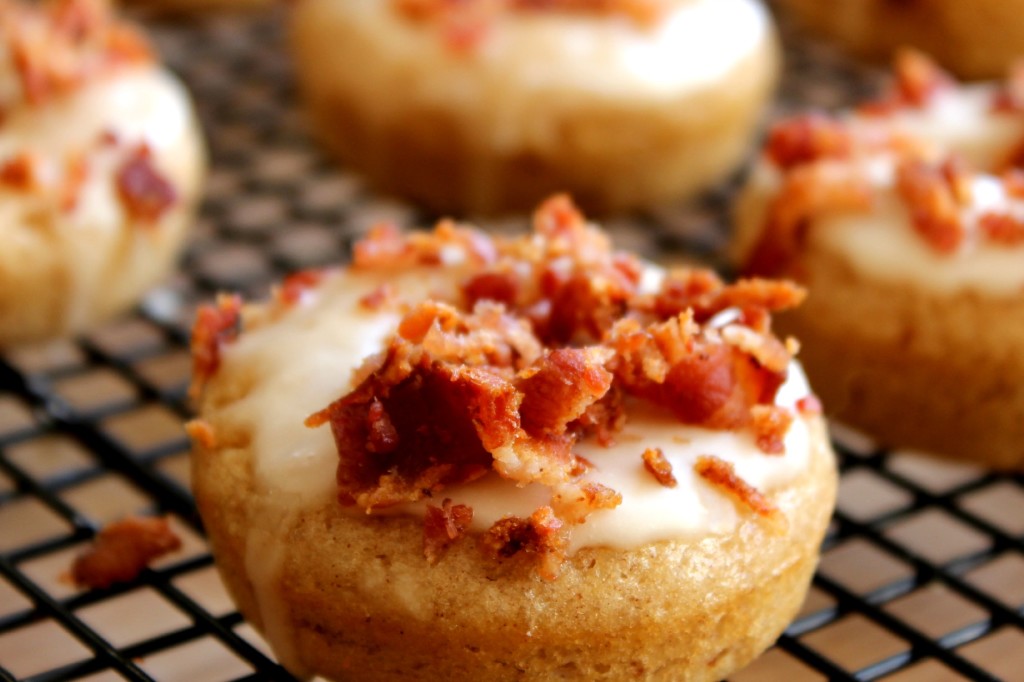 The original doughnut is a Maple Bacon Bar. It's fried dough, with a thick layer of golden maple frosting and two slices of bacon on top. I am not into frying stuff, it's just too messy and too much work. So I decided to bake them instead and bought myself a doughnut pan. If you don't want to spend the extra cash, you could just use a muffin pan. The batter is fast to make and fast to glaze. I used real maple syrup so the flavor is much more mild than the original. If you want that strong maple flavor, substitute maple extract for the syrup. Enjoy!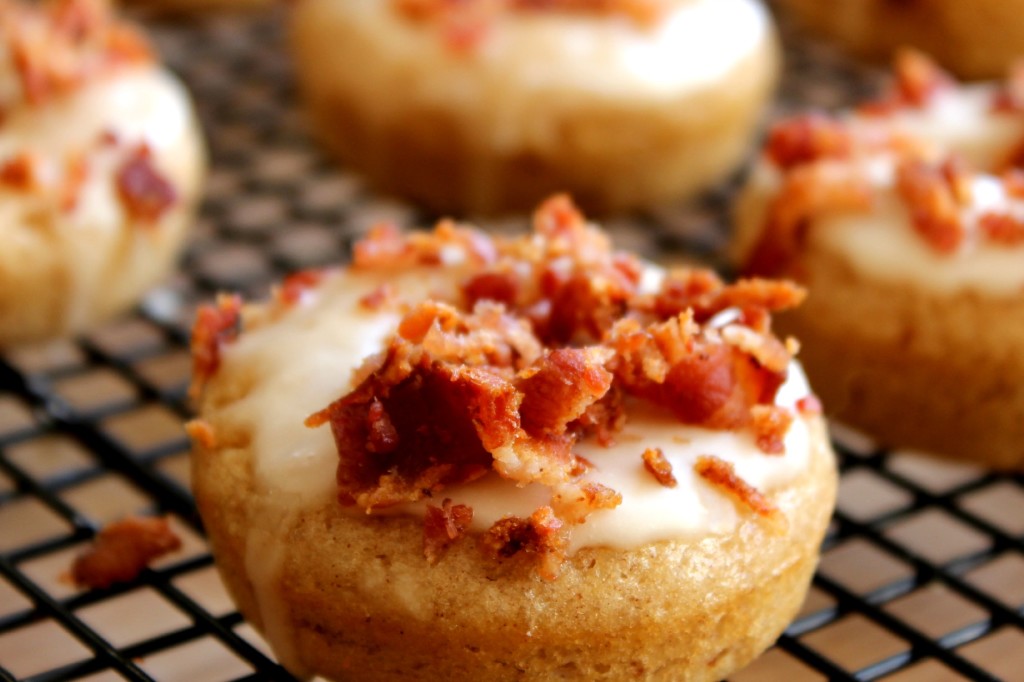 Maple Bacon Doughnuts
2015-02-23 17:44:46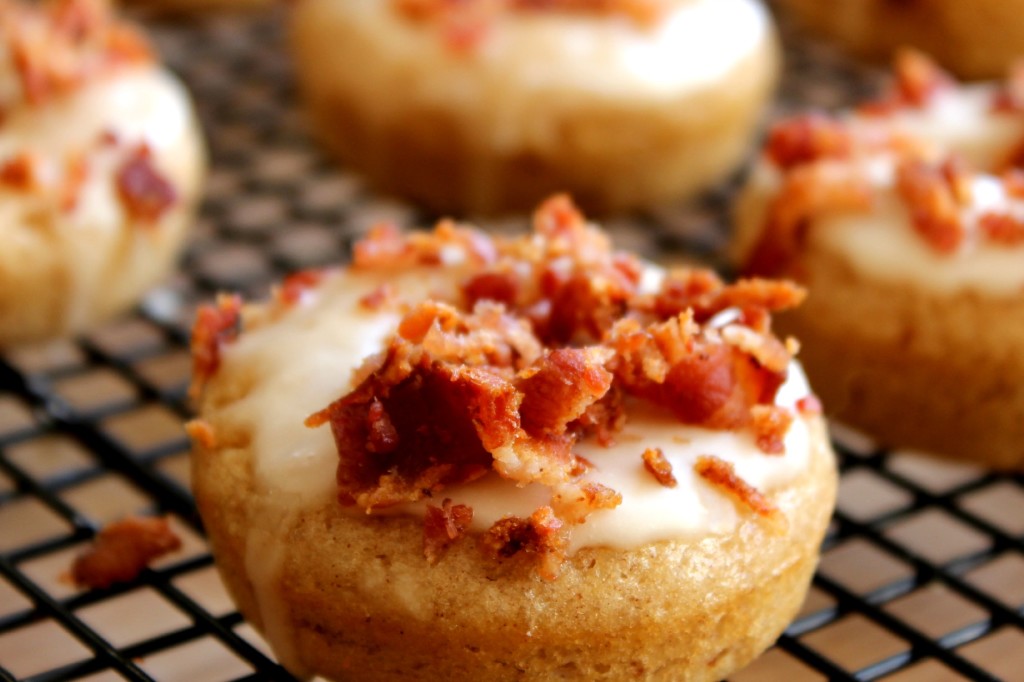 An easier and healthier version of the famous Maple Bacon Doughnuts from VooDoo Doughnuts in Portland, Oregon.
For the doughnuts
2 cups all-purpose flour
1 1/2 teaspoon baking powder
1/2 teaspoon baking soda
1 teaspoon salt
1 teaspoon ground cinnamon
2/3 cup granulated sugar
4 tablespoons unsalted butter
2 large eggs
1 cup buttermilk
1 tablespoon maple syrup
For the maple bacon glaze
1 cup confectioner's sugar
2 tablespoons maple syrup
1/2 teaspoon vanilla extract
1-2 tablespoons whole milk
10 strips bacon cooked crisp and chopped
Make the doughnuts
Place rack in the top third of the oven and pre-heat to 350 degrees F. Lightly grease doughnut pan and set aside.
In a medium bowl whisk together flour, baking powder, baking soda, salt, cinnamon and granulated sugar. Set aside.
In a small saucepan, melt the butter on the stove over medium-low heat. Butter will begin to crackle and pop as it melts. Once the water has evaporated, the butter will quiet down and begin to brown. Keep a close eye on it. This happens very quickly. Once it is brown remove from heat and set aside to cool.
In a small bowl whisk eggs, buttermilk and maple syrup. Add brown butter and whisk all wet ingredients together.
Add the wet ingredients all at once to the dry ingredients. Mix together just until all the flour is incorporated. Do not over mix.
Transfer half the batter to a sandwich bag. Snip one corner and pipe dough into the doughnut mold, filling each a little more than half way.
Place in oven and bake, 6-7 minutes for mini-doughnuts, 8-10 minutes for regular-size doughnuts. Remove from oven and allow to cool for a few minutes before moving to a wire rack.
Repeat baking process with the rest of the batter.
Make the glaze
In a medium bowl mix the confectioner's sugar with maple syrup and vanilla extract. Slowly add milk to thin out glaze. You might not need all of it so add slowly and mix as you go.
Once donuts are cool, gently dip the top of each in the bowl of glaze. You could also spoon the glaze on top but I found dipping to work well. Before the glaze dries top each with bacon.
Serve with coffee (or beer).
Adapted from Adapted from Shutterbean
Kristi Does PDX: Adventures in Portland, OR https://kristidoespdx.com/