A real hidden gem that's only open 3 hours a week. Get em' while you can!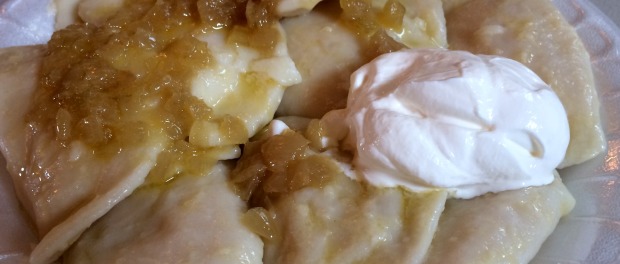 Ever since visiting Poland about 10 years ago, I've been a perogie fan.  The big dumplings filled with potato and cheese, then served with sour cream, onions or apple sauce.  They are a little tough to find in Portland because  there are no Polish restaurants here (Bar Dobre, the only one I knew, of recently closed).  A few food carts and  a couple restaurants (like Mother's & Veritable Quandary) have them on the menu, but they just aren't that common.
One Saturday afternoon I was sitting in traffic on Tacoma Street in Sellwood.  It was taking forever, and all of a sudden I saw a blue sign that said "Perogies" with an arrow pointing to the right.  I didn't even hesitate, I just made the turn and followed the signs to a little church which I now know is St. John The Baptist Ukranian Orthodox Church.  I parked the car, then followed more signs into their basement where I found long rows of folding tables and a little kitchen window where some nice ladies were selling perogies.
You can buy  them pre-cooked with some sour cream and caramelized onions to eat there for $7/dozen.  That's a lot of food for $7!  On my most recent trip I ate an entire dozen myself (I would like to say this is because I'm "eating for two" but I think I could eat the same amount normally) but Gloria and Emmi shared a dozen and seemed pretty satisfied.  You can also buy them frozen for $6/dozen along with cabbage rolls and sausage.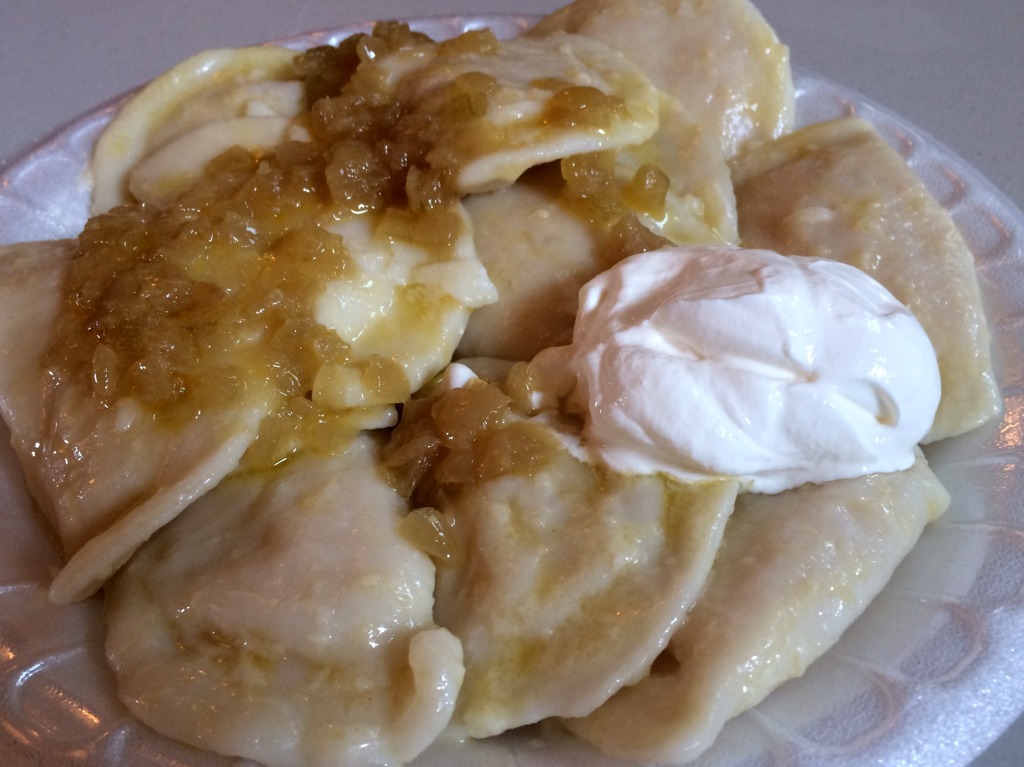 There are only two downsides to this little shop: First, they only make one flavor of perogie…potato and cheese.  A little variety would be nice but what they make is DELICIOUS, so it's tough to complain.  Second, the hours.   They are only open on Saturdays from 11am-2pm.  That's it.  Only a 3-hour window each week to get your perogie fix, so get yourself together this saturday and try them out.
HEAVENLY PEROGIES
ST. JOHN THE BAPTIST UKRANIAN ORTHODOX CHURCH
8014 SE 16TH AVE
SATURDAYS 11AM-2PM