A Portland hidden gem: Check out this beautiful and spacious coffee shop hidden away inside a church at the base of Mt. Tabor.
I have been feeling like I'm in a little bit of a rut.  It's hard to mark time when you're waiting for the biggest change in your entire life, your first baby.  She will be here so soon, yet it feels like so far right now.  I'm keeping busy, but it's not the type of busy I'd like to be.  I need a project, something bigger than just this blog and a decorating a nursery.  I've been thinking a lot about the early months this year when I did the Artist's Way and completed my certificate in Digital Marketing Strategies at Portland State.  Those were inspiring, productive months for me, I wish I could have a few more like that.  Especially since it may be a while before I have that kind of opportunity again.
So to get some things moving, I'm getting out of the house to do a little work and a little thinking.  But rather than go to my usual place, Case Study Coffee, I'm checking out Tabor Space.  It's a space i've driven by countless times and always been curious about, plus they serve my favorite coffee, Ristretto Roasters, so here I am!   This appears to be a hidden gem in the Portland coffee shop world, where space for a yourself and a laptop can be tough to find. But Tabor Space is only half full at 11am on a Wednesday morning.
Perhaps one of the reasons it's less likely to attract the hipster crowds is that it's in a church!  They've turned one of the big rooms, right off of the sanctuary into a coffee shop!  And it's beautiful, with high vaulted ceilings, lots of wood and tons of stained glass.  There are tables, big and small as well as a couches, a kids play area, and a good amount of outdoor seating.  As I said before, they serve great coffee.  The pastries are catered by Bakeshop.
But, Tabor Space is more than just a coffee shop and church, they are also an event space!  If you have a group you need to host, but don't have the room, check this place out.  They have a number of rooms to suite a variety of groups and affordable prices.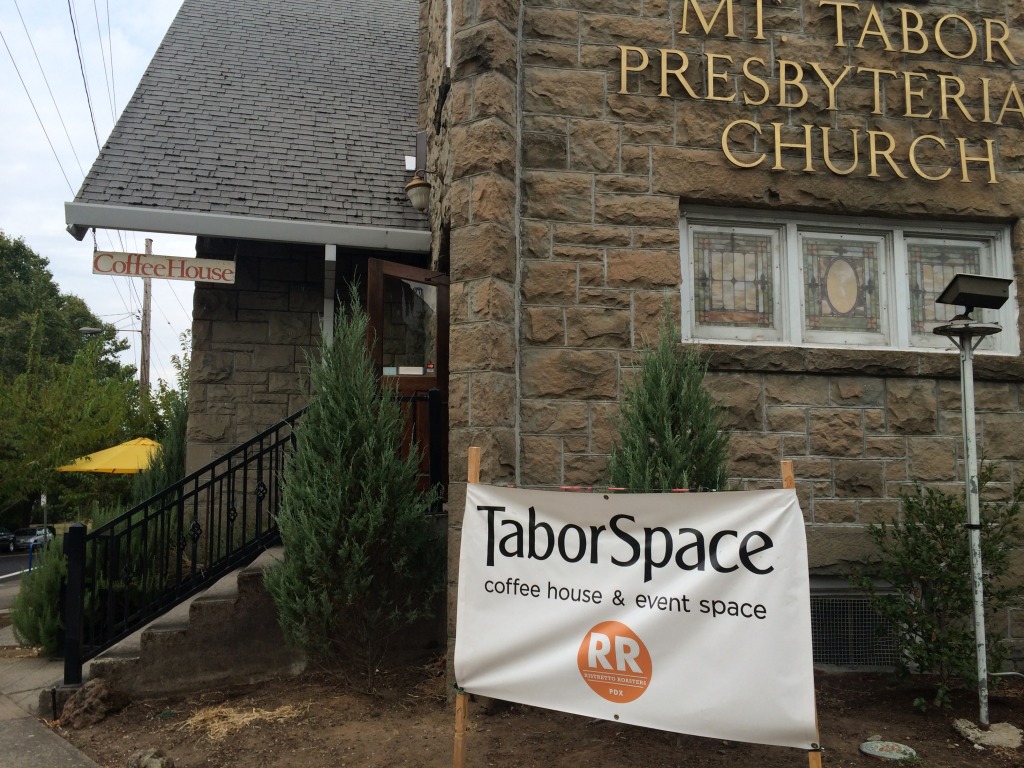 I've had an absolutely lovely morning here.  There are a few other people working, two old retired guys talking politics and religion but mostly it's quiet and peaceful.  Next time I need a place to camp out (hopefully with a new exciting project on my plate) and get some real work done, this place will be high on my list.
TABOR SPACE
5441 SE BELMONT
MONDAY-FRIDAY 7:30-4:30, SATURDAY 8:30-1:30