A new noodle shack from the Pok Pok empire. Bright, colorful and casual.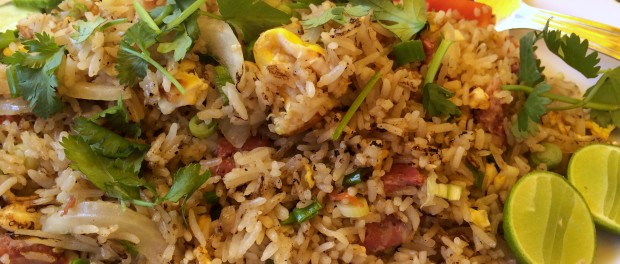 My favorite part of Thai food has always been noodles, not necessarily Pad Thai but all the fried noodle dishes.  I like the ones with lots of veggies the best.  So I've been trying to get out to the noodle shop Sen Yai for a while and finally made it for lunch this week.  Sen Yai is another Andy Ricker restaurant, he's the man behind Pok Pok, so all the dishes are designed to be "authentic" thai street food.  I can not speak to how true that is, but in this case it does leave you with a shorter menu than most other Thai restaurants around town.
I was eating with my parents so we ordered one thing from every category, rice, soup and noodle.  The fried rice (Kaho Phat Buu) was my favorite.  For a simple rice dish, it was super flavorful and full of surprising tastes.  Especially the sour pork sausage, unusual but delicious.  The "Boat Noodle" soup was also excellent, full of meatballs, veggies all cooked in a really complex broth that was salty and full of herbs.  This would warm you up on a cold day.
I ordered the Phad Sii Ew, a simple noodle dish that's usually on the menu at other thai restaurants.  I was hoping to do a taste comparison, to see how Sen Yai improved it.  But…. it was about the same as I've gotten at other restaurants, which was a little disappointing but it was still really good, with chinese broccoli and some very tender pork.
A couple other nice features, they have a large spacious patio, and a parking lot.  It's small,  but in that neighborhood, anything helps. They also have a full cocktail menu that includes all the popular drinks you'd find at the other Pok Pok locations.  Since it was lunch time we all went with the no-proof menu.  I ordered a limeade that blew my mind.  And of course, there are their famous drinking vinegars.  Give them a shot if you haven't tried them, they are better than you might expect.
While this place feels more like a regular Thai restaurant than the other Pok Pok stores, it's still worth a visit, especially if you're in the mood for noodles, rice or soup. Yum yum!
SEN YAI
3384 SE DIVISION
OPEN BREAKFAST, LUNCH AND DINNER
CHECK WEBSITE FOR HOURS