From the team behind Little Big Burger, Boxer Ramen & Blue Star Donuts, a new fried chicken joint… with HUGE biscuits.
I couldn't resist.  When I heard Micah Camden has a new restaurant open, I immediatly started hatching plans for a visit.  Luckily, his new concept was NOT a tough sell on my husband.
"Hey you want to go check out a new restauarnt that sells fried chicken and biscuits"
"Yes.  Let's go right now."  He likes chicken, but he loves biscuits.  So Saturday night we drove over to 20th & Division.  Isn't SE Division out of control right now?  Every time we've gone out to eat in the last two months it's been on Division.  And it looks like even more is being built.  We need to come up with a name for it.  Restaurant Row?  Epicurian Alley?
But, back to Son of a Biscuit.  It's on 20th & Division near the New Seasons Market in a space that used to be a Pizzacato.  The colors are bright and cheery, and there is room for about 20 people to sit inside.  There was a line when we arrived at 6:30pm,  but honestly, it was not as bad as I was expecting, maybe 4 orders in front of us.   Some of which were getting their food to-go.  They sell chicken by the half (4 pieces) or whole (8 pieces).  There is an option for spicy chicken, we said no, but I ended up adding some hot sauce at the table.  We ordered half a chicken, FOUR biscuits, and a couple house-made fruit drinks.  The total was just over $20 plus tip.
The chicken arrived on top of two pieces of bread along with some pickles.  I'm not sure what the deal is with the bread.  I'm guessing it's some kind of regional thing, but I've never heard of that before.   The chicken was perfectly cooked.  Super juicy with crispy breading.  It was greasy, but no more than to be expected with freshly fried chicken.  I think the breading could have used a little more seasoning, but it was still really good.  The pickles that came with it were a great touch.  Between the rich chicken and the buttery biscuits, I need something to freshen up my palate.
Ok, let's talk about the biscuits.   Oh man.  We went a little overboard ordering 4.  I could barely make it through one!  They are about twice the height of what I would consider "regular" biscuit.  But they are amazing.  Crispy, buttery and salty on the outside, soft and flaky on the inside.   Jacob was wishing they'd come with some honey, but I thought they were fine on their own.  We took the extra two home and had them for a midnight snack and with our Sunday breakfast.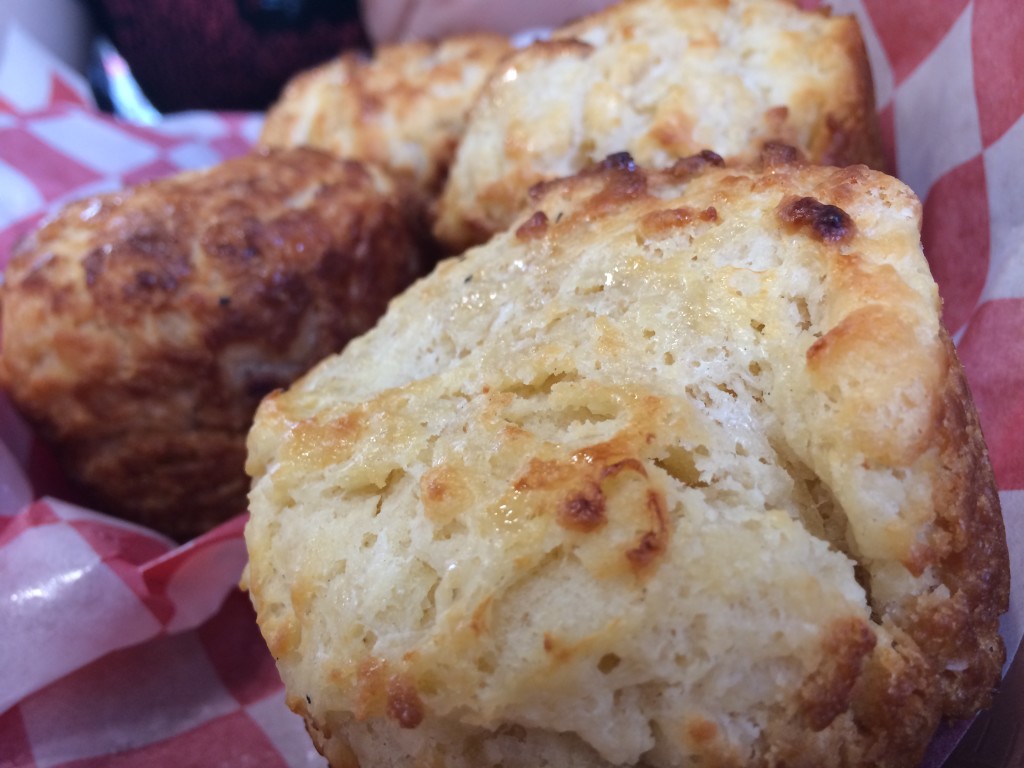 As for the rest of the menu, there is also a chicken sandwich, which I'd love to try.  It was popular the night were were there because they sold out!  There are also a few sides: mac'n cheese, potato salad, french fries and banana pudding.  And that's the entire menu! Short and sweet, just like the menus at Little Big Burger and Boxer Ramen.  The Camden restaurants pick one  food,  then do it really well.
I'm probably in a minority here but I could have gone for some coleslaw.  Like I said, I think the chicken would benefit from something tangy.
We visited during their first week open and you could feel it.  The service was a little shaky, not bad, just I could feel the "learning as we go" energy in the air.  The counter service was a little slow and the dining area needed to be cleaned.  But it was forgivable and I think that should be straightened out pretty quickly.
So will I go again?  Probably!  If I have a craving for fried chicken I would  head for Son of a Biscuit, or Dub's St. Johns.  The best fried chicken I've had in Portland is still at The Country Cat, but that's at a much higher price point and hard to compare.  So if you're a meat eater, go check out Son of a Biscuit, tell me what you think.
SON OF A BISCUIT
2045 SE DIVISION
MONDAY-SATURDAY: 11:30AM-10PM SUNDAY: 5PM-9PM