Project: Ice Cream Sandwiches
A recipe for classic homemade ice cream sandwiches. I made a mini version but you can do any shape.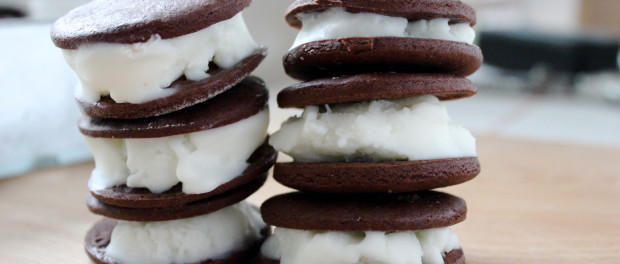 This ice cream sandwich recipe has been sitting in my brain for more than a year!  I made them for Valentine's Day and thought at the time the cookie is the perfect texture for an ice cream.  I love the old fashioned chocolate and vanilla sandwiches, the long, cheap rectangular ones with cookies so soft they melt into the ice cream.  So these cookies remind me of that classic  with a rich chocolate flavor, and the soft texture.  I like other types of ice cream sandwiches, especially the ones sold by Ruby Jewel, but my goal here is classic.
So I decided to finally make turn these cookies into ice cream sandwiches for as a Father's Day Treat.  The cookie baking went great.  It's a pretty fun recipe, but with an unusual technique for rolling the dough.  I opted to go mini for these cookies, using a little round biscuit cutter.  One things that's really great about them is that they hold their shape when baking, which is really nice since the shape matters for attractive cookies.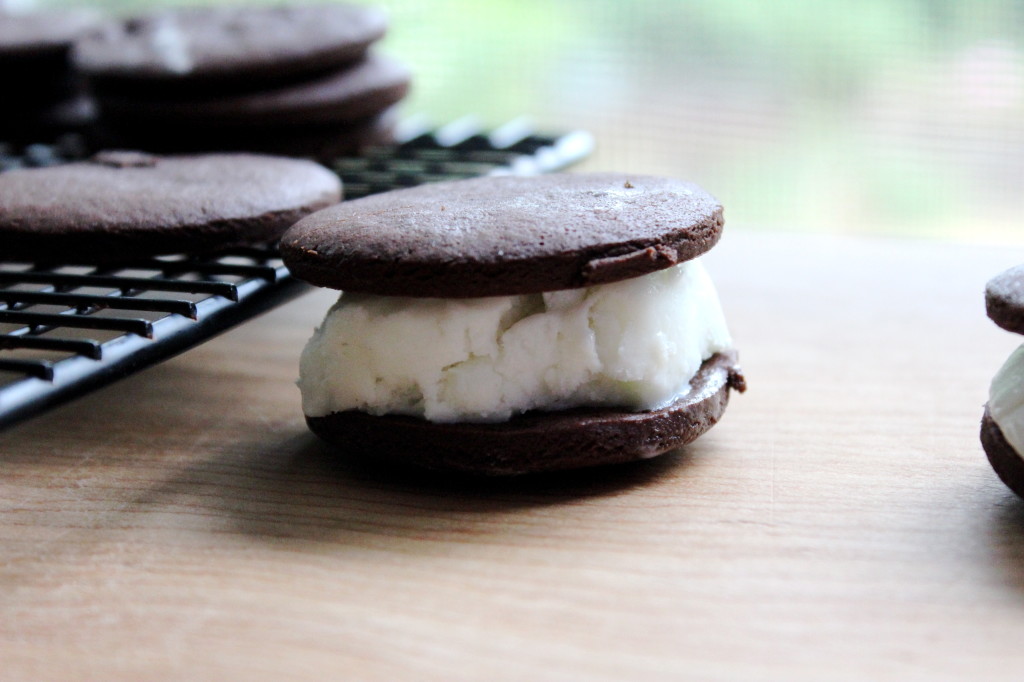 Of course my plan WAS to make ice cream sandwiches, but at the last second I decided to change to frozen yogurt for my husband who has trouble with dairy.  A nice thought… but I'm disappointed with the results.  The tangy flavor of the yogurt clashed with the flavor of the chocolate.  Next time I'm going regular ice cream for sure.    So here's the recipe, I think it would be great with strawberry or cookies n' cream ice cream also.
Classic Ice Cream Sandwiches
From Martha Stewart Living February 2013
1 1/4 cups all-purpose flour, plus more for parchment
3/4 cup unsweetened cocoa powder
1/2 teaspoon baking soda
1/4 teaspoon coarse salt
5 tablespoons unsalted butter, melted
2/3 cup packed light-brown sugar
1 large egg
1 pint ice cream
Whisk together flour, cocoa powder, baking soda, and salt. Stir together butter, sugar, and egg. Add flour mixture to butter mixture, and stir until a dough forms. Divide dough in half; roll out each half between 2 sheets of lightly floured parchment to 1/8-inch thick. Transfer to baking sheets, and refrigerate until firm, about 30 minutes.
Preheat oven to 350 degrees with racks in upper and lower thirds. Cut out 1-, 1 1/2-, and 2-inch heart shapes, making sure you have even numbers in each size for a total of thirty-four 1-inch, thirty-four 1 1/2-inch, and twenty-eight 2-inch cookies, re-rolling scraps once. Place cookies 1 inch apart on parchment-lined baking sheets, and freeze until very firm, about 15 minutes.
Bake until firm and fragrant, about 8 minutes for 1-inch cookies, 10 minutes for 1 1/2-inch cookies, and 12 minutes for 2-inch cookies, rotating halfway through. Let cookies cool completely on baking sheets set on wire racks.
Take ice cream out of freezer about 20 minutes before assembly to soften.  Using a spoon or small scoop  put a small ball of ice cream on one cookie.  Top with a second cookie and gently press together.  Be careful not to crack the cookie!  After assembling half a dozen you might want to put them in the freezer, so they don't lose shape.  Once they are all assembled, freeze for at least an hour before serving.