A super charming downtown lunch spot with creative food and delicious pastries.
Yesterday I went to lunch with my best bud Emmi and her husband Mike at the absolutely charming little luncheonette, Maurice.  And I mean CHARMING.  It's decorated all in white, with colorful ranunculus on each table (it's my favorite flower so they get extra points )and jaunty music was playing when we arrived.  The sun was shining in the window.  It was lovely.  We snagged the window seat and started with coffee and tea.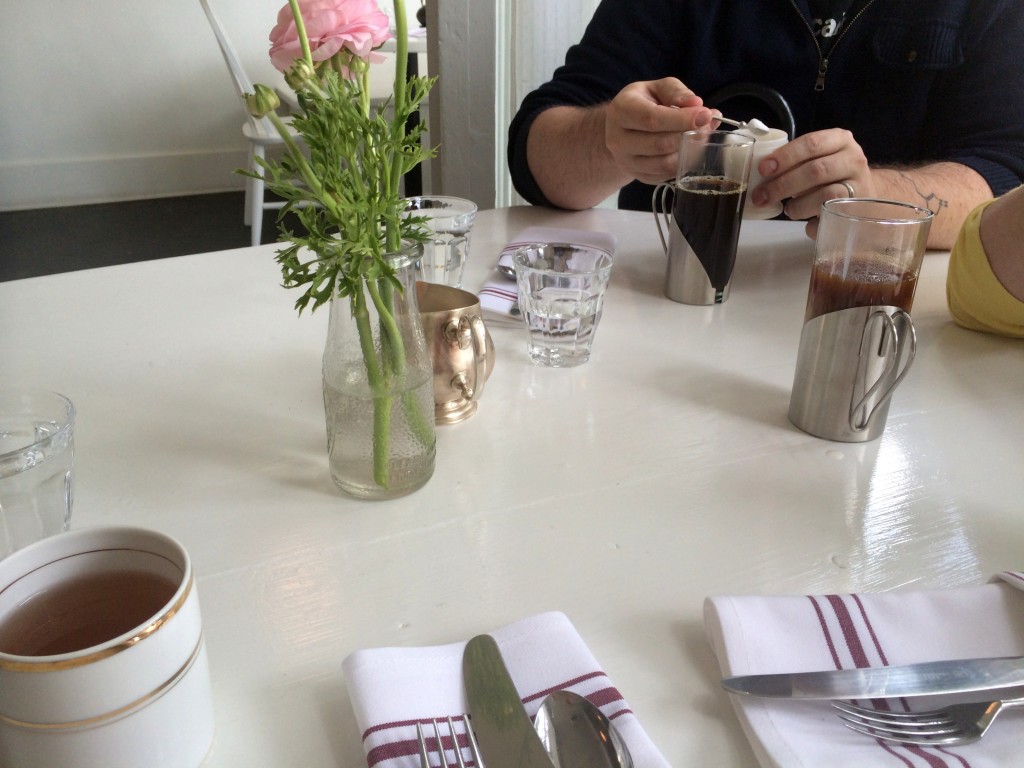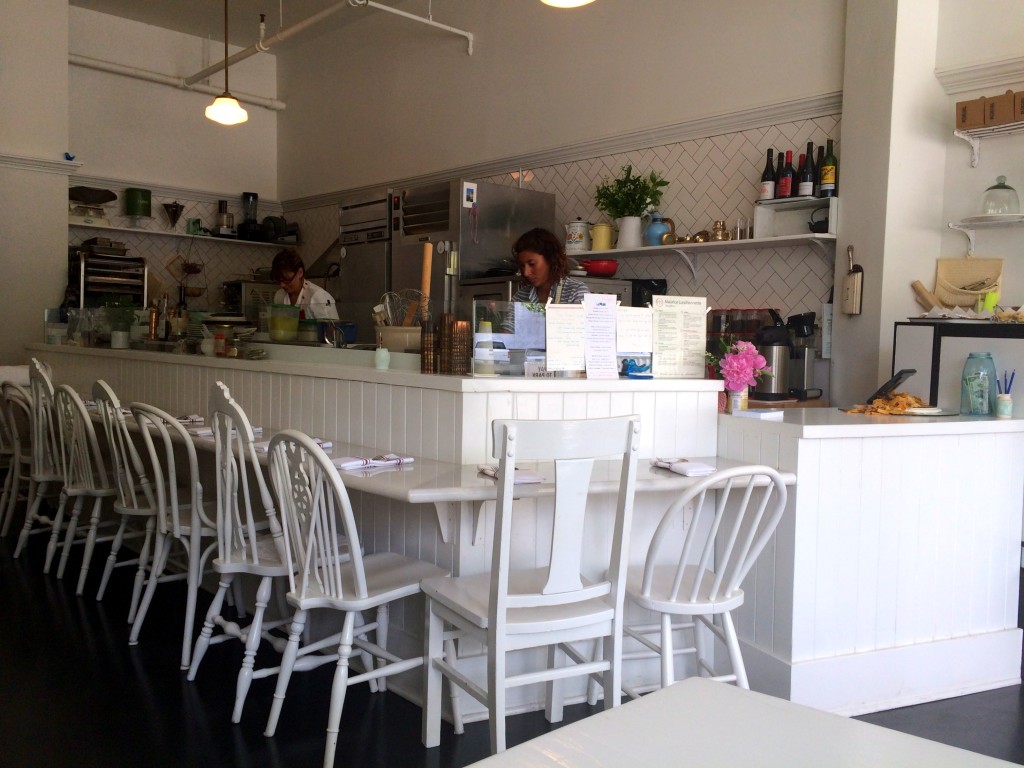 The menu is full of surprises with things like lefse, clafouti and tartine.  According to the website the chef/owner trained with pastry chefs in France and this food is inspired by that experience.  While I always have intentions to branch out and try something new, I was lured in by the safe choice of a shiitake quiche.  I am a sucker for quiche, especially when it has mushrooms.  It came with a delicious side of greens, tossed in a light light light dressing.  But these were no ordinary greens from a box, they were fresh picked, flavorful and unidentifiable to all of us.  But delicious.  Must have come straight from the farmer's market.  The quiche was great with a really flavorful crust, but a little small… I wanted more!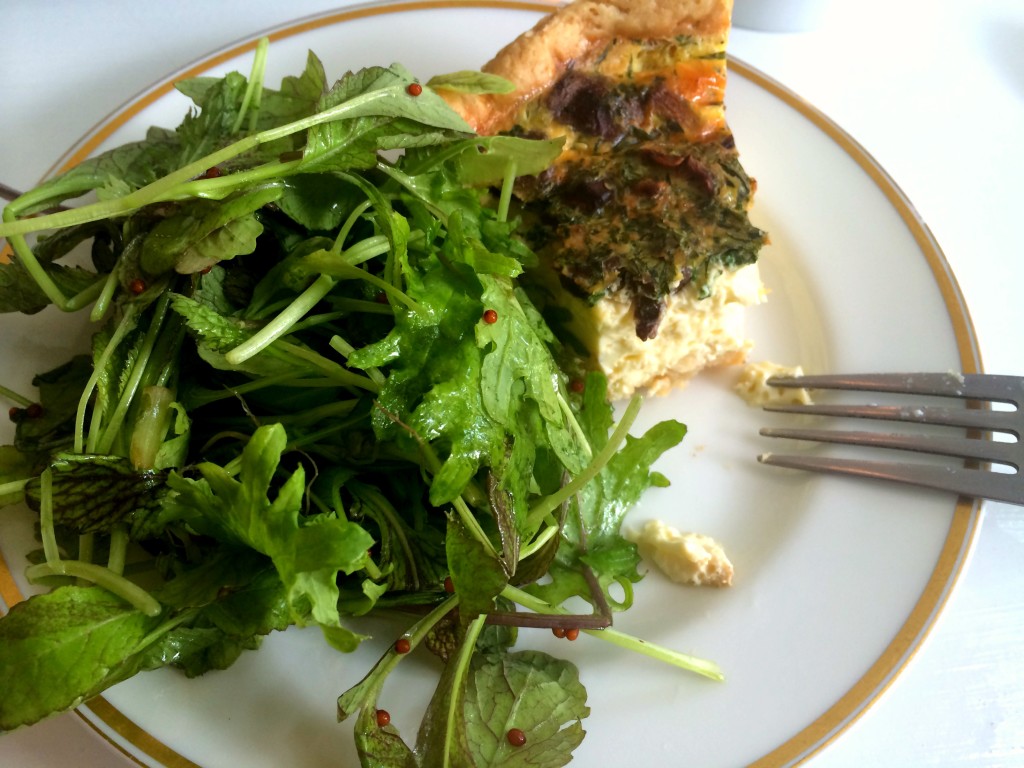 Emmi ordered the duck liver tartine.  It was beautiful, a puffy pastry topped with liver, fresh spring onions and cherries.  We all raved about the onions.  We had no idea they were even onions because they were so big, crunchy and sweet!  She loved the dish, although said it was a little rich.  Mike ordered the lefse, which is a type of pancake, topped with "grapefruit kissed" lox.  He liked it alright but seemed a little unsure about the grapefruit/fish flavor combo.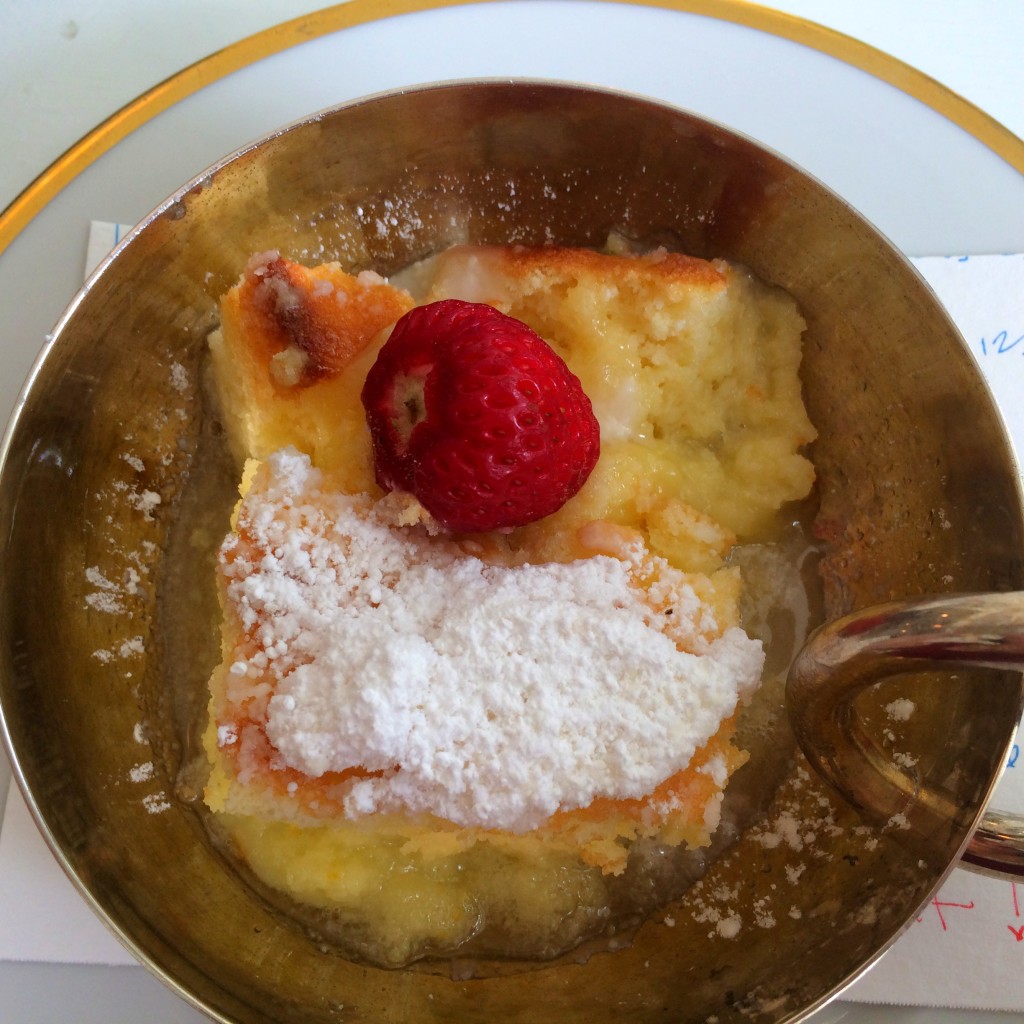 Maurice serves lunch, but they're really big on dessert too.  Since I was still a little hungry, I went for it and ordered a Lemon Souffle Pudding. It was SOOO good crispy on top and nearly liquid at the bottom.  I wished afterwards that I had shared it. One of the specialities at Maurice is a Black Pepper Cheesecake served with brown butter sorbet. Emmi and Mike were too full for a full dessert, but they did ask for a sample of the sorbet.  It was so weird!  It's strange to have a cold treat that's not sweet.
The service at Maurice is fantastic, they were very attentive, gave us great recommendations and brought the food fairly quickly.  My only complaint is about the serving size to price ratio.  I felt it was a little over priced for what we got.  I was really hungry when I arrived and still left a little hungry with $22 bill.  It might have been okay for dinner (since prices are often higher at dinner) but for a lunch everything seemed a couple bucks too expensive.  But maybe it was just me, Emmi and Mike did not seem as disappointed with the servings size as I was.  But overall I reccommend checking Maurice out.  Like I said, it is incredibly charming, the food is very interesting and it's in a great location, on that weird triangle shaped block across the street from Powells (Sizzle Pie is a couple doors down).
MAURICE 
921 SW OAK STREET
M-SA 10AM-7PM