Glide through the trees, balance high above the ground and challenge yourself at this obstacle course and zipline park in Gaston, OR.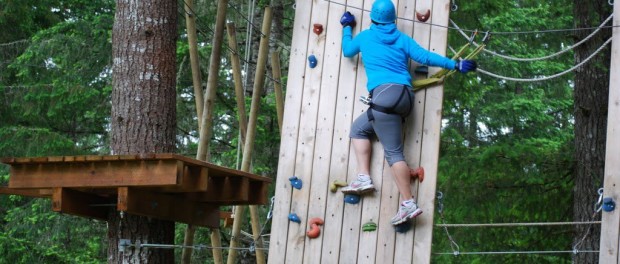 I was going organizing some old photos this weekend when I found pictures of my trip to Tree To Tree Adventure in Gaston, OR.  My Dad took Jacob and I for our birthdays a couple years ago and we had an amazing time.  But surprisingly, I never shared the photos so here they are!  For once  I was not behind the camera, so you get to see me in action! (I'm in the blue sweatshirt)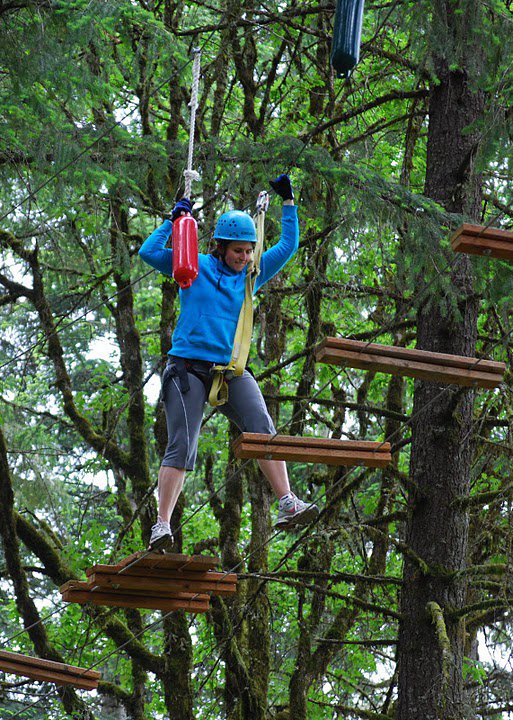 We did the adult aerial obstacle course the day we visited.  It's a challenge course suspended in the trees and connected with a series of ziplines.  You'll climb, swing, leap, balance and wobble your way through it across balance beams, tight ropes, bridges, and climbing walls, all the while attached to  safety wire so there's no danger if you fall. But it's still pretty scary… in a good way.  The course is coded with different levels of difficulty so you can decide how much of a challenge/scare you want.  At the end of each section, you simply zipline back down.  There are separate courses for kids and tweens that take their shorter arm span into account and are closer to the ground.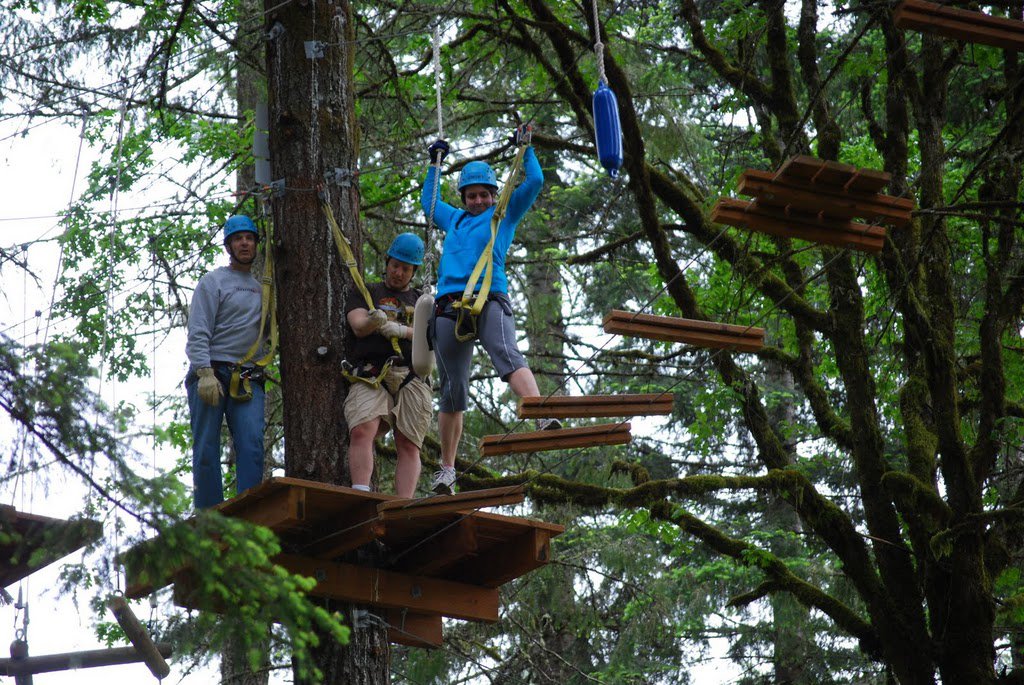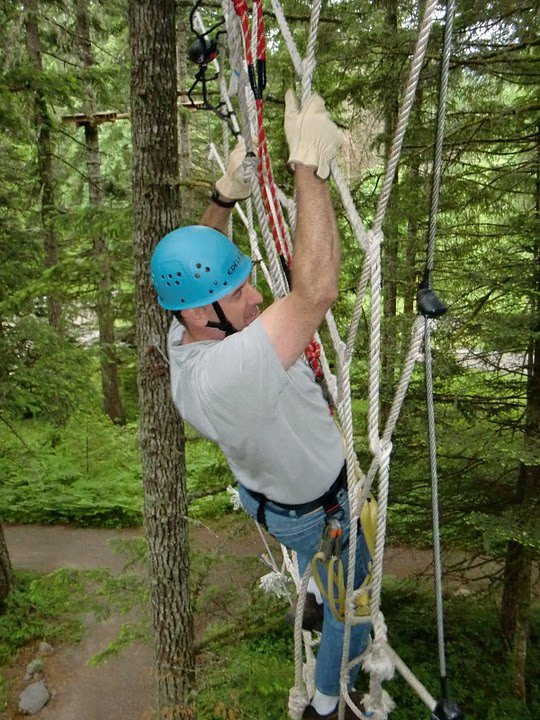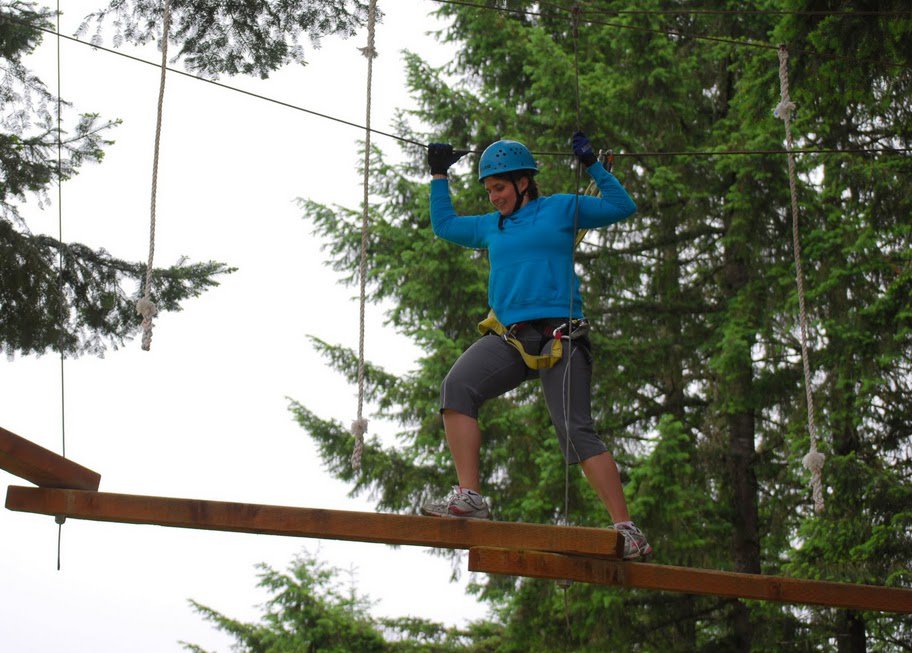 Some sections were incredibly challenging, forcing you to really use your strength to climb.  But most of the time it was just plain fun.  You can see we are all smiling in the photos.  For the most part, I completed the course without relying on my guide wire, except once.  I wish I had a photo.  There's one spot where you have to swing on a rope into a web, just like Spiderman.  Well, I swung but was to scared to let go, then started panicking because I was not strong enough to hang on to the rope any longer.  I ended "falling" (which is about 4 inches) then swinging myself into the net.  It was scary but  fun to push myself to the edge like that.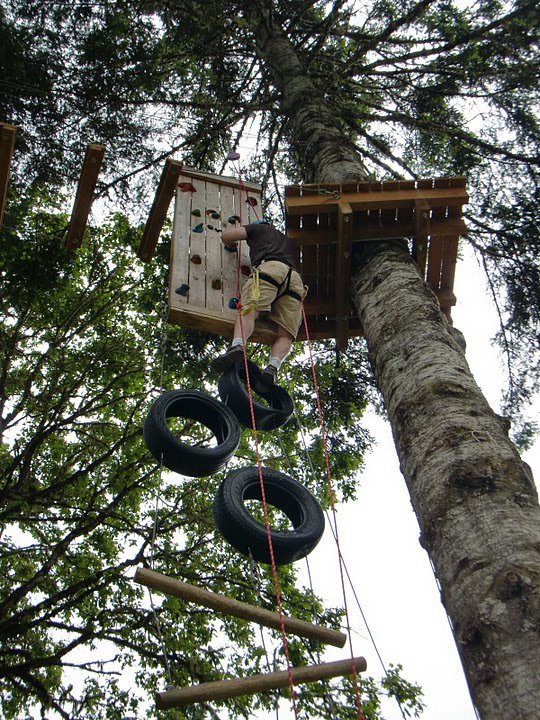 Since my last visit Tree To Tree has installed a whole new course, that's just ziplines.  I'm hoping to get back and try it one of these days.  But this is not a cheap activity.  For adults, the aerial obstacle course is $48 (for 3 hours on the course) and the zip line course is $75.  You can do them both for $113.  Kids are cheaper, but it's going to be pushing $200 for a family of 4 just to do the obstacle course.
One final note:  when you are so high up in the air safety is critical and the staff did a fantastic job of training everyone on how to use the equipment, how to safely clip onto each zipline and move around.  While I was scared of the heights and the challenges, I never felt in danger.
Happy zipping!
TREE TO TREE ADVENTURE PARK
2975 SW NELSON ROAD, GASTON, OR
CALL TO MAKE RESERVATIONS: 503.357.0109