Wonderful, homemade comfort food served out of a window in the back of St. John's Ranger tavern. Don't miss the chicken & waffles!
My first experience eating chicken and waffles was in college, at Roscoe's House of Chicken and Waffles in Los Angeles.  I was going to school down there and my friends took me on what felt like a pilgrimage to this  little restaurant near Hollywood.  I honestly don't remember much about the food, other than I did eat a plate of fried chicken with waffles.  But ever since I've had a bit of nostalgia about places that serve chicken and waffles. It reminds my of my old friends.
Lot's of people have told me (and shown me impressive photos) that the Screen Door's are excellent, but I'm not nearly motivated enough to stand in that kind of brunch line.  But there is one place I keep hearing about …. a little hole in the wall (literally) up in St. John's called Dub's.
Dub used to have a restaurant called Mack & Dub's Excellent Chicken and Waffles, but it burned down!  So now Dub has set out on his own serving food out of the kitchen inside the Ranger Tavern in North Portland.  It's an unusual, but very smart setup.  In the back of the charming, yet divey tavern (the northernmost bar in Portland) past the bar, the keno machines and pool table is a little window where Dub sells his comfort food.  If you want something to drink, even a soda, head for the bar.
We ordered fried chicken & waffles, a fried chicken sandwich, rib tips and some fries.  The chicken came with a warning of a 20 minute wait.  No problem, if you want to fry the chicken fresh, I'll happily wait.  I asked for some fries to tied me over.  There was some entertainment while we waited… a man won $465 dollar playing Keno.  He was shouting and dancing, what a great way to start the day!  Dub and the woman working in the kitchen delivered the food, all of it was too hot to eat.  Obviously right out of the frier.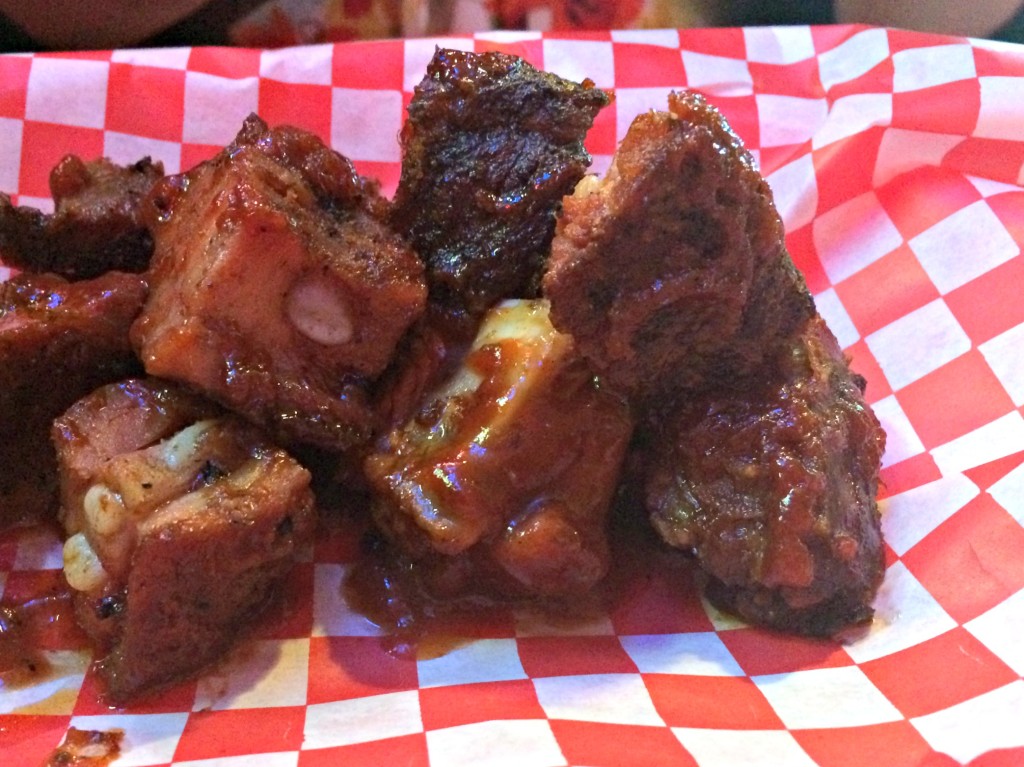 The chicken was perfectly seasoned, crispy and juicy on the inside.  I burned my mouth eating the drumstick, but the waffle was actually my favorite part.  It was soft and chewy and slathered in butter.  I've never had a waffle like it before but I loved it. Very different from the cripy and airy ones I make at home.   Emmi and Mike had to remind me to share, otherwise I might have eaten it all myself.  The rib tips were fantastic, in a barbecue sauce Dub told us he makes himself.
The chicken sandwich was just what you'd expect, fried chicken on a bun with mayo and lettuce.  It was so good, Mike refused to leave  a bite behind, plus it came with fries.  We ordered too many fries.  But they were great, more like Jo-Jo's than french fries.  Hand-cut and coated in a thick seasoning.  They are the first fries I've ever had that didn't go that well with ketchup.  The Frank's Red Hot Sauce was a better match.
While we ate Dub came around to chat and make sure we were happy.  He explained his food like this: "I'm a musician, and I've always been great at mixing things whether it's sounds or flavors".  So if you're in St. John's or need a Chicken and Waffle fix, head to the back of the Ranger Tavern and give Dub's food a taste.
DUB'S ST. JOHN'S
INSIDE THE RANGER TAVERN @ 9520 N. LOMBARD
CHECK THEIR FACEBOOK PAGE FOR CURRENT HOURS- BUT GENERALLY OPEN LUNCH AND DINNER, PLUS BREAKFAST ON WEEKENDS