Nighttime sledding at Mt. Hood Skibowl! Pop music, lasers, snow, hot chocolate and best of all a conveyor belt to carry you up the hill.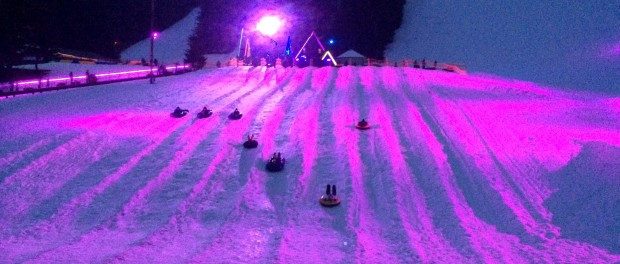 One of my goals, two years in the making, is finally complete!  For two years, I've been wanting to check out Skibowl's Cosmic Tubing and I finally made it this last weekend.  It's nearly the end of the season, but there's still plenty of snow and we had a great time.   It sounds like it's happening for at least the next two weekends, so there is still time to go in April.
First thing you should know: this is kind of expensive.  $30 for adults for 3 hours of sledding.  I was a little hesitant at first about the price but once I was there, it was totally worth it.   We did the 7pm-10pm shift and ended up leaving about 30 minutes early.  2.5 hours was plenty for us, plus we were getting wet and tired.  So what do you get for your $30?  The biggest benefit is a conveyor belt up the hill.  That's right you don't have to walk!  They have a little people mover that will drag you and your tube up the hill.   The belt broke for about 30 minutes while we were there, walking wasn't too bad for us, but some of the kids were struggling to tow their sleds up.  Skibowl also provide all the tubes, including some doubles and quads.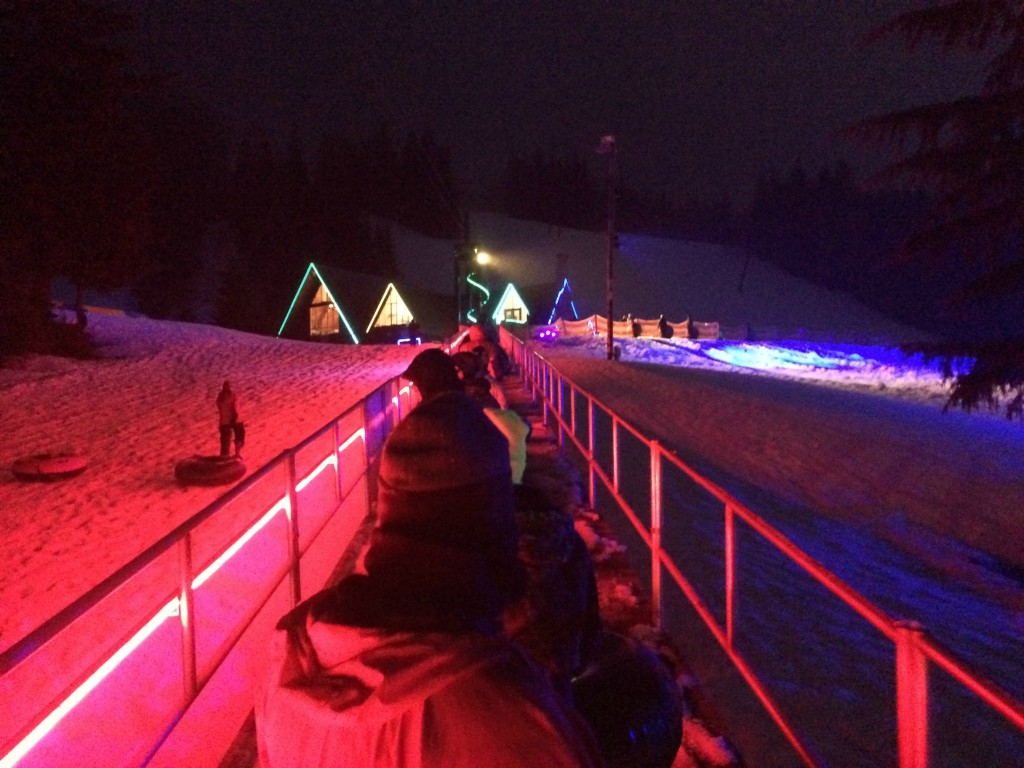 There are three sledding hills to chose from.  The main one has about 10 lanes.  We spent most of our time there racing each other down.  There's another side hill with an "s-curve".  This one was fun but slow.  You have to use your feet to steer or you will end up going down backwards.  The third hill was short and steep.  It's right behind the lodge and you have to walk up the hill yourself.  The first time I tried it I wiped out on the way down.  But on a second try it went just fine.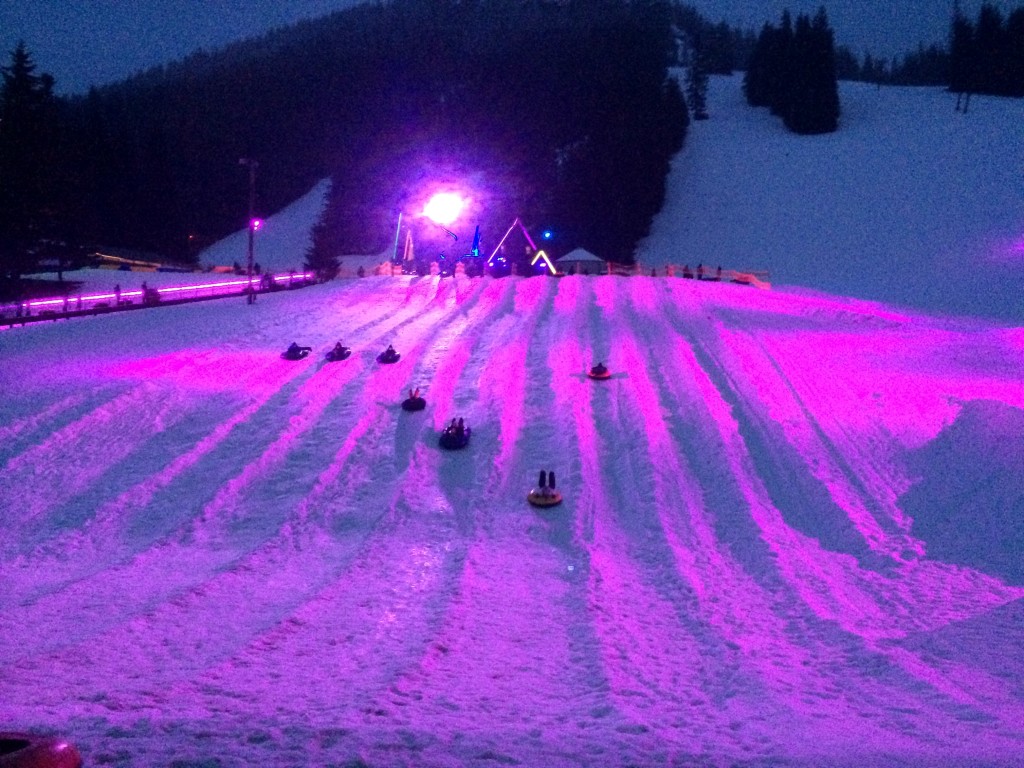 The "cosmic" part comes in with the lights and music.  They had pretty good current pop music playing the entire time, similar to Z100's selection.    There are colorful lights and lasers that reminded me of the dance floor at a wedding.  It snowed a lot while we were there and the snow looked amazing in the lights.   Everyone, the kids and the adults were having a great time.  The lodge is right next to the sledding hill, so when you get cold, it's easy to pop inside and warm up in the cafeteria or in the bar.  And on the back patio a bonfire was roaring.  For adults, they do have a full bar including a nice selection of German beers.
So we are giving Cosmic Sledding four thumbs up!  It was fun, really well organized and also safe.  There was a LOT of care from the staff about how you ride you ride the tubes.  They checked each child before going down the hill to make sure they were riding the correct way.  For me it was worth the $60 for both of us.  Plus the drive to Skibowl is so easy:  1hour 20minutes each way.  It's too spendy to go all the time, but once a winter would be awesome.
COSMIC TUBING @ SKIBOWL
WINTER: FRIDAY & SATURDAY 6-11PM, PLUS EXTRA HOURS DURING HOLIDAYS
ADULTS $30-39, JUNIOR $25-39