This is my second draft for this post about Disjecta's Portland2014, a biennial art show on Oregon's contemporary art scene.  Just as I was about to hit publish on a fairly negative (for me)  review, the truth revealed itself, through a beautiful stroke of synchronicity in my Twitter feed.  I found out that OPB's new radio show, State of Wonder, did an in-depth with the curator, Amanda Hunt. I listened to it immediatly and my whole perspective changed.
I was frustrated.  After spending hours of my precious weekend touring 3 of the 4 galleries participating in Portland2014, I walked away confused:  What did these pieces have to do with Oregon?  How how are the pieces representative of the local cart landscape?  How were the artists chosen?  And why was a woman from Los Angeles (of all places!) curating a show about Oregon?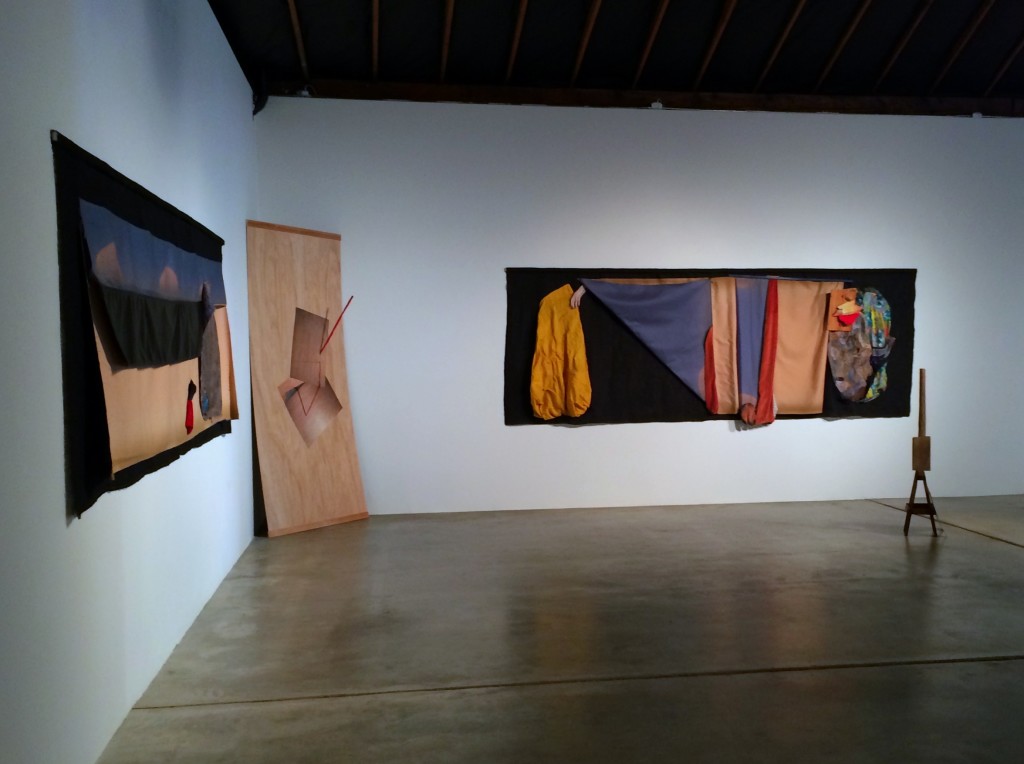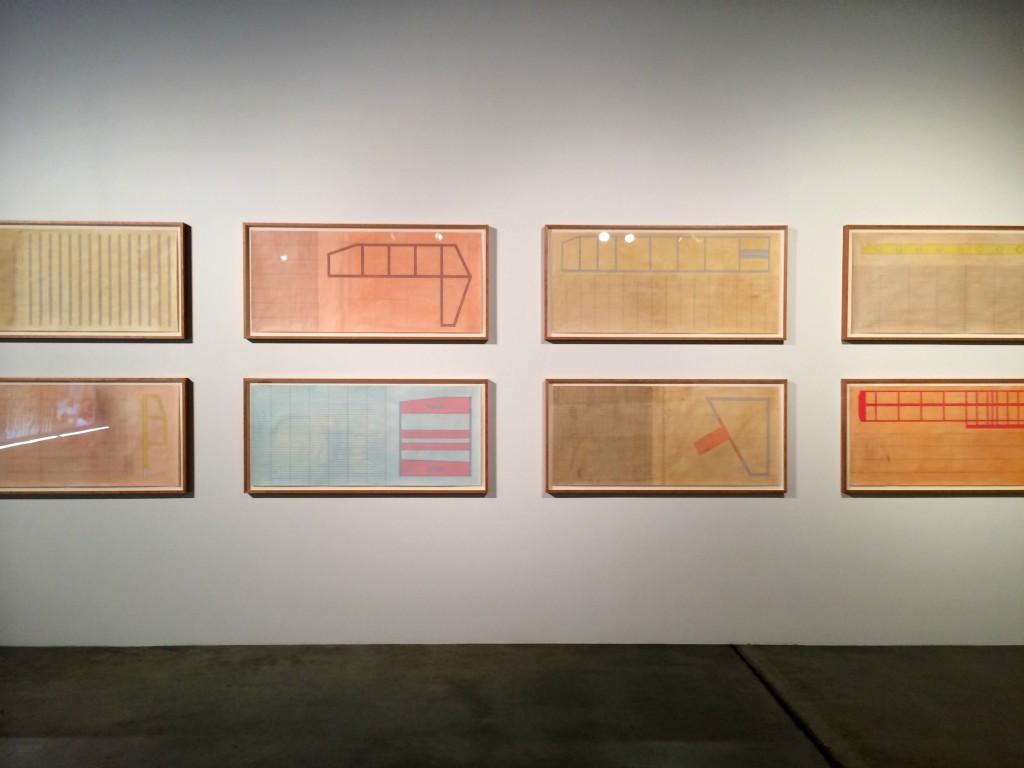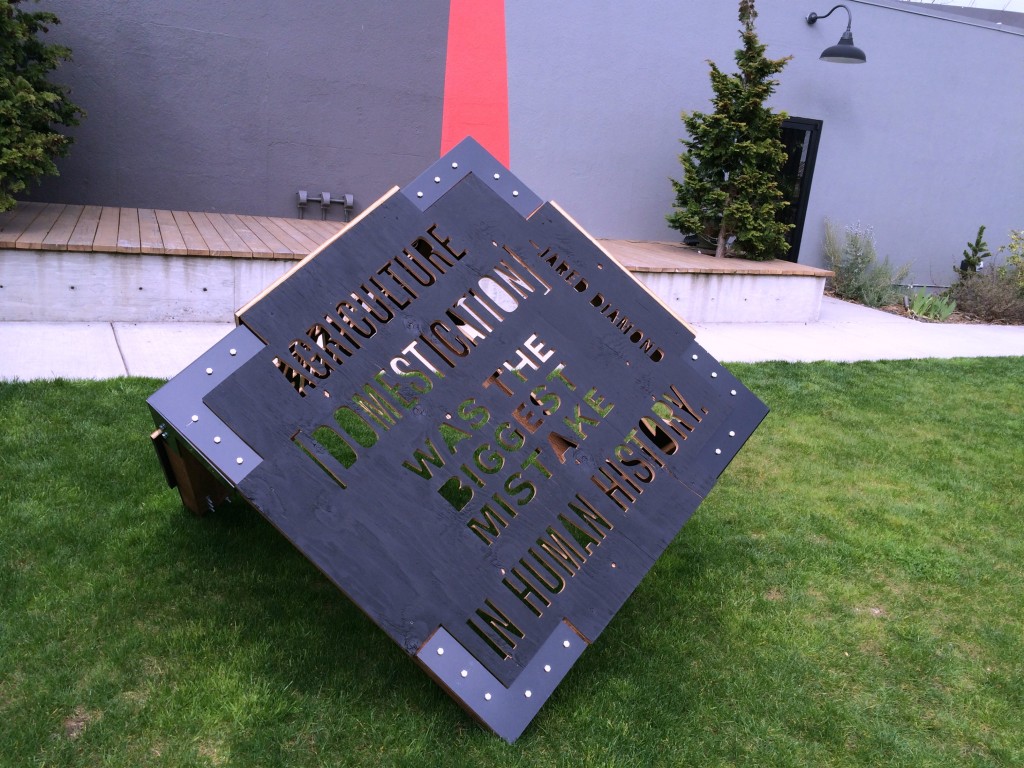 Thank goodness for OPB!  They answered all my questions and gave me real perspective on the exhibit.  Here's the gist:  After a few years working with  local curators, Disjecta tapped Amanda Hunt  for a "fresh set of eyes."  She spent months visiting local artist's studios narrowing down the pool of 300 applicants to 15.  She worked with them to create original works for the show, to fill 4 galleries, put up 3 billboards, create 3 public sculptures and schedule live weekend performances.  After hearing her speak, I have much more faith in her selections and I've learned so much more about the pieces I saw during my tour.
Now my criticism has changed.  The problem with this exhibit isn't with the art or the curator, it's with the context.  Disjecta, don't keep us visitors in the dark.  I'd appreciate more information on the themes and artist's goals.  A few more sentences in the program, maybe?  What where they trying to achieve, where was their inspiration?  All the artists are so unique and different, I'd like to know more about how they fit into the landscape of Oregon's art.  Don't make me run to OPB for answers.  But that's enough complaining, here are some of the pieces that really stood out for me:
The one that stood out the most was in the Disjecta gallery, a huge mural by Modou Dieng & Devon VanHouten-Maldonado.  It was inspired by Reggie's Barbershop on NE MLK.  All the imagery is taken directly from the shop.   From the people to the pictures on the wall.  The mural is bold, beautiful and fun to look at.  Plus I really love neon lights.  It feels like a window into a crazy dream world.  I came back to this one 4-5 times while wandering the gallery.
Also at Disjecta, a pretty engaging video installation, by Kelley Rauer.  Three screens of dancers timed to a drum beat.  It was emmersive, colorful and hyptonic.  It was a pleasure to zone out to for 5-10 minutes.
The Upfor Gallery in the Pearl District featured only one artist, Ellen Lesperance.  She took over the entire gallery, from the fabric draping the walls to the paintings to a collection of ceramic statues in the middle of the room.  I really enjoyed it as a group. Her work is not really my personal taste, but I really appreciated her tiny dot grid paintings.  Such detail and patience.  The dolls were a little strange, very incomplete, they looked almost like accidents.  But I suppose that was the point.  Her style seems to be about the beauty of imperfection.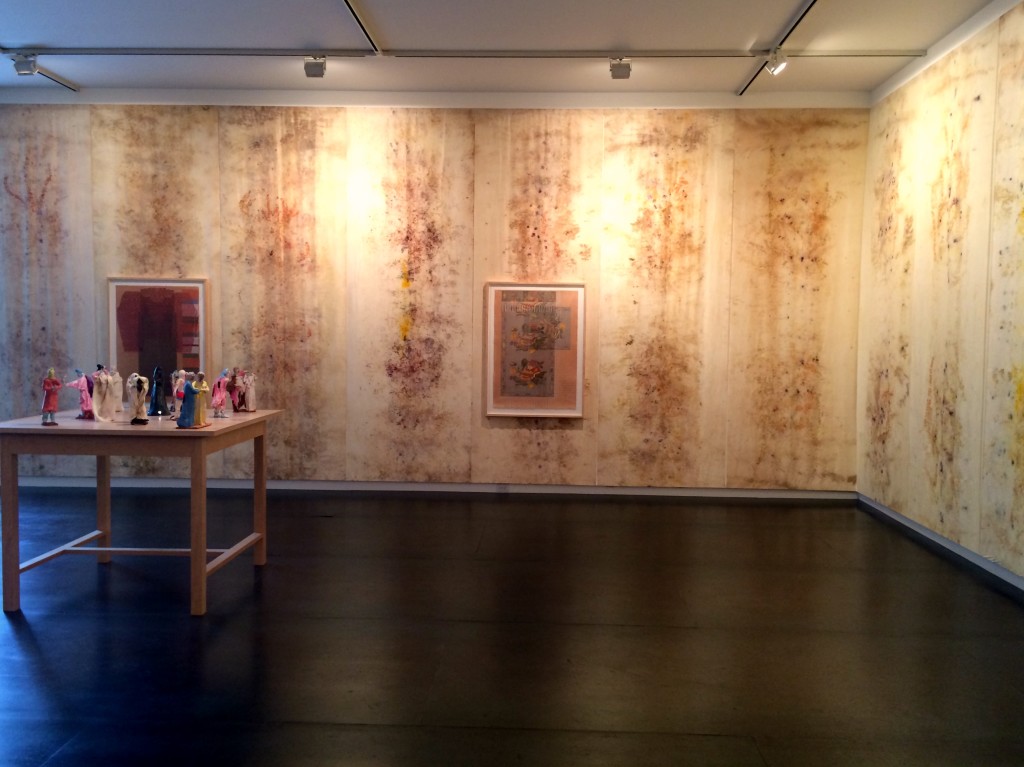 My final stop was at the White Box Studio in the University of Oregon building next to Saturday Market.  This was a collection of talented artists, that felt unconnected to each other.  There was another great video installation that made me feel like I was inside an airplane as it did acrobatics.  I was delighted and a little disoriented.  There were also some provocative tapestries, and a colorful yellow chair that I wish I had a better interpretation on…. All great pieces on their own but I was wanting more information.
The OPB interview helped me pull this exhibit together, but I shouldn't have to rely on an outside interview to gain the perspective I need.    If you are in the neighborhood on one of the galleries, it's worth stopping to to see, but a listen to the OPB interview may help.
PORTLAND 2014: PORTLAND BIENNIAL
MARCH 8-APRIL 27 2014
DISJECTA, THE BEST ART GALLERY IN PORTLAND, UPFOR GALLERY, WHITE BOX