The closest waterfall hike to Portland. At only 2.4 miles, it's a great stop during a day trip to through the Columbia Rover Gorge.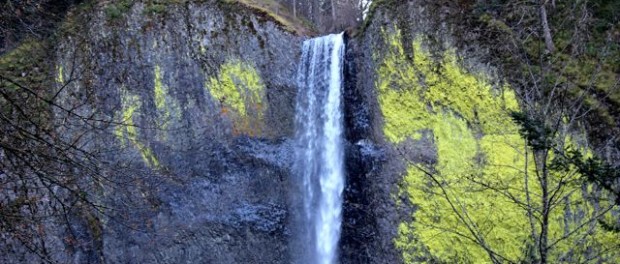 If you need a fun, short hike that's pretty close to Portland, Latourell Falls is a great idea.   It only took us two hours to drive there, do the hike and drive home.  Easy peezy.  As waterfall hikes go this one is pretty good.  You get to see two falls in just 2.4 miles.  The trailhead is on the old Columbia River highway.  What  great road.  I love driving it, with the beautiful WPA stone walls, white fences and evergreen trees.  Lovely in any season.  For people who don't want to do the whole hike, it's just a short walk up  or down a hill to see the lower Latourell Falls.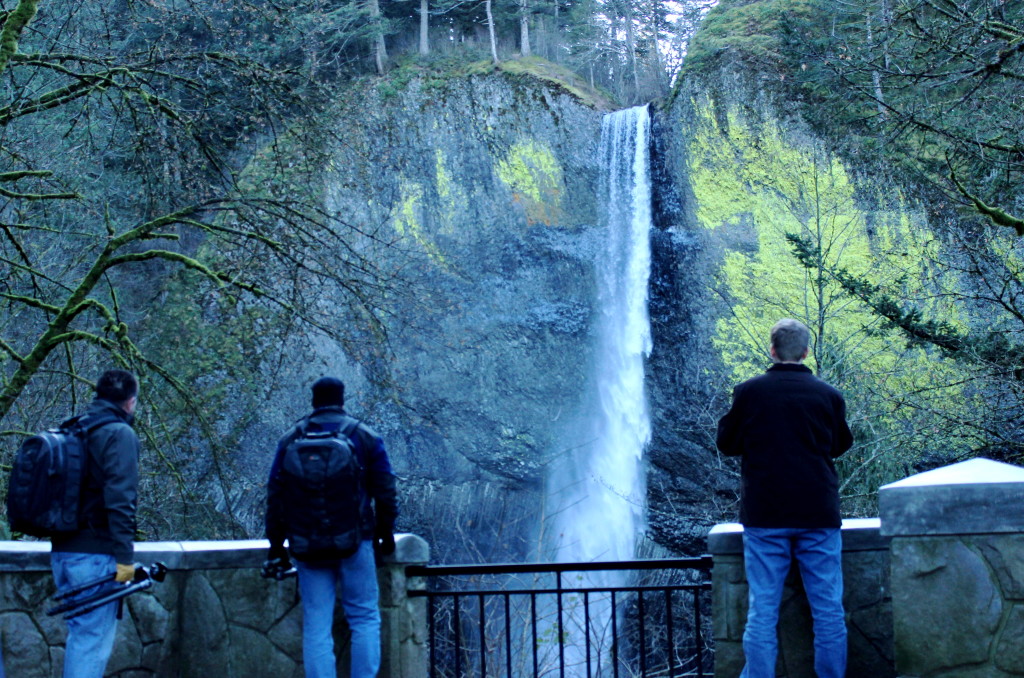 But the hike is pretty short.  Only a 2.4 mile loop.  We hiked the trail from east to west.  Taking the left route at the trailhead trailhead.   On the hike you'll see both Lower and Upper Latourell Falls.  There are views of the  lower falls from just about every angle.  It was really impressive from the lowest point, on our way back.  We were there this last weekend and although it was sunny, it was icy! Especially around the falls.  Be careful, especially if you have kids along.  But it was beautiful, there was even some ice forming along the rocks.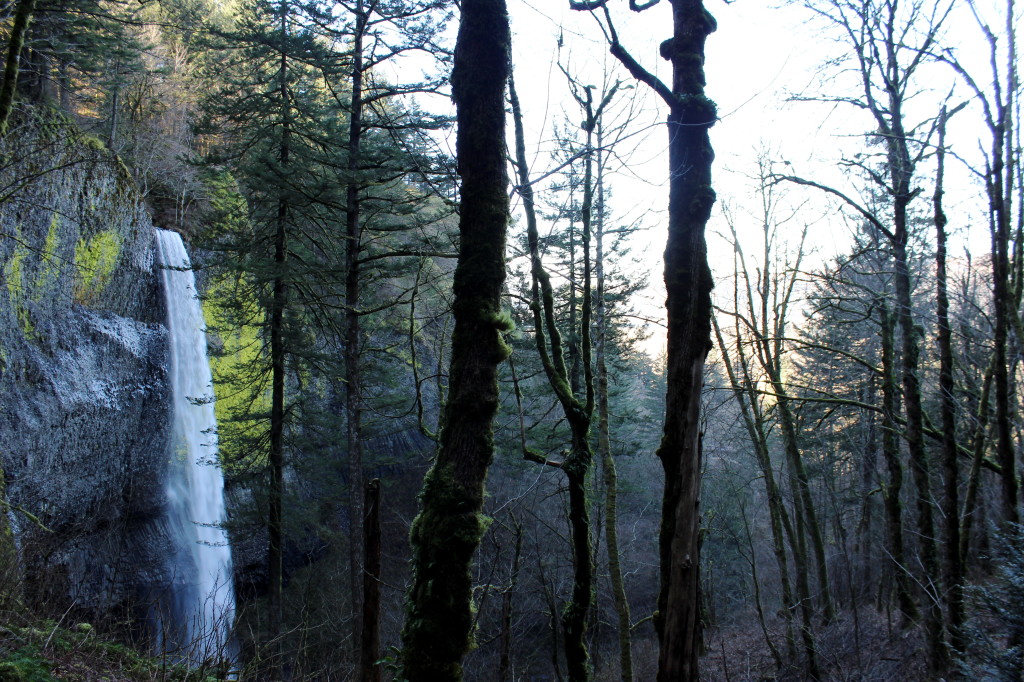 The trail leads you along the creek up to the upper falls.  It's a double fall, with a big cave-like space behind it.  I bet a lot of people go back there in the summer.  We were too concerned with not slipping on the sheet of ice that formed on the bridge to even consider going off trail.  (I don't in any way advocate going off trail, but it's easy to spot the places other people do.)  After that it's a nice slow trip back down to the road.
You'll follow the creek for a while then jag west a little ways before switch-backing down the hill.  The trail take you to the highway.  Carefully cross it and you'll find a PAVED trail on the other side that takes you back to the parking lot, winding under a huge bridge and giving you one last beautiful view of the lower falls.  Again, it was a SHEET OF ICE!  We had to climb up a little embankment to get through.  Be careful if you go in the winter.
This is a great little hike and the best thing is it's length and close proximity to Portland.  I love taking longer hikes, but when you only have a couple hours, this is totally doable for adults (I'm assuming kids will take longer to complete it).  We even made a quick stop at Crown Point on the way home.
Here are directions to the trailhead:
FROM PORTLAND TAKE I-83 EAST TO EXIT 28 (BRIDAL VEIL) TURN RIGHT ON THE HISTORIC HIGHWAY (YOU WILL GO PAST THE TRAILHEAD FOR ANGEL'S REST) AND DRIVE 2.8 MILES TO THE LATOURELL FALLS PARKING LOT.