Multnomah Whiskey Library
All I can say about the Multnomah Whiskey Library except is that it's really, really cool.  Possibly too cool for me, but they let me in the door anyway.  A few weeks ago, one of  best friends, Emmi, and her husband were in town and they let me take them on a little drinking adventure.  They are are always up for trying new places with me, which is sweet because it can be a gamble sometimes.  You never know what you're going to get.  One of our stops was Multnomah Whiskey Library and we all agreed it was the best stop.
It was a Saturday night so I was a little nervous about a huge wait, but it was only 10 minutes.  They seated us at the bar, which I usually don't care for, but it turned out to be quite nice.  We ordered cocktails off the menu along with the meat & cheese plate.  The drinks were spot on.  Not too sweet and highlighting the flavor of the whiskey.  The meat and cheese plate left us all swooning and scraping the plate.  Our bartender was incredibly charming and she even made  special drink for Emmi who was not finding something she liked on the menu.  I liked the place so much, I went back later that week, hoping to get a table, but still hd to sit at the bar.  Oh well.  They gave us great drinks and great service again.
There is a lot to love about this place and I'm feeling a little Buzzfeedy today, so here's list of:
5 Reasons Multnomah Whiskey Library is Super Cool and You Should Go Check It Out.
1) There is no storefront, only a door.  To get to the bar, you go through the door, down a hallway, up a narrow flight of stairs then through another door into the large library.  Where a host will either greet you and take your coat or take your name and send you back into the hall to wait.
2) It is a membership club.  Non-members are welcome, but you can't make reservations.  So while you wait, members will breeze past the line.  They pay for it though, memberships begin at $500 a year.  This is probably what makes it feel so exclusive.
3)  They make drinks at your table!  On both my visits there was only space at the bar was available, but it was fun to watch the bartenders wheel around these fancy carts to prepare drinks tableside.
4) A huge bottle selection.  They call it an "exhaustive" collection and it really is.  You can see it both in the thick menu on your table and on the two walls filled to the ceiling with bottles.  They have amazing metal library ladders that the bartenders scamper up and down all the time to fetch bottles.  Then when you order a shot from one, they bring the bottle to your table.  I really appreciate this, because it helps my visual mind remember it for next time.  Puts a face with the name.
5) The Ambience:  Library?  Speak-easy?   Country club?  It's all of the above.  From the decor to style of service it feels like no other bar in Portland.  Exclusive and private. The decor is absolutley spectacular with oil painting portraits, leather couches, wingback armchairs and a fireplace.  Being feels a little like you've traveled back in time.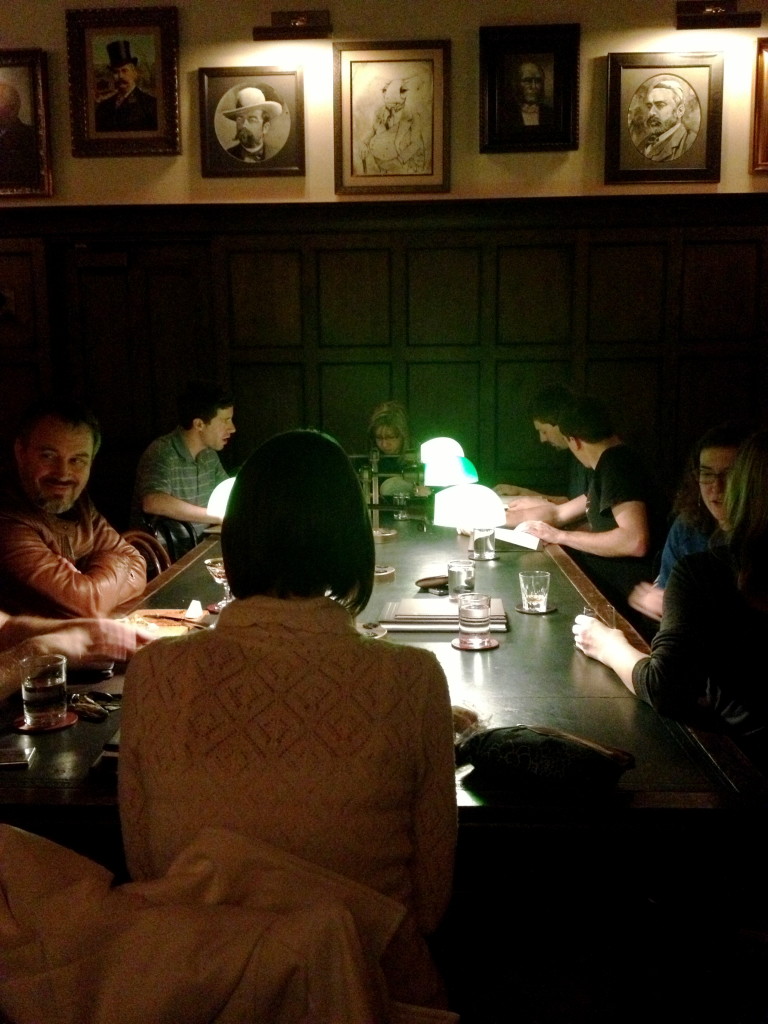 It is easy to feel a little intimidated by this place.  You don't have to read far online to hear stories of 3 hour waits to get in.  But the bartender had a tip for us.  He said that the place usually clears out after 10pm.  So if you can wait to get your fancy drink on, try late in the evening.  The good news, prices on drinks are about average for Portland, $9-12 range.
Cheers!
MULTNOMAH WHISKEY LIBRARY
1124 SW ALDER
TUESDAY-SATURDAY 4PM-MIDNIGHT