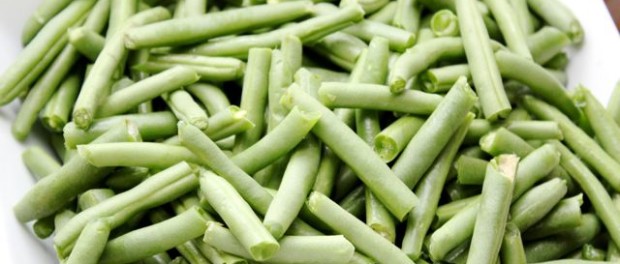 Thanksgiving is almost here.  I love this holiday because it's the only American holiday with a traditional menu. For one day the entire country, eats (pretty much) the same meal.  Turkey, gravy, mashed potatoes, green beans, cranberries, stuffing and pumpkin pie.   Granted, there are many variations:  sweet potato pie instead of pumpkin, rice dressing instead of bread stuffing, marshmallow sweet potatoes instead of mashed.  But we all start our meal planning at the same place then riff off the classics.  So today, I'm sharing my "must-have"  Thanksgiving Dish:  The Green Bean Casserole.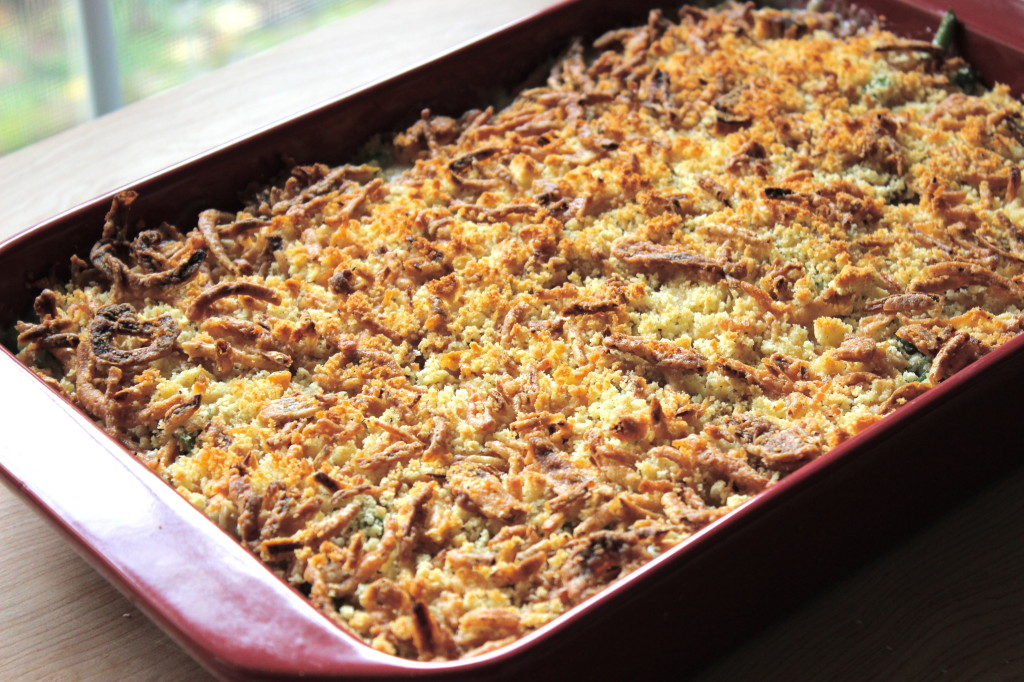 The "traditional" recipe includes a can of Campbell's Condensed Mushroom Soup along with French's Onions.  The onions are amazing, but the condensed soup was always too gloopy and kind of gross, not to mention all the terrible chemicals and preservatives in it, so I was pretty stoked when I found this recipe that skipped the canned soup and used real mushrooms instead.  It's healthier , and I think, much tastier without skipping the best part, the fried onions.  Here's the recipe:
FRESH GREEN BEAN CASSEROLE
Adapted from Brown Eyed Baker and Cook's Illustrated November 2006
Ingredients:
For the Topping:
4 Slices white bread, torn into quarters
2 Tbs Unsalted Butter, Softened
1/4 tsp salt
1/8 tsp black pepper
3 C. cnned fried onions (about 6 oz)
For the Beans & Sauce
2 Tbs salt
2 Pounds fresh green beans, ends trimmed, halved
1 pound white button mushrooms, tems removed wiped clean and broken into 1/2 inch pieces
3 cloves garlic, minced
Salt & pepper, to taste
3 Tbs all-puropse flour
1 1/2 C. chicken broth
1 1/2 C. heavy cream
1) Make the topping:
Pulse bread, butter, salt and pepper in food processor until mixture resembles course crumbs.  Transfer to a large bowl, toss with onions, set aside.  (To make ahead:  Store the bread crumb topping in an airtight container in the fridge then mix with onions before cooking.)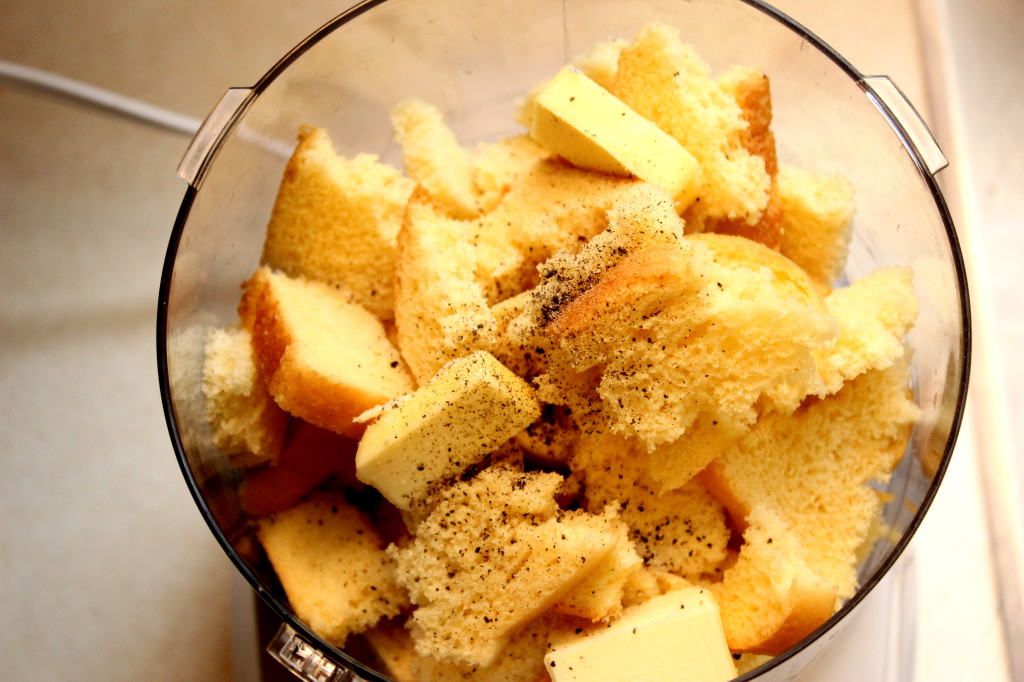 2) Heat oven to 425 degrees F.
3) Cook the beans:
Fill a large bowl with ice water.  Bring 4 quarts of water to boil on the stove.  Add 2 Tbs salt and green beans.  Cook until bright green and tender crisp, about 6 minutes.  While cooking, half fill a large bowl with ice water.  Drain beans, then plunge into ice water bath to stop cooking.  Drain again.  Set aside.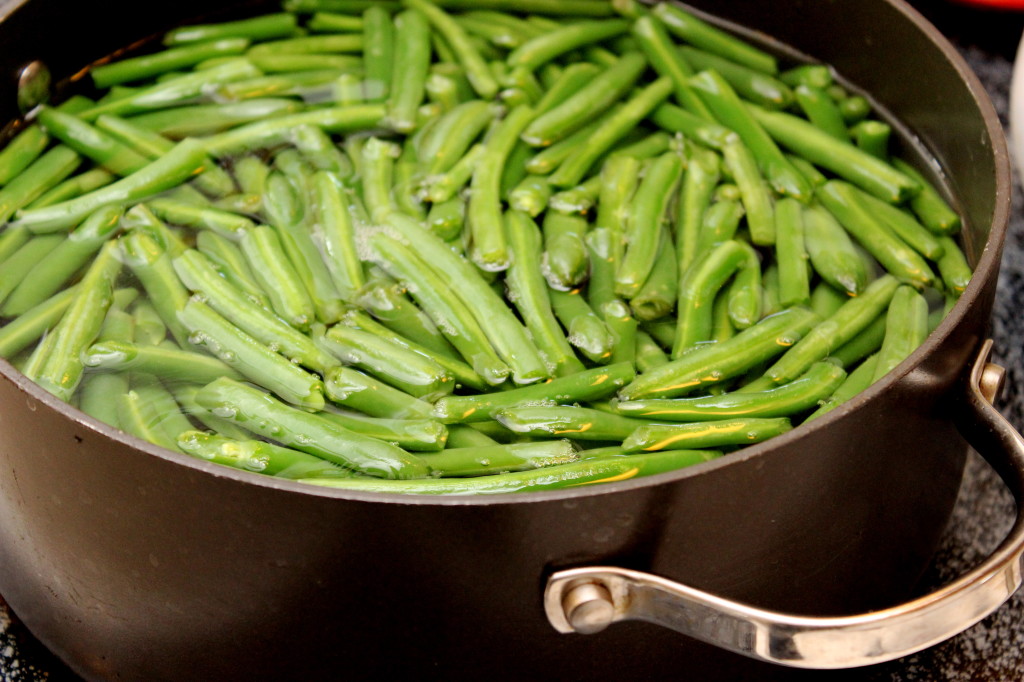 4)  Make sauce:
Add butter to the pot you cooked the beans in, and melt over medium-high heat until foaming subsides.  Add mushrooms, garlic, 3/4 tsp salt & 1/8 tsp pepper.  Cook until mushrooms release moisture and liquid evaporates, about 6 minutes.  Add flour and cook one minute, stirring constantly.  Stir in broth and bring to simmer, stirring constantly.  Add cream, reduce heat to medium, and simmer until sauce is thickened and reduced to 3 1/2 cups, about 12 minutes.  Season with salt and pepper to taste.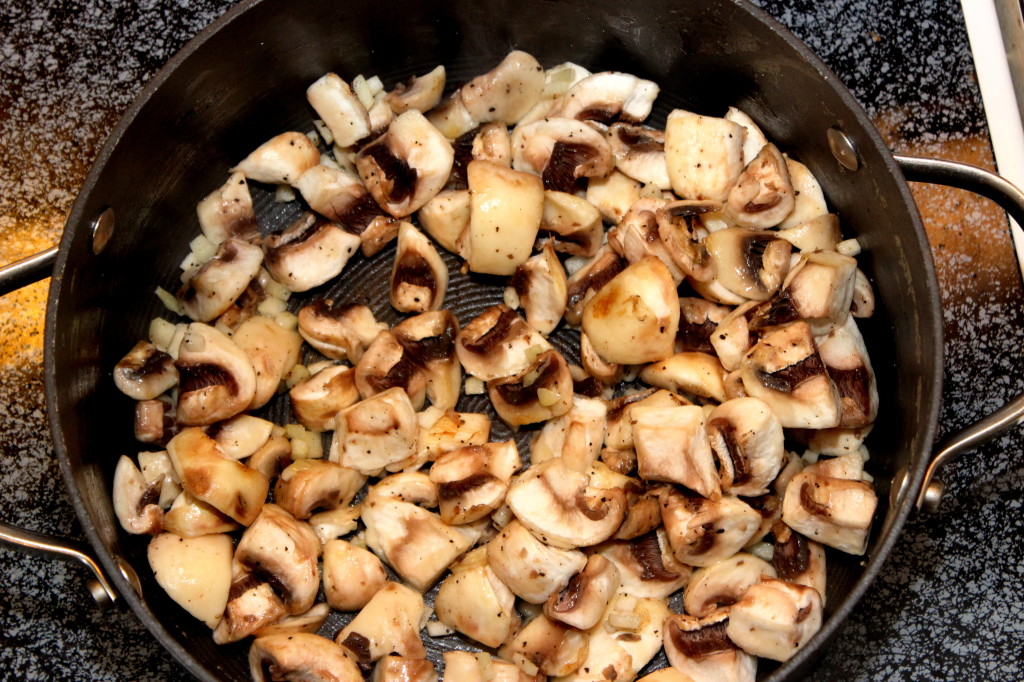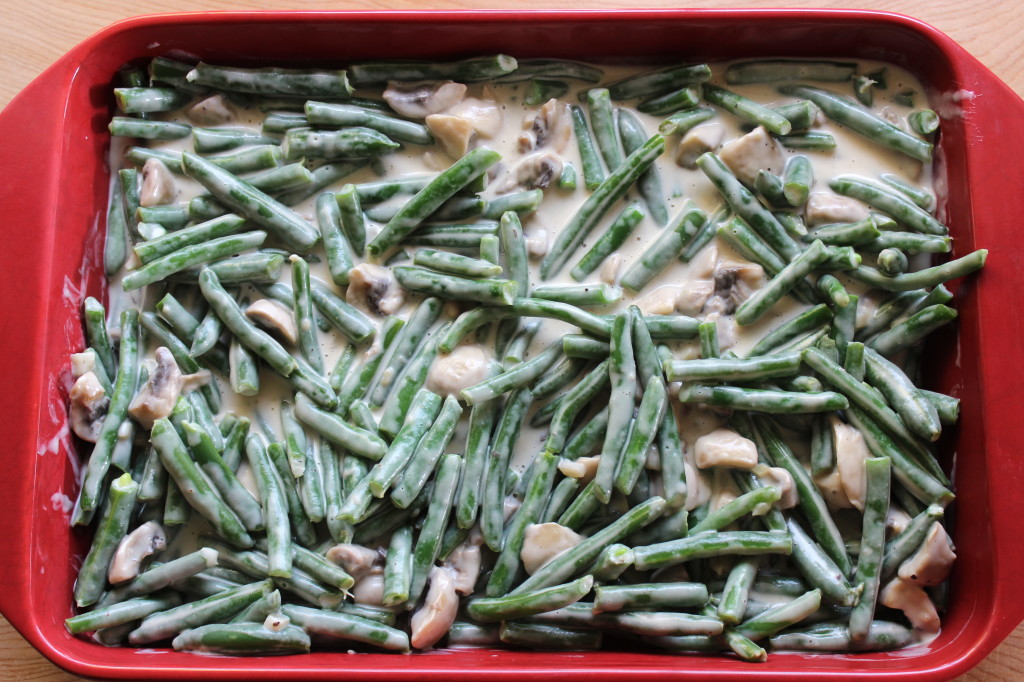 5) Assemble:
Add green beans to sauce and stir until evenly coated.   Arrange in an even layer in a 9×13 inch baking dish.  Sprinkle with topping and bake until top is golden brown and bubbling around the edges, about 15 minutes.  Serve immediately.  (To make ahead: Put the beans and sauce into baking dish, then wrap with plastic wrap and refrigerate up to 24-hours.  Once ready to serve, cook in 425 degree oven for 10 minutes, add topping and bake as directed.)