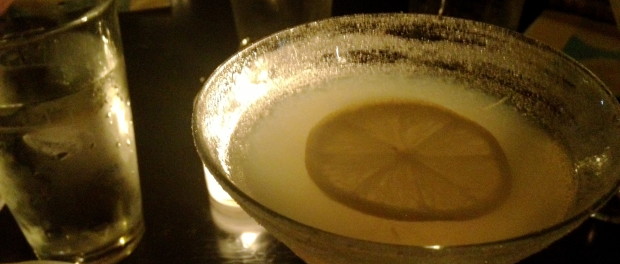 This weekend 3 lovely ladies and I had a girl's night out in downtown Portland. While it was mostly a night about fun and girl-talk, we had an mission: to find the BEST lemon drop in Portland. We call it the "Lemon Drop Off". Gloria and I had tried it once before, but this time we invited Michele and Jackie to join us. She made some awesome score cards featuring Ryan Gosling and we headed into downtown. We were rating on presentation, sweet vs. sour, and the intensity of the lemon flavor.
Our first stop was Mother's Bistro, which was the winner of the previous year's "Lemon Drop Off". Most people know Mother's for their excellent breakfast, but they are great at night too with a romatic candle lit bar. I much like the rest of their menu, the bar features a lot of comfort food. We loved their pierogie with caramelized onion and sour cream. But… back to the lemon drops. They make them with fresh squeezed juice and lemon infused vodka. We ordered two regular and two made with Meyer Lemon. Our server was fun and gave us a little taste test to see if we could tell the difference. I could tasted a difference but I identified them incorrectly. All four of us rated them very highly, but it was only our first stop…time to move on.
On the advice of my bartender friend, Jesse, we went to Pazzo at the Hotel Vintage Plaza next. The Lomon Drops were huge! But they were also more expensive, the most pricey of the night at $10 each. Not actually that bad in my opinion… I was expecting an expensive night. Like the cocktails at Mother's it was made with citrus vodka and fresh lemon juice, but also some orange juice. I loved it. but the other girls thought it was too much of a diviation from the classic recipe. The service here was great too. We really appreciated the free plate of bread from our very motherly server.
After that we tried to go to the Driftwood Room at the Hotel DeLux, but it was packed, standing room only. So we headed to Al's Den, a McMenamin's bar. It had great people watching with windows looking out onto burnside. The service was a little standoffish, but entertaining, as two of the staff were in the middle of a big fight. Drama! The lemon drop was good. Not great. It was a classic recipe, with fresh juice, but there were a lot of tiny ice chips floating in the cup. I wasn't a fan of that. It was a good baseline, nothing bad, but nothing special.
We keep hearing that Paley's Place has AMAZING lemon drops, but they were too busy to accomadate us just for drinks… so we decided to stay downtown instead and fishined the night at a place called The Sand Bar, the Fish Grotto's newly remodeled bar. It's pretty nice with a beach theme and some tropical drinks. The bartender made us lemon drops with Crater Lake Vodka. There was a little mix up while he was making them and some margarite mix was accidently tossed in. It was still delicious but definitely set it apart from the classic recipe. The real hit at the Sand Bar was a drink called the Blue Hawaiian, I did not have one because of my personal policy against blue drinks, but Gloria and Michelle liked it a a lot.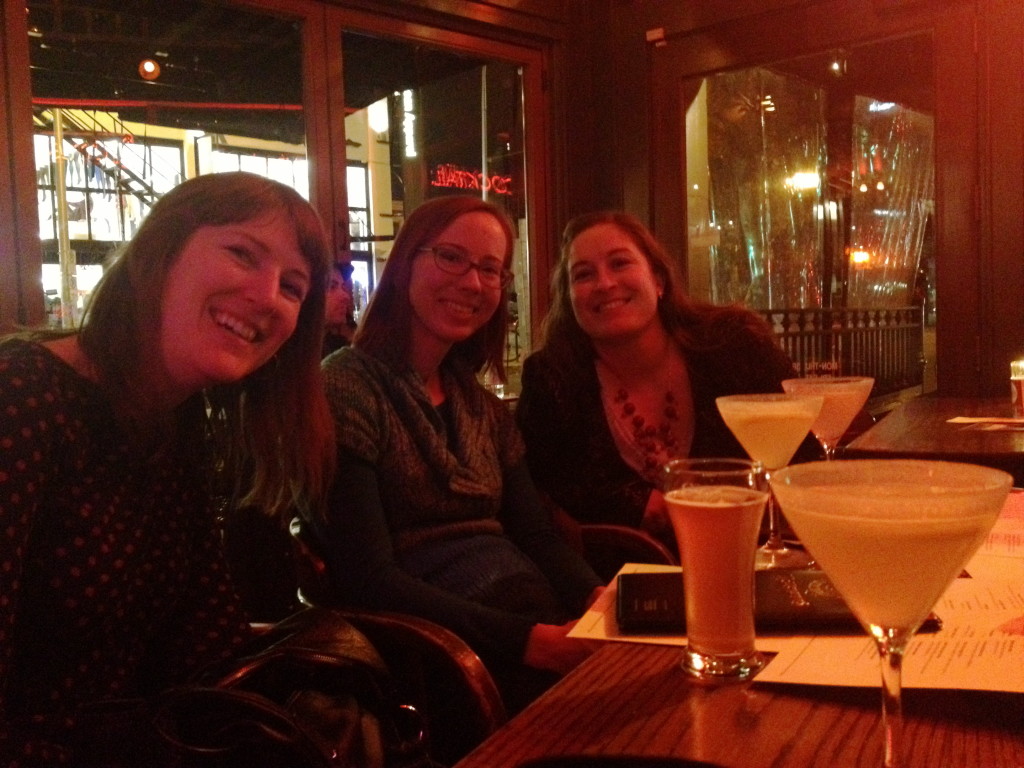 So… which Lemon Drop was the champion of the Lemon Drop Off 2013?
Personally I liked the Pazzo drink the best, but the rest of the ladies disagreed… declaring Mothers the champion for a second year in a row!!! Woo hoo!
I think Paley's Place and the Driftwood Room would have been serious contenders… so we are considering holding the 2014 Lemon Drop Off during the day so make sure we can keep the competition at a high level. Please let me know if you have a suggestion for future competition.
Thanks Gloria, Michele and Jackie for an excellent evening. As Michelle said it was a "noble pursuit".