I've had a rough couple of weeks.  Work has been trying my patience.  The house is too hot at night.  And I can't even have a beer at the end of a long day.  (Did I mention I'm pregnant?) So I don't really have much to share today, except a nice dinner we had at a little bar/restaurant in the Irvington neighborhood.  The place is called Free House.  Primarily, it's a bar.  I've been a few times before because they make some excellent cocktails and it's a great place to catch up with friends.  But this time what drew me in, was the food!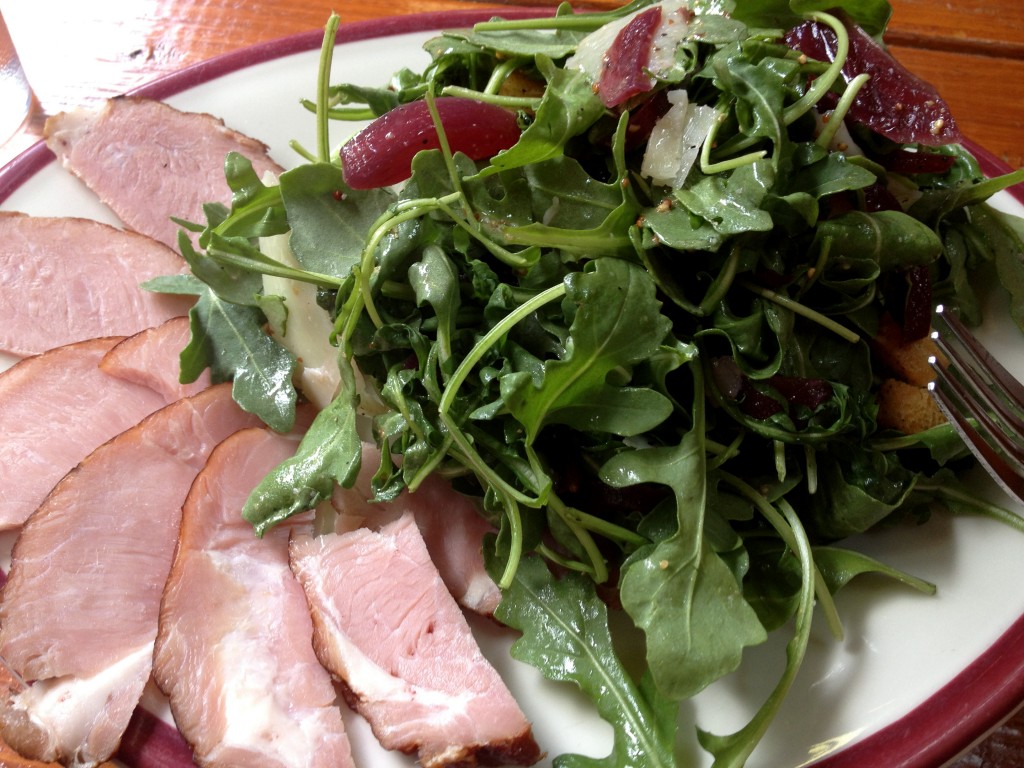 We were looking for a place to eat an early dinner that wasn't too expensive and was somewhat close to home.  So we stopped in right as they opened at 4pm.  We grabbed a table on their patio and looked over the menu.  It's a sandwich and salad kind of place, but they do have a selections of meats from Olympic Provisions (yummmmmm) plus a burger and some mac and cheese.  I ordered the Sweetheart Ham Salad, Jacob chose the "Mac Dawg!".  The exclamation point is part of the name.
The salad was delicious, served with big thick slices of really good ham, arugula, pickled onions, manchego cheese and croutons.  It was actually too big for me to finish!  But really hit the spot and was the perfect combination of healthy and meaty.
The Mack Dawg was awesome.  Creamy macaroni baked on top of a chopped frankfurter and topped with french fried onions.  As a recent coniseoiur of non-alcoholic drinks, I was pleased to see that Free House makes their own soda too.  They only had orange in stock the day we were there, but there were a number of other flavors on the menu.
Overall, this is just a really nice bar.  The food is great, the cocktails (and soda) are excellent and the atmosphere is pleasant.  It's just a comfortable neighborhood hangout that I will surely be visiting again.  Although it may be a while, since I hear babies aren't allowed in bars.
FREE HOUSE
1325 NE FREMONT
OPEN EVERYDAY FROM 4PM-MIDNIGHT