If you are trying to watch your weight, do not go to Belgium.  I visited once for 4 days and gained about 10 pounds.  It's a fattening country for four reasons:  Belgian Chocolates, Belgian Beer, Belgian Fries, and Belgian Waffles.  You might be asking…"Belgian fries!?!??  I thought they were 'french fries'?" Well, evidently there is a little bit of a dispute over where the delicious potato snack originated.  Belgians claim it was their idea.  But I'm not here to talk about fries.  Today, I want to talk about waffles.  My first  real Belgian Waffle from a cart on the streets of Antwerp, totally blew my mind.  Unlike the american-style waffles, these are made with a sweet, yeasted dough, and flavored with chunks of pearl sugar, which caramelize into a crispy crust in the waffle maker.   It was one of the best and most surprising things I've ever tasted.  It's been years since my trip to Belgium, but I still think about those waffles.
That's why I was pretty excited when I realized the Waffle Window in Portland makes a "Liege" waffle that sounds just like what you get in Belguim.   But first I needed to eat some "real" food, so I tried one of their savory waffles called the "3 B's" which is bacon, brie and basil. It was great, but then again, it's hard to go wrong with bacon and brie.  The basil added a nice herbal flavor, and the waffle had a slight sweetness, plus it was served with a side of peach jam, which complimented it all surprisingly well.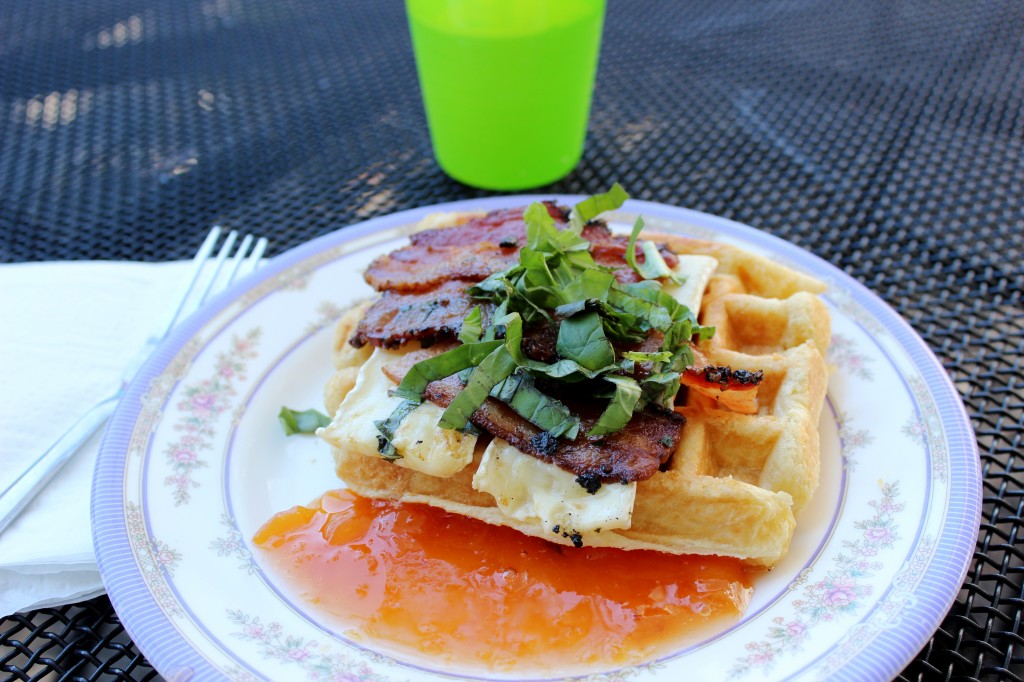 There are a bunch of savory options on the menu and even more sweet options.  The sweets include, chocolate, fruit, nutella, peanut butter, and whipped cream.   There are even a few served "sundae" style with ice cream.  Maybe next time I'll give one a try, but I'm a lady who likes simple flavors and I had my sights set on finishing the meal with the classic "Pearl Sugar Waffle" and at $2.50, it's hard to beat.  You can even get it dipped in chocolate for 50 cents more.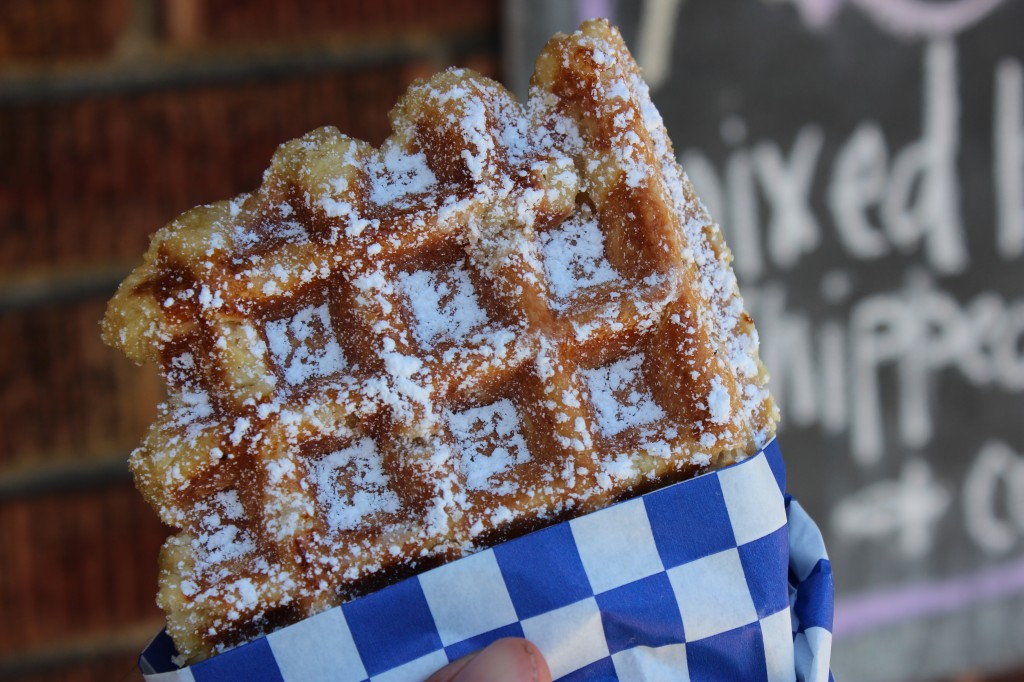 Both my orders came out fast and hot.  The Liege waffle was especially fresh…nearly too hot to eat and perfectly cooked.  Crispy on the outside, soft and chewy on the inside.  Sweet, tender and coated in powdered sugar.  I'm not sure if it's EXACTLY like the waffles I bought on the street of Antwerp all those years ago, but it's the closest thing I've found. Go try one, it would be excellent with a hot cup of coffee.
WAFFLE WINDOW  (TWO LOCATIONS):
1) 36TH & SE HAWTHORNE- BEHIND BREAD & INK CAFE
2) 2624 NE ALBERTA