North Plains Garlic Festival
Their slogan is "Fun Stinks" but I thought the Garlic Festival smelled great.  I've been wanting to visit this one for years, but in the middle of August, it always gets sidelined by a vacation, camping trip or some another festival.  But not this year… we got serious and drive out to North Plains on Friday night for some stinky fun.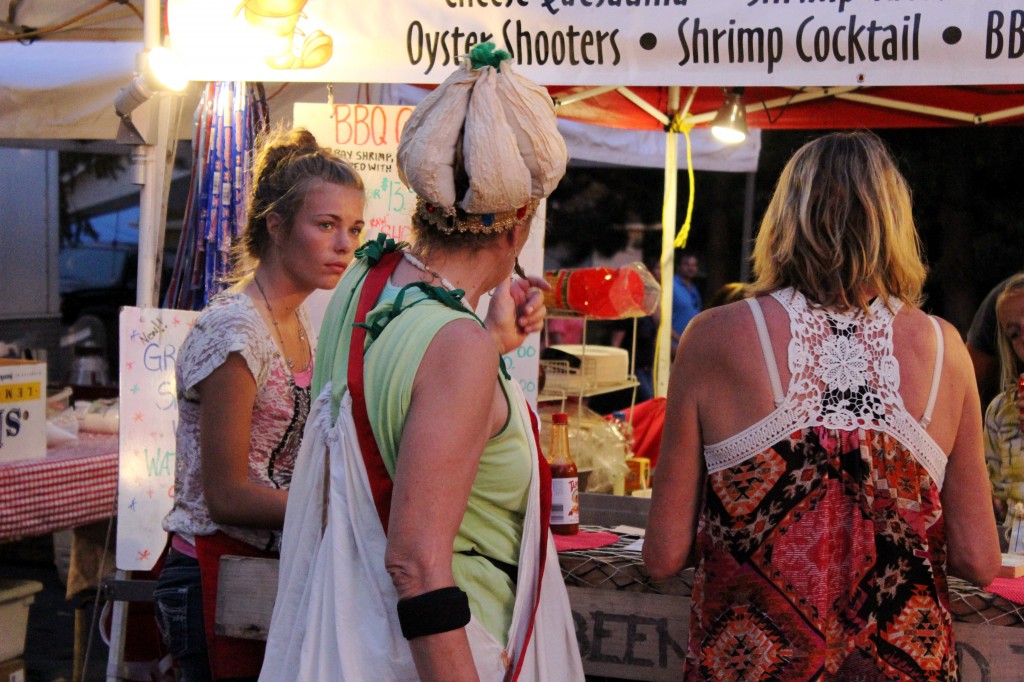 First of all, it's a free festival!  There is no admission fee, although the lot where you're encouraged to park costs $5, but it goes to the local fire department, so it's hard to hold a grudge.  It's not a very big festival, but but was nice and obviously the big event in North Plains.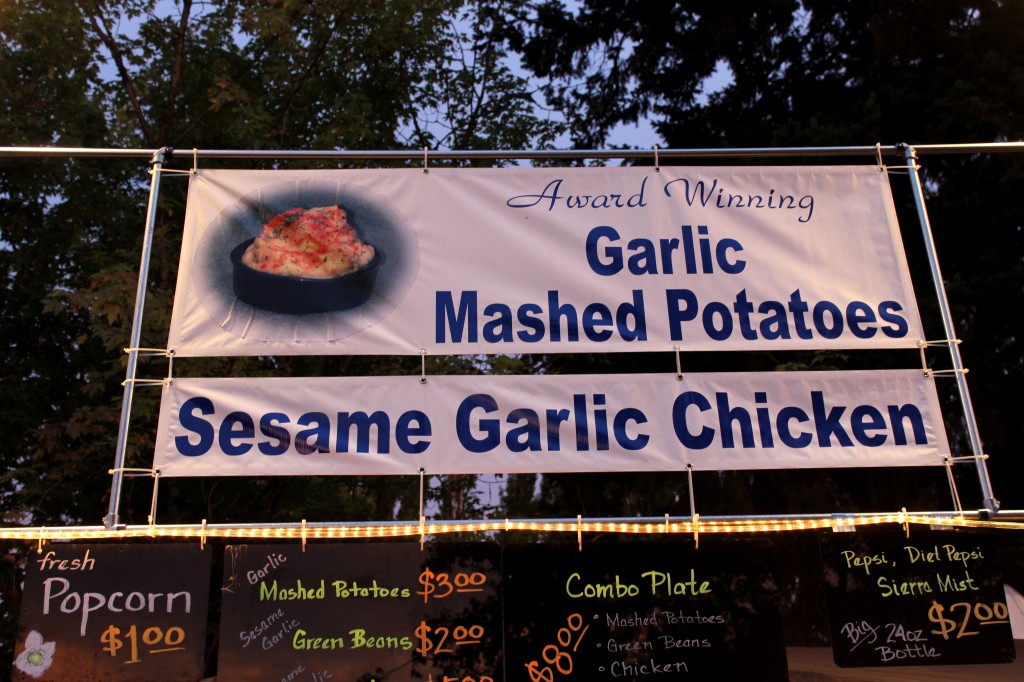 By the time we arrived around 8pm, most of the shopping stalls were closed so the only thing left to do was eat.  Which is okay because that's basically why I was there.  First stop:  The huge sign advertising Garlic Mashed Potatoes.  For $3, you got a small paper bowl with a big glob of VERY creamy potatoes.  I said "yes" to their offer of extra butter and cheese.  The same stand also offered garlic chicken and garlic green beans.  I wish now that I'd tried all three.  The potatoes were the most "garlicy" thing I tasted all night.  They deserve whatever awards they've received.
Next stop, garlic sticks from the elephant ear cart.  Fried dough cut into strips and slathered with garlic and cheese. It was the most expensive thing we bough at $5.50.   A little steep for what you  get, but it did fill me up.
Last stop, dessert:  Roasted Garlic Ice Cream.  It was…. just okay.  Basically vanilla ice cream with little bits of garlic mixed in.  A good effort, but the execution was not great.  I'd be interested to see what an innovative  ice cream shop like Salt & Straw could so with the concept.
By the time we left, the place was really heating up.  They had live music, dancing and a beer garden open.  Seemed like everyone in North Plains was there.  On the way out, I bought a sampler pack of garlic, with 4 varieties including some elephant garlic.    Overall, it was a great little festival.  I wish they had a little bit more selection of "Garlic" food in the food court, but it was a nice time.  And the fun didn't stink that bad.
NORTH PLAINS GARLIC FESTIVAL
SECOND WEEKEND IN AUGUST