This muggy weather is making me thirsty! It has not been very hot, but it's been humid (at least for Oregon).  And I've just been craving smoothies.  Well, actually milkshakes, but I can't drink those all the time.  So I decided to give this cart on Sandy a try, but cause it sounds like a lot of fun.  They sell bike-powered smoothies!  It's SOOOO Portland.
How are they "bike-powered"?  They hooked blenders up to bikes! The blades spin when you turn the pedals. And they let you bike your own smoothie (if you want to) and of course I did!
I ordered their classic "Moberi" smoothie which is basically berries and yogurt. The woman working at the cart prepared the blender, adjusted the bike then told me to start pedaling. It was so loud! I swear every one in the cart pod turned to look.  But it was fun and only took 30 seconds before the drink was done.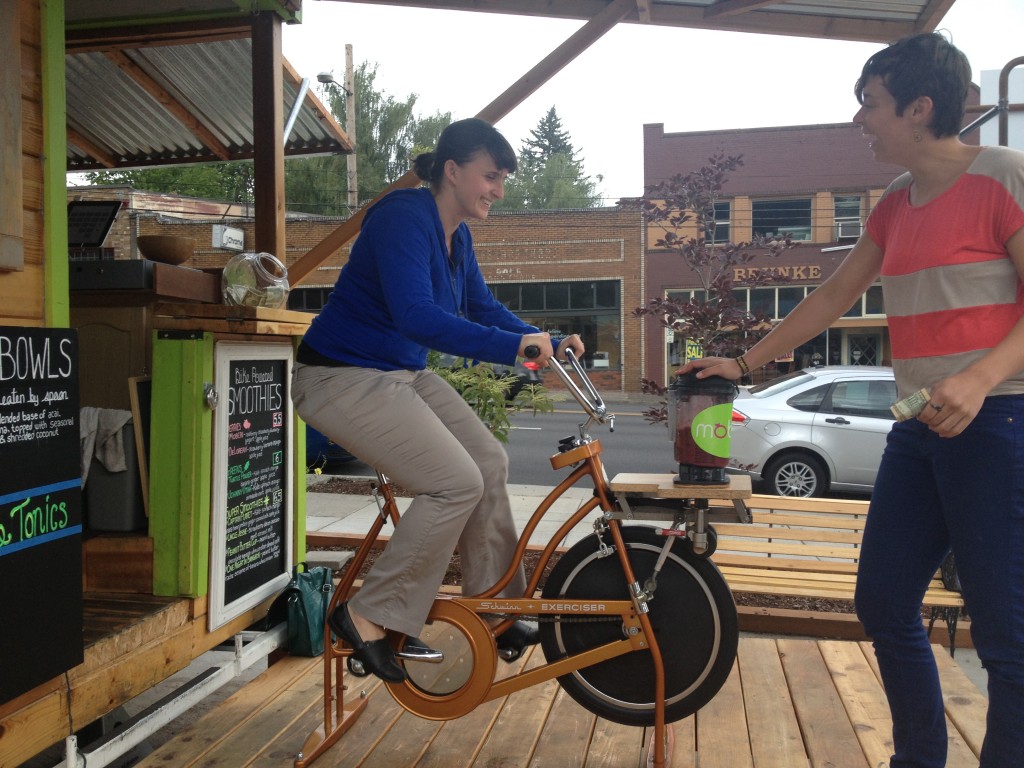 It was delicious, a little sour, but exactly what I need to quench my thirst.  Plus, it was a lot of fun to ride the bike.  Their menu is a little small, but it looks solid.  Plus, they have fresh squeezed juice blends.  Recently they've expanded their hours, so there's plenty of opportunity for your to get your smoothie on.
MOBERI
ROSE CITY FOOD PARK
SANDY BLVD BETWEEN 52ND & 53RD
TUESDAY-SATURDAY 8AM-8PM, SUNDAY 9AM-4PM