Crystal Springs Rhododendron Gardens
Well the rain is right on schedule.  The cruel spring teased us again, taunting us with a glimpse of sunny days, warm nights and  life without a coat.  But as always, the rain has returned just in time for June, "just in time for Rose Festival" as people always say.   I knew this was going to happen.
So I decided to make the most of our last night of good weather with a trip to the Rhododendron Garden with my two favorite ladies.  They always put up with my crazy ideas.
I had never been to Crystal Springs before, but I knew it was in full bloom right now and I didn't want to miss it.  It's down in Southeast Portland, right across from Reed College.  Most of the time it is free to get in, but during the peak times on the weekends it's $4.  We went right before dusk on a Monday night.  It was nearly empty and very peaceful.
I was expecting lots of rhododendrons, but I was not expecting the beautiful bridges and lakes.  The first bridge when you enter is spectacular.  From below it reminded me of a Japanese painting, framed by a huge willow tree.
It took us a little less than an hour to wander through most of the garden. We debated the difference between rhododendrons and azaleas, and scoped out the spots where they hold weddings.  Lots of duck poop ladies, beware!    But other than that, really nice.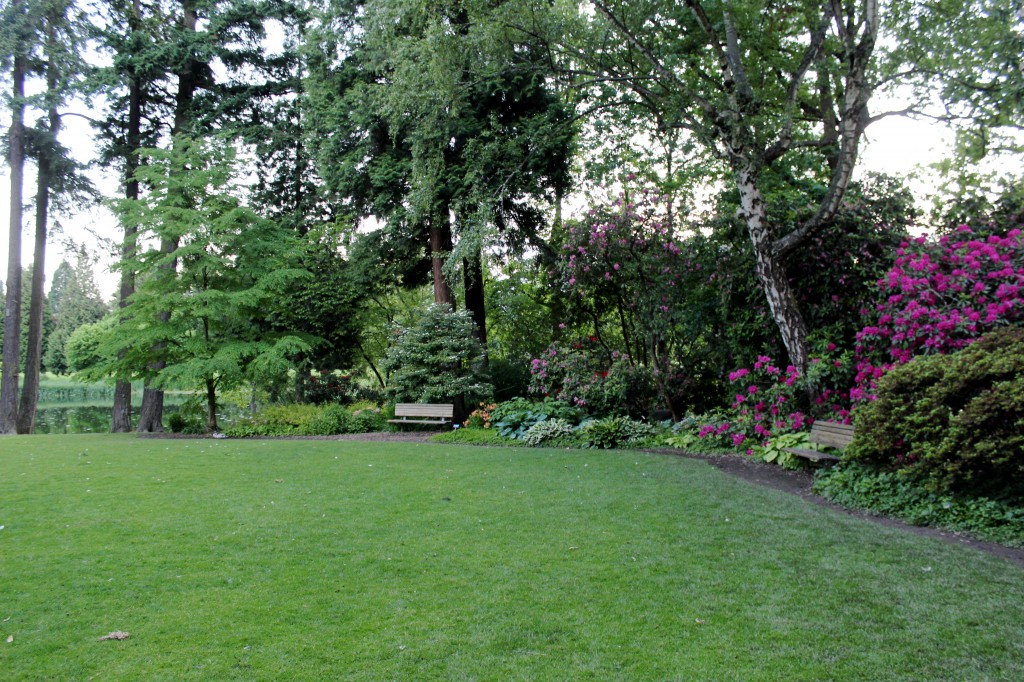 If this rain ever lets up, head over.  I bet the flowers will be in bloom for a month, but the garden is so nice I think it would be great any time of year.  And if you really want to top off the visit, end it with a cocktail, like we did at the Whiskey Soda Lounge on Division.