The real highlight of our trip to Bend during the Memorial Day weekend was our tour of their "Ale Trail".  The city has a fast growing beer scene and they've quickly learned how to market it.  The beer scene is not quite the size of Portland's (yet), but still really impressive.  In fact, in the middle of our pub crawl, Jacob turned to me and said "this is the best pub crawl I've ever been on".  Granted, he was about 4 beers deep at that point, but it really does kick ass.
We did most of the tour on foot, leaving from our hotel on 3rd street and walking down to the Old Mill District, which is essentially an outdoor mall on the banks of the Deschutes river.  Across the river is the amphitheater where Built to Spill, Cake and Sigur Ros played.  Right next door are  some beautiful sand volleyball courts.  I could not help but take a photo.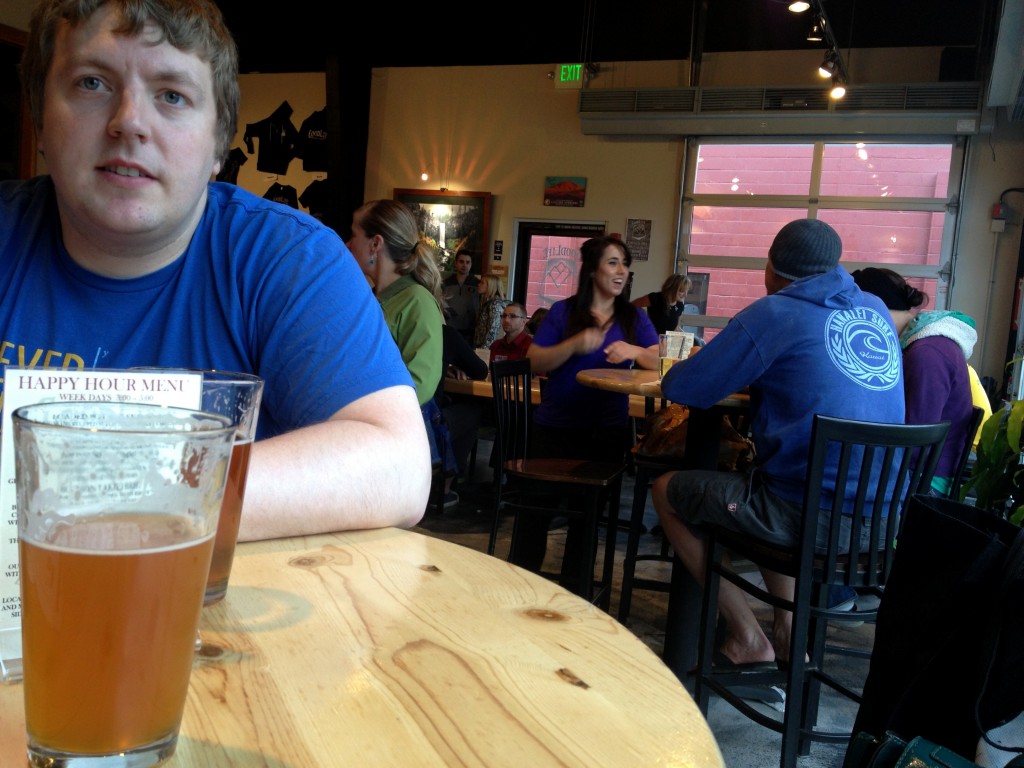 From there we decided to head to Goodlife Brewing Company, which was about a 1.3 mile walk.  There was a Deschutes tasting room closer, but we decided to skip it since there's a brew pub in Portland.  Same with the McMenamin's Old St. Francis School.  Goodlife was a nice, little pub on the outskirt of town.  They didn't have very many of their own brews on tap the night we were there, but the menu looked amazing. Too bad I was not hungry.
Next stop:  10 Barrel, a 0.6 mile walk away.  This seems to be the current "must visit" destination in Bend, because it was crazy busy.  A wait for a table was more than 90 minutes!  Luckily, they have a really cool, indoor/outdoor bar and a great fireplace, so it was easy to just stop in for a beer. Outdoor fire places are definitely "the thing" in Bend. Pretty much every brewery has one.
After 10 barrel, we hit the road again heading for  the one mile walk to Bend Brewing Company. The trail took us through another beautiful park with a path along the river. Bend Brewing is in the downtown area, so there are lots of others restaurants and bars around, including the big Deschutes Brewery and Old St. Francis School. This stop was probably my least favorite of all the breweries we visited. I just didn't find anything special about it, but maybe by this point I was spoiled by all the other above average pubs. We had a beer and some happy hour nachos, then decided it was time to start heading back towards the hotel.
Following a quick stop at the cute candy store, we started the 1.2 mile  walk towards  Crux Fermentation Project, our final stop of the night. This place is super cool and they have some great beer. I was trying to avoid getting TOO drunk so I went with a nice light pilsner. The bar inside was packed, so we headed out to the fire pit. Or should I call it a fire orb? The Crux beers were super strong and really put us over the edge so we headed back to our hotel.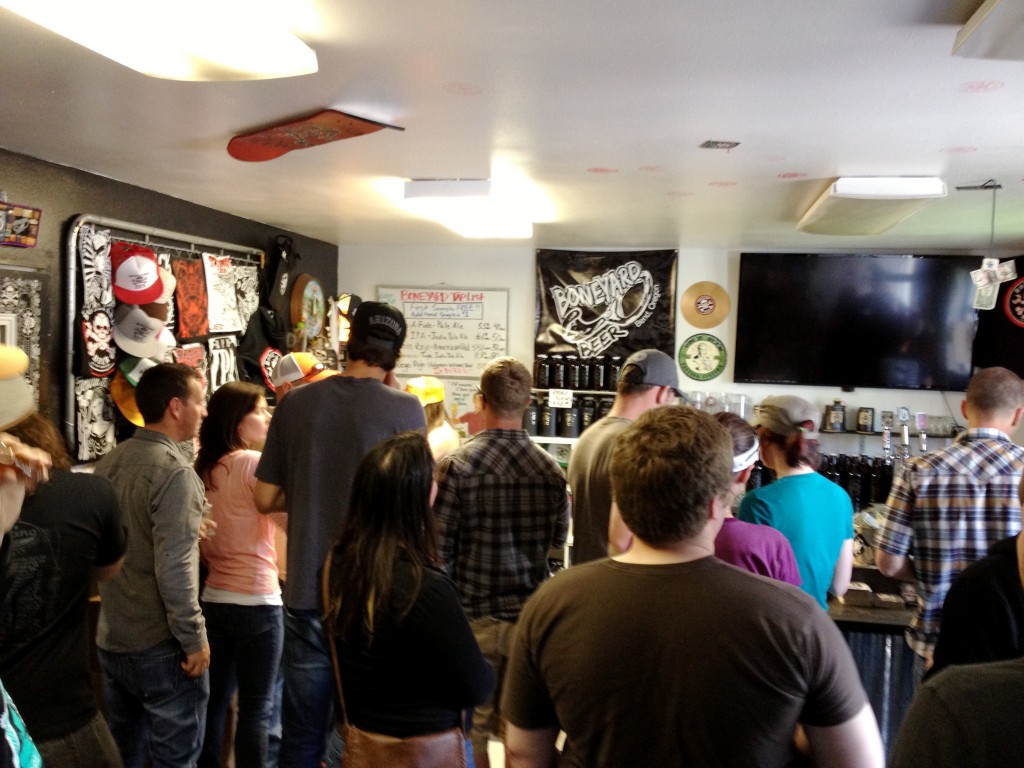 Sunday, after a long, exhausting day at our orienteering meet, we stopped at Boneyard Brewery's tasting room. That's all it is, just a small tasting room, not even a place to sit down and when we arrived, there was a line out the door.  The first taste is free, then each one after is $1. We tried three including a habanero beer. Jacob said their Triple IPA was the best he tasted on the entire trip.
Next we drove over to Cascade Lakes Brewing, to get some burgers. I wish I had taken a photo of mine because it was fantastic. Blue cheese and bacon burger. I ordered the taster because I wanted to try their stout and porters, without making a 16oz commitment, but they only brought me light beers. Jacob said they "girly beered" me.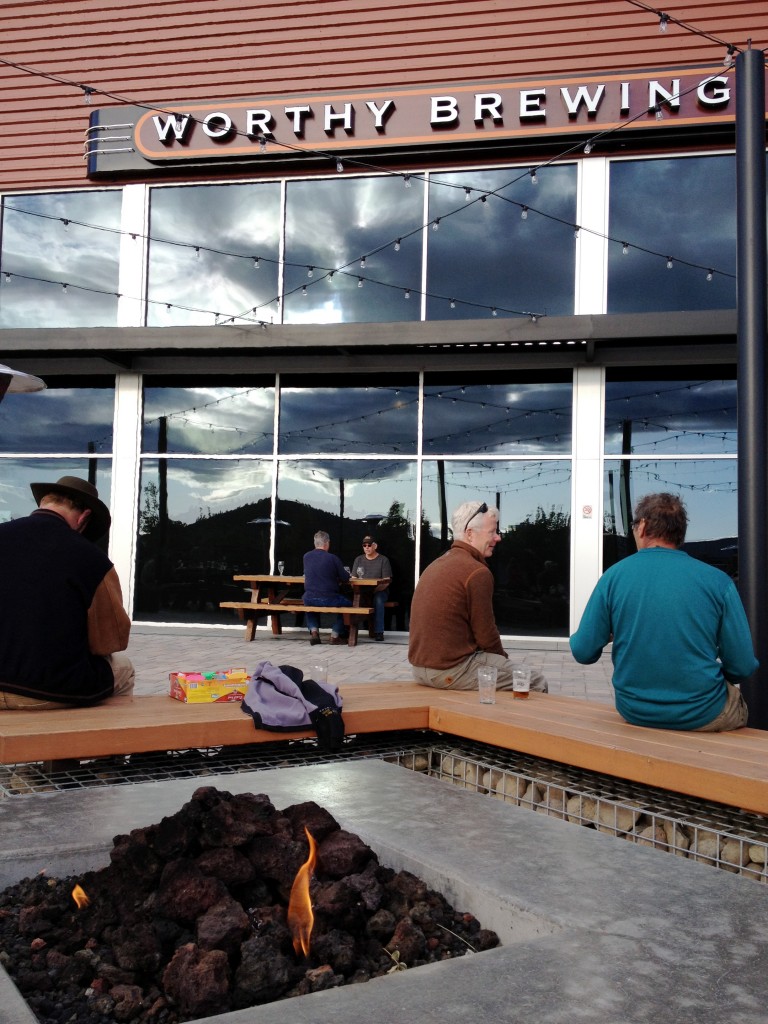 Full of food, we headed for our final brewery of the weekend Worthy Brewing.  It's in an area I'd describe as the "Bend suburbs". Worthy is huge, brand new, and has a hops farm in the back. We grabbed beers and assumed our positions at the…. wait for it… fire pit! The Bend tradition continues.  I really loved their pale ale. If I see it in the store here in Portland, I'll buy it.
So that's about it. We missed one brewery called Silver Moon because we ran out of time .  We also planned to stop at Three Creeks Brewery in Sisters on the way home but ran into traffic and had to abandon our plans.
One thing to note: the Bend Ale Trail has an app, which we used throughout our visit. There are also maps at just about every bar, so it should be easy to navigate.
I already want to go back, but next time I'll take my dog and plan to spend more time. Beyond the beer there is so much to do, I think I could keep busy for an entire week.