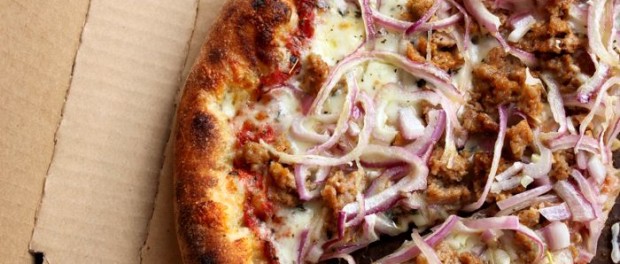 WY-EAST PIZZA IS NOW CLOSED.  THEY MOVED TO MILWAUKEE, WISCONSIN SO IF YOU'RE IN THE AREA LOOK THEM UP.
After a busy weekend of fun and adventures around Portland, I topped it all off with some excellent pizza from Wy'East Pizza, a cart over on SE 50th.  The yelp reviews were great, many of them comparing the taste to Apizza Scholls, we had to drive over to check it out.
I'm kind of a sucker for branding and they totally got me hooked before I even drove up.  The logo on their website is in the style of a national forest sign, which to me is very charming.  Plus they give all their pizzas mountain themed names like 3 Finger Jack, Loowit and Indian Paintbrush.  What can I say, I'm a sucker for the outdoors.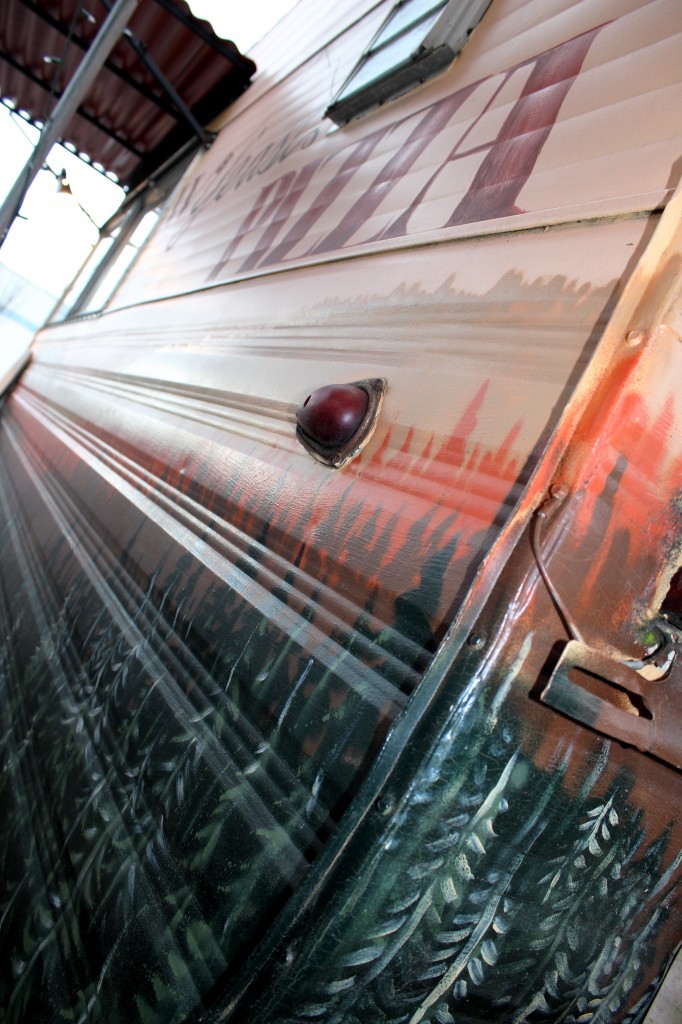 Wy'East Pizza is not actually in a cart, it's in a vintage trailer, so it's pretty impressive that they run an 800 degree pizza oven inside.  Must be nice in the winter when it's cold outside.  The outside of the trailer is hand painted with trees.  They only have one picnic table, but it's under a tent so you can stay dry while you wait.  But enough about the trailer!  Let's talk pizza.
We ordered the Hogsback, which is Italian sausage and red onion.   They told us it would only take 10 minutes to make, and be ready at 5:05.  I think they were slightly late, it was maybe 12 minutes before they called our name, but I don't hold that against them.  I never would have noticed if they had not told me an exact time.  Or maybe our clocks just were just out of sync with pizza time.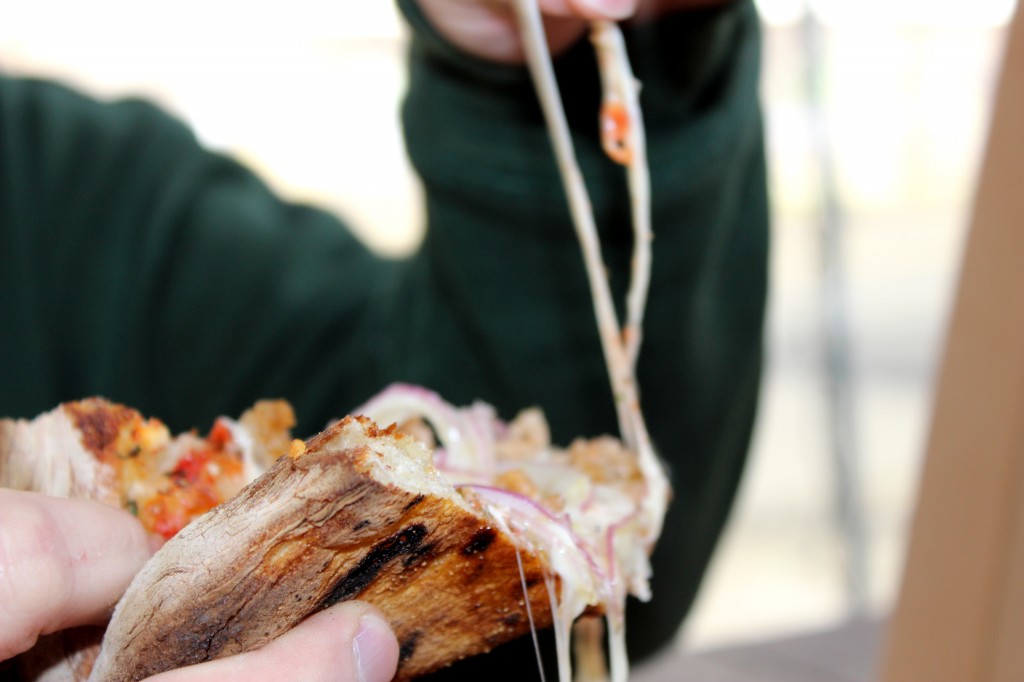 When they finally called our name, the Hogsback came in a cute old fashioned box, we ate half on the spot and left the other half to eat at home.  Sometimes I get a little nervous about pizza like this, because I'm not a big fan of the char.  I've had way too many pizzas that were over done.  Not just a few spots, but big black circles.  Luckily,  there was no need to worry with this pie.  I thought the crust was almost perfect.  The outside edge had a great crunch and chew. Just enough char for flavor, not overwhelming.   And the middle of the pizza held the weight of the toppings.
My only complaint…the very center was just a little soggy.  But I'm not exactly sure why.  It may have been too much grease from the cheese and sausage, or just a little watery from the other ingredients.  Perhaps it needed to be cooked longer, but the rest of the pizza was perfect, so I wold hate to see it overdone.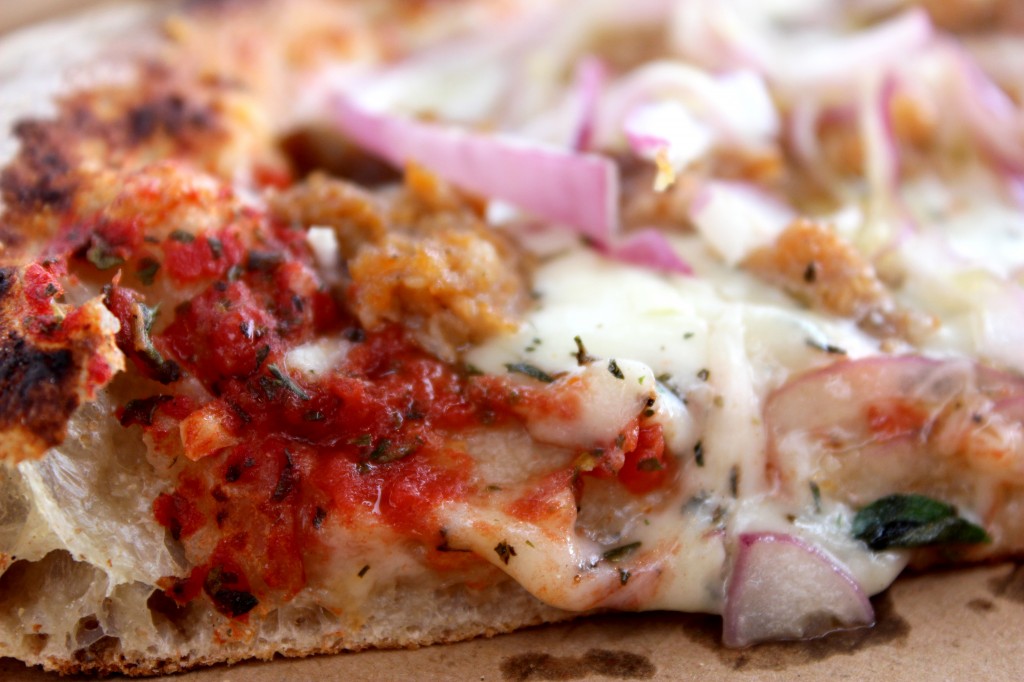 As for the other toppings, the cheese was perfect.  Great flavor and stretch.  The sausage is from Otto's and paired perfectly with the onion.  Overall, I was really impressed!
But does it rival Apizza Scholls?  It is quite possible.  I need to try a few more pies before I make that claim, and probably do a head to head comparison.  It's been about a year since I was last at Apizza Scholls, so I need to job my memory.  But it definitely ranks very high, in the Portland pizza world.
A few things you should know before you go:
1) Wy'East is cash only and there is no ATM on site.  Pizzas are around $15 for a 12-inch, so plan accordingly.  Don't forget tip!
2) If you bike or walk, they take a dollar off.
3) I'd say this is more of a take-out place.  Wy'East is not in a cart pod, so there is no beer, or other goodies to add to your meal.  I'd suggest calling in your order, then picking it up and taking it home.
Enjoy!