I love Valentine's Day.  I've always loved it, not for the romance but for the decorations.  The cards, candy and cookies all shaped like hearts make me really happy.  It's just so nice.  Do you remember the parties back in elementary school?  We would make mail boxes for our desks and everyone would exchange those silly little cards, stuffed with candy. Some girls would get flowers from boys.  I was never one of those... at least not in elementary school, but it didn't get me down too much.  A box of conversation hearts went a long way.
So how am I celebrating this year? I'd really like to send out cards since I didn't send any at Christmas, but I kind of doubt that will happen.  I'm just not that organized right now.  I always thing about Julia Child this time of year.  She and her husband skipped Christmas cards and made their own Valentines each year instead, they were sweet and sometimes a little weird.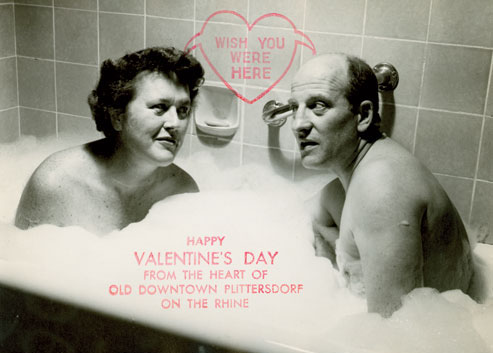 But instead, I'm baking two types of cookies.  One from the most recent issue of Martha Stewart and the other from Orangette's book, "A Homemade Life".  Both of these cookies really get at the aesthetic I love about Valentine's Day.  The chocolate cookies have beautiful clean lines and a rich flavor like an Oreo or the cookie that comes on ice cream sandwiches.  The pink cookies remind me of handmade valentines.  Kind of messy but sweet and made with love.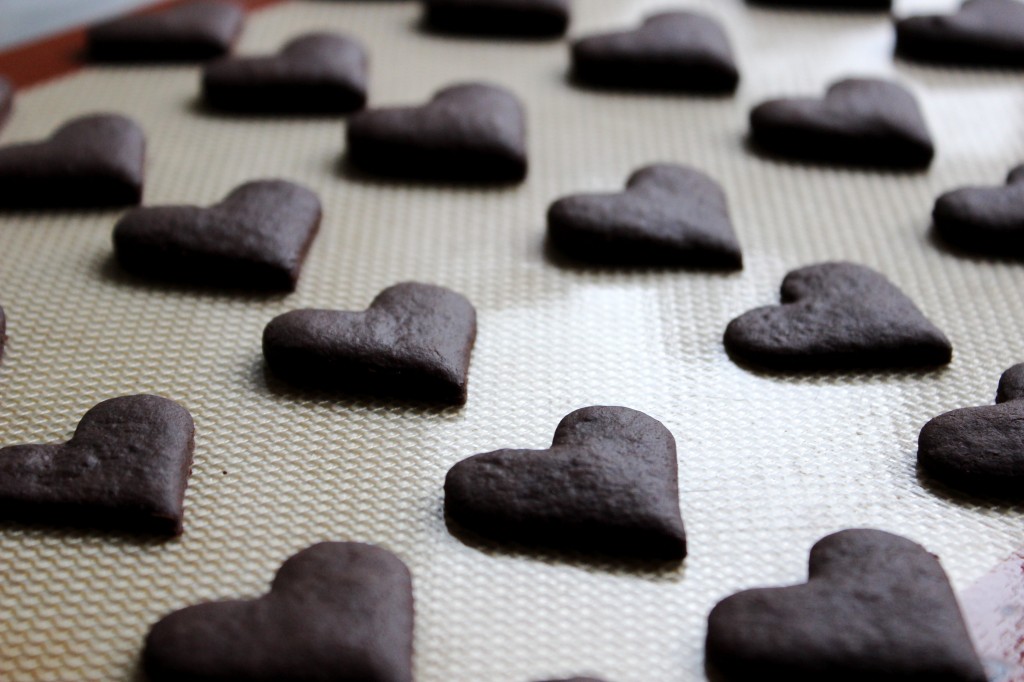 A couple notes before baking: For the pink cookies, roll them on the thicker side.  A couple of mine were too thin and ended up crumbling while I frosted them.  Also, I didn't want to buy a bottle of Kirsch, so I used Chambord instead and it worked great.  Take a look in your own cabinet and see what works.  It's not really worth buying a bottle of expensive booze for this small amount.
For the chocolate cookies, I used a pastry bag for the frosting but a knife would work just fine if you don't want to go to the trouble.  After eating the cookies, I wished I had used more frosting.  I was a little too conservative with my filling and I think more would have balanced the chocolate flavor.
Jimmy's Pink Cookies
From A Homemade Life by Molly Wizenberg
For Cookies:
3 sticks unsalted butter, at room temperature
1 cup powdered sugar, sifted
3 cups all-purpose flour
1/2 teaspoon salt
1 teaspoon vanilla
For the Frosting:
8 ounces cream cheese at room temperature
6 tablespoons (3 ounces) unsalted butter, at room temperature
3 cups powdered sugar, sifted
1 1/4 teaspoon kirsch or other fruity liquor (I used Chambord) or more to taste, or a cap-full of cherry extract
Red food coloring
Directions:
To make the cookies, combine the butter and powdered sugar in the bowl of a stand mixer fitted with the paddle attachment and beat, first on low speed, then slowly increase to medium, until light and fluffy.
In a medium bowl, combine the flour and salt and whisk well. With the mixer on low, add the flour to the butter mixture, beating just until the flour is absorbed.  Add the vanilla and beat well to incorporate.  Lay a sheet of plastic wrap on a large clean surface and turn the dough onto it.  Gather the dough into a ball, press it into a thick disk, and wrap it well.  Refrigerate for 1 hour.
Preheat oven to 325 degrees.  Line two baking sheets with parchment paper or silicone liners.
On a clean, floured surface, roll out the dough to a thickness of 3/8 inch.   (If you don't have room, cut the dough in half and work in batches, leaving the one in the fridge while you work with the other.)  Using a cookie cutter, cut into whatever shape, you like.  I used a big heart, Molly uses a 2 1/2-inch round cutter.
Place the cookies on the prepared baking sheets, spacing them 1 1/2 inches apart.  Bake them one sheet at a time, keeping the second sheet in the refrigerator until the first one is done, for 16 to 20 minutes, or until the cookies are pale golden at the edge.  Do not allow them to brown.  Transfer to a wire rack to cool.
To make the frosting, combine the cream cheese and butter in the bowl of a stand mixer fitted with the paddle attachment and beat on medium speed until smooth.  Add the powdered sugar and beat on low speed to fully incorporate, then raise the speed to medium or medium-high, and beat until there are no lumps, scraping down the sides of the bowl as needed.
Add the kirsch, or other favoring, and a couple drops of red food coloring, to make the frosting a pretty shade of pink.  Taste, and if needed, add more flavor.  Gently spread onto the cooled cookies.  Top with sprinkles.
Chocolate Sandwich Cookies
From
Martha Stewart Living February 2013
1 1/4 cups all-purpose flour, plus more for parchment
3/4 cup unsweetened cocoa powder
1/2 teaspoon baking soda
1/4 teaspoon coarse salt
5 tablespoons unsalted butter, melted
2/3 cup packed light-brown sugar
1 large egg
Cream Filling:
1/2 stick unsalted butter, softened
1 1/2 cups confectioners' sugar
1/4 cup granulated sugar
2 teaspoons pure vanilla extract
1 to 2 tablespoons whole milk, if needed
Whisk together flour, cocoa powder, baking soda, and salt. Stir together butter, sugar, and egg. Add flour mixture to butter mixture, and stir until a dough forms. Divide dough in half; roll out each half between 2 sheets of lightly floured parchment to 1/8-inch thick. Transfer to baking sheets, and refrigerate until firm, about 30 minutes.
Preheat oven to 350 degrees with racks in upper and lower thirds. Cut out 1-, 1 1/2-, and 2-inch heart shapes, making sure you have even numbers in each size for a total of thirty-four 1-inch, thirty-four 1 1/2-inch, and twenty-eight 2-inch cookies, re-rolling scraps once. Place cookies 1 inch apart on parchment-lined baking sheets, and freeze until very firm, about 15 minutes.
Bake until firm and fragrant, about 8 minutes for 1-inch cookies, 10 minutes for 1 1/2-inch cookies, and 12 minutes for 2-inch cookies, rotating halfway through. Let cookies cool completely on baking sheets set on wire racks. Spread or pipe (using a pastry bag and a small plain tip), filling onto bottom side of half the cookies, and sandwich with remaining cookies, pressing gently. Cookies can be stored in an airtight container at room temperature up to 1 week.
To make filling:
Beat butter with a mixer on medium-high speed until light and fluffy, about 3 minutes. Reduce speed to low, and gradually add sugars, beating until thoroughly combined. Beat in vanilla. If filling is too thick to spread, beat in milk, 1 tablespoon at a time, until spreadable.