4/14  ACCORDING TO THEIR WEBSITE, RESCUE BAGLES IS TEMPORARILY CLOSED.  I HOPE THE RETURN SOON.
There has been a lot of bagel drama in Portland over the last couple years.  That's right.  Bagel.  Drama.  (New plot for Portlandia?)
Kettleman Bagels, which everyone LOVED,  was purchased by Einstein Brothers bagels (which a google search tells me is owned by Noah's Bagels).  Anyway people freaked, there was a lot of community hate for Einsteins because they don't boil ALL their bagels and they didn't allow their employees to collect tips.  But all this drama caught the attention of some local entrepreneurs and guess what?!!  Local bagel places are popping up all over town. There's even a new one, called Blackheart Bagels, in "The Ocean".  (I'll check that one out later.)   And there's a new bagel cart a few blocks from were I work!  Let's check it out right now: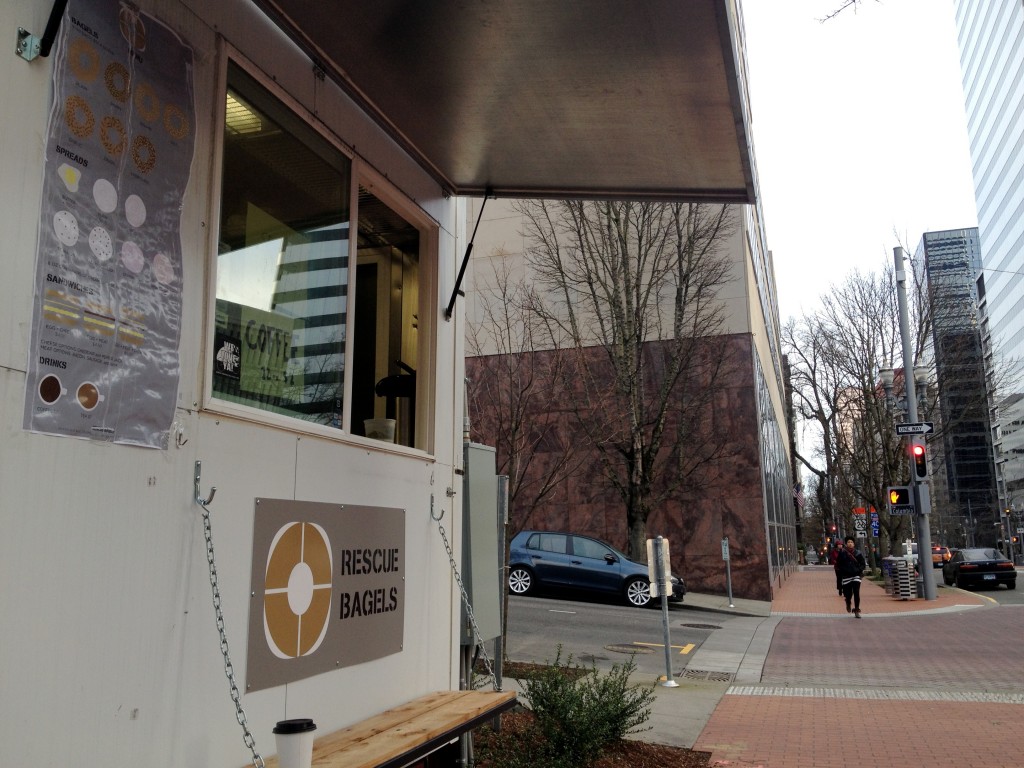 Rescue Bagels is right on the corner of 6th & Columbia in a small and often overlooked cart pod.  There's nothing fancy about them.  They serve seven flavors of bagels, seven spreads, a couple sandwich options, plus tea & coffee.  Bagels are $1.50.  Spreads range from $0.50 for butter to $1.75 for smoked salmon.  Coffee is $2.00.  I haven't tried the sandwiches, because I always find bagel sandwiches too hard to eat, but if you do, let me know how they are.  They are $4.00-5.00.
I've been twice now.  The first time I got a poppy seed with plain cream cheese. It was nice and chewy, the cream cheese was just the right thickness, and the outside was just a little crispy from the toaster.  On my second visit I went with a sesame bagel and bacon scallion cream cheese.  The bagel was excellent, but the scallions overpowered the bacon flavor I was hoping for.  But I'd still recommend it, it was a great breakfast.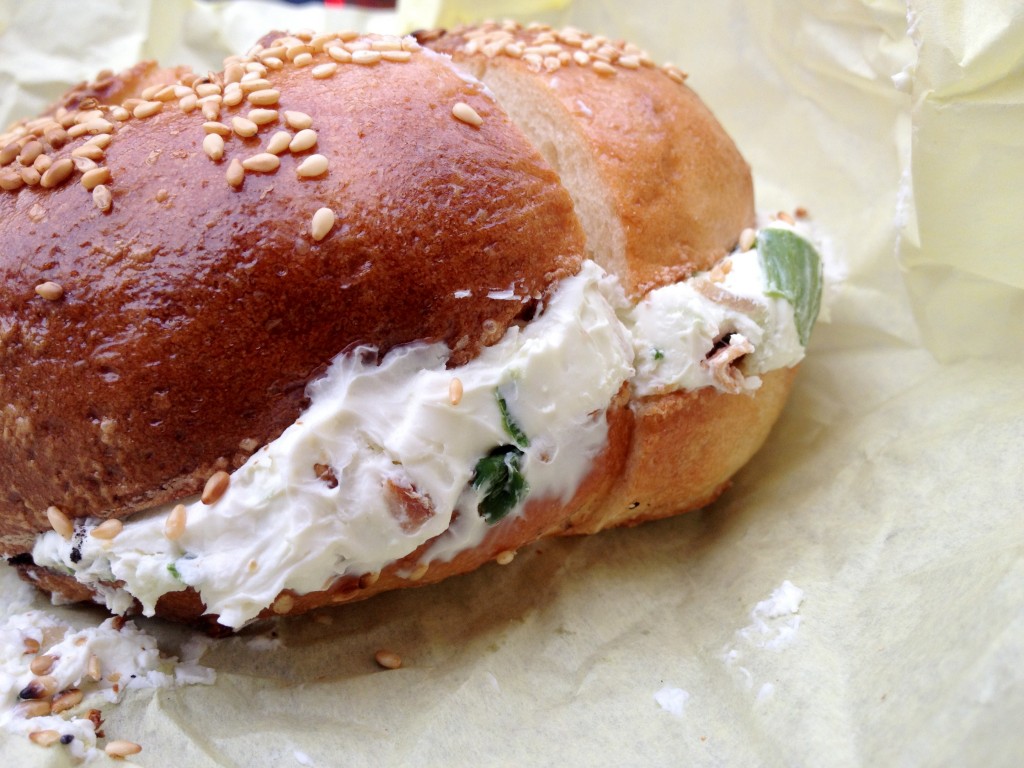 They do not make the bagels in the cart.  They tell me they are prepared in a communal kitchen off of Belmont Street.  The coffee is from Mud Works Roastery, which is a local coffee company.  Overall a nice little pre-work stop,  a little more expensive than a bagel and coffee and Starbucks, but much better quality.  So go check it out! Or starting Monday, March 4th, visit their second location in the the cart pod on SW 10th & Alder.