Oscar Night At Hollywood Theater
2016 UPDATE: THE PARTY BEGINS WITH RED CARPET COVERAGE AT 4PM ON SUNDAY, FEBRUARY 28. AS USUAL ADMISSION IS FREE.
This is the first year, I think ever, that I've managed to see all the Oscar nominees for Best Picture. This year that is nine movies! As if that's not good enough, we also managed to see all the short animated films and short live-action. With all this prep, we decided to do something a little different this year and watch the show live at the Hollywood Theater. It's free. They served pizza, brought in a bartender and showed it on the big screen.
We had a fantastic time. We sat in the front row, drank far too many beers and laughed a lot. There was a "best dressed" contest and a very cute old lady who couldn't hear a thing won!
(Please excuse my blurry photos. It was dark and I could not use a flash)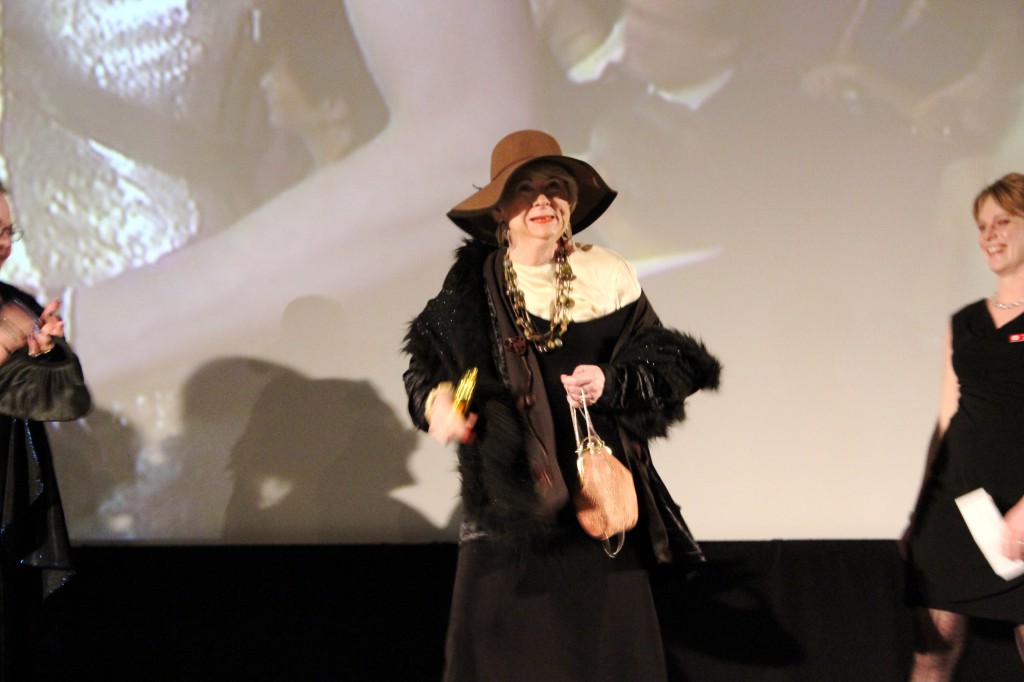 Since they show commercials the atmosphere is much more relaxed than a regular movie. People had cell phones out, a few brought lap tops. There was a lot of cheering and booing. The were pretty much alway a line for drinks. I only had beer but they had cocktails named after some of the movies.
As for the show, I thought it was great! Between Channing Tatum's dance number and Captain Kirk 's visit from the future, he won me over. I know a lot of people hated Seth McFarlane's job, but it worked for me. He did exactly what I expected: a few offensive jokes and lots of singing. He kept the energy up and kept things moving.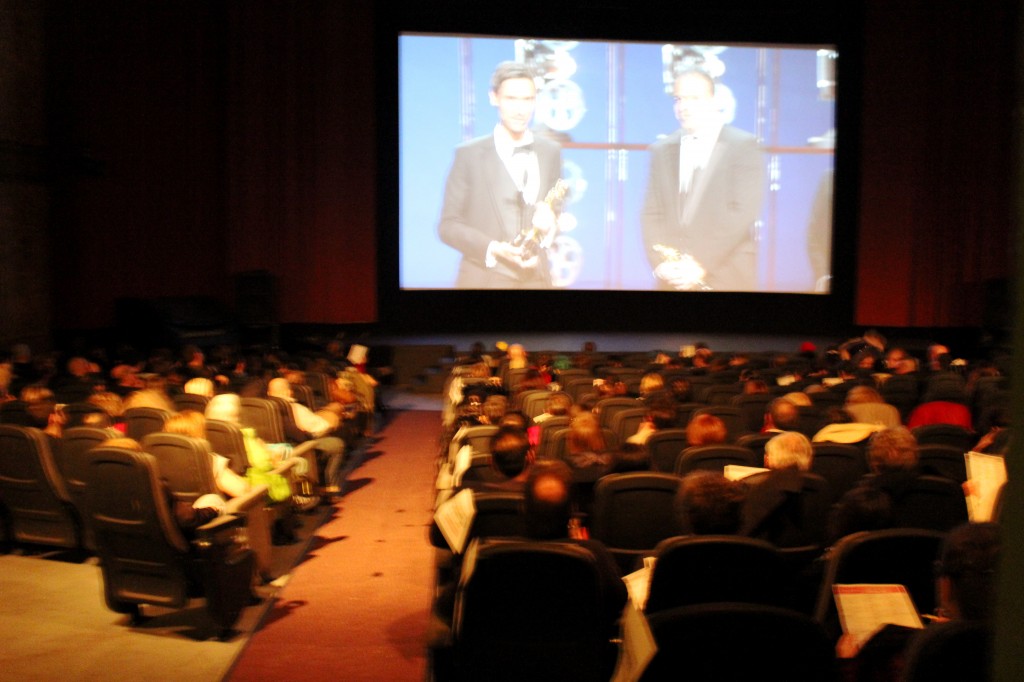 Of course part of the fun of watching all the movies is predicting winners. The theater had a $1 Oscar ballot with prizes for the most correct. I did not get anywhere close to winning with only 9 correct. The winner predicted 22 put of 24 categories. Here are some of my predictions, favorites and winners.
BEST PICTURE
Favorite: Django Unchained Prediction: Lincoln or Argo Winner: Argo
LEAD ACTOR
Favorite: Daniel Day-Lewis Prediction: Daniel Day-Lewis Winner: Daniel Day-Lewis
LEAD ACTRESS
Favorite: Emmanuelle Riva Prediction: Jessica Chastain Winner: Jennifer Lawrence
SUPPORTING ACTOR
Favorite: Christoph Waltz Prediction: Robert De Niro Winner: Christopher Waltz
SUPPORTING ACTRESS
Favorite: Jacki Weaver Prediction: Anne Hathaway Winner: Anne Hathaway
ANIMATED FEATURE
Favorite: Brave Prediction: Wreck It Ralph Winner: Brave
ANIMATED SHORT
Favorite: Head over Heels Prediction: Paperman Winner: Paperman
LIVE-ACTION SHORT
Favorite: Henry Prediction: Asad Winner: Curfew
DIRECTING
Favorite: Michael Haneke Prediction: Steven Spielberg Winner: Ang Lee
CINEMATOGRAPHY
Favorite: Skyfall Prediction: Life of Pi Winner: Life of Pi
DOCUMENTARY FEATURE (I did not see any in this category)
Favorite: None. Prediction: Searching for Sugarman Winner: Searching for Sugarman
FOREIGN LANGUAGE FILM (I only saw Amour)
Favorite: Amour Prediction: Amour Winner: Amour
ORIGINAL SONG
Favorite: Skyfall Prediction: Suddenly (Les Mis) Winner: Skyfall