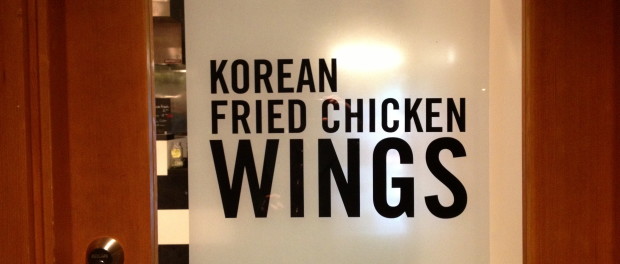 4/14 I'M SAD TO REPORT THAT BASA BASA HAS CLOSED.  IN IT'S PLACE IS A GREAT VEGAN SPOT CALLED "THE SUDRA".  CHECK IT OUT!
Have you been to "The Ocean"? It's a little restaurant cluster on NE Glisan that's really kicking some butt right now. This is kind of a new concept called "micro-restaurants"… a cross between a cart pod and brick-and mortar restaurants.  Right now, there are 4 restaurants, one bakery and a meat shop.  I plan to write more about this complex in the future, so today I just want to tell you about Basa Basa.
A rave review from Webmaster Josh inspired me to go. He described them as "f$#@ amazing" and "the best wings I ever had".  With enthusiasm like that, I had to check it out and while my passion for these wings does not rival Josh, I have to say they are pretty excellent.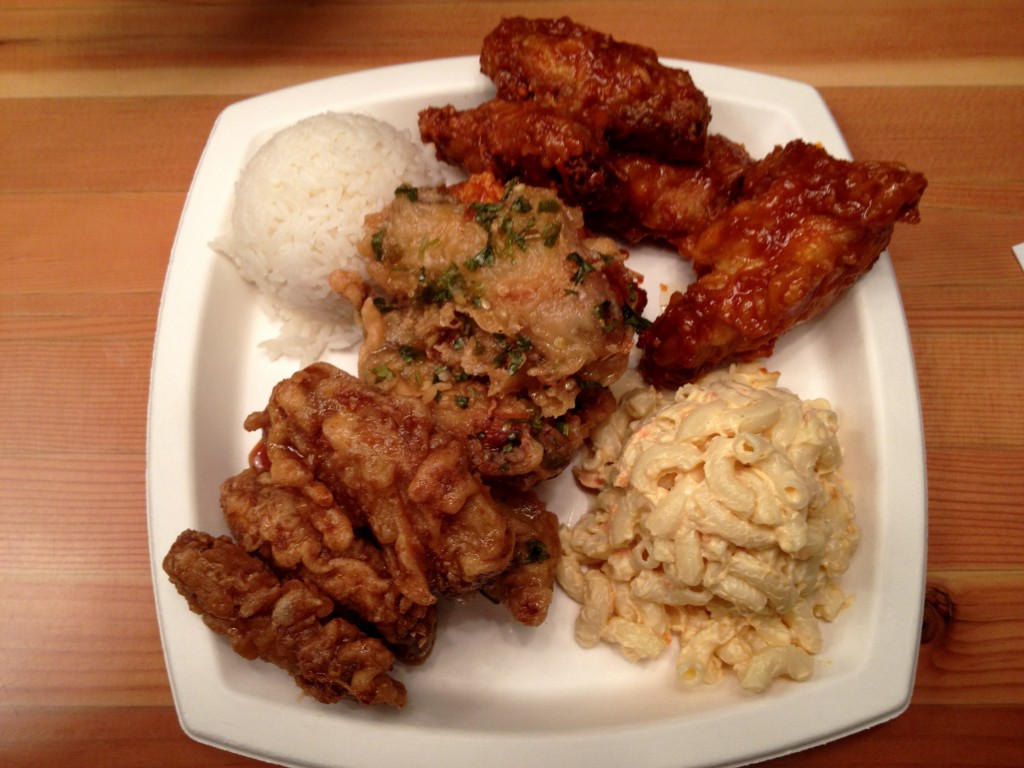 The thing about all the micro-restaurants in "The Ocean" is they all do one thing really well.  For Basa Basa it's wings.  Korean Fried Wings.  And that's pretty much all they serve.  You also get some rice and a palette cooling macaroni salad, but they are not the stars in this show. Fries are also on the menu, but I have not sampled them yet.
We ordered the 10 wing plate to share, trying all three of the flavors.  The original sauce, teriyaki and lime cilantro.  Now, there are some very mixed reviews out there about this place.  Most of the haters, pointing to the very thing I love most about these wings…. the batter. It is thick.  VERY THICK.  Webmaster Josh describes them as "that crunchy texture of sesame chicken", but I think that's still underestimating it.  It extremely thick to the point that no chicken is visable.  I imagine them dipping these things in pancake batter before hitting the fryer.
Sadly, on the night we were there the place was pretty much empty…but they were not short on business.  There was a constant steam of take-out orders.  We enjoyed our meal in their small but very cool and modern dining area.  Don't you love the geometric chairs!?!?!  The front windows are on a garage door, so in the summer this place is going to be open air and probably crazy busy.  Garage doors are such a Portland fad right now.
So that's Basa Basa.  I will be back.  I will probably just get teriyaki next time (I don't care for fish sauce) and I might try some fries.  When the weather finally turns, a hot night, hot wings and some beer would be pretty excellent.