TRIGGER IS NOW CLOSED.  BUT I HEAR THE NEW RESTAURANT KEPT ITS MARGARITA MACHINE….
Ohh man, I had a little bit of an obsession the last couple weeks.  I do a lot of reading about new local places and about two weeks ago, I heard about a new Tex-Mex place that just opened… and I decided NEEDED TO GO.  NOW.  But of course I was at work and it was 8 in the morning, I'd at least have to wait until 6pm, then I had volleyball, then I had no money, then I had plans with friends, then Jacob had a hockey game, and pretty soon it was two weeks later and I still dreaming of trying this drink, but just could not manage to get there.  Come on, look at this thing!  It's called the Sidepipe and it's the featured drink at the new restaurant on Russell Street called Trigger.
The presentation is amazing with a Coronita (7oz) bottle sticking out of a glass of frozen margarita.  I was a little worried when I saw that the margarita comes out of one of those churning machines, but good news, it much be their own recipe, because it is very boozy and not disgustingly sweet.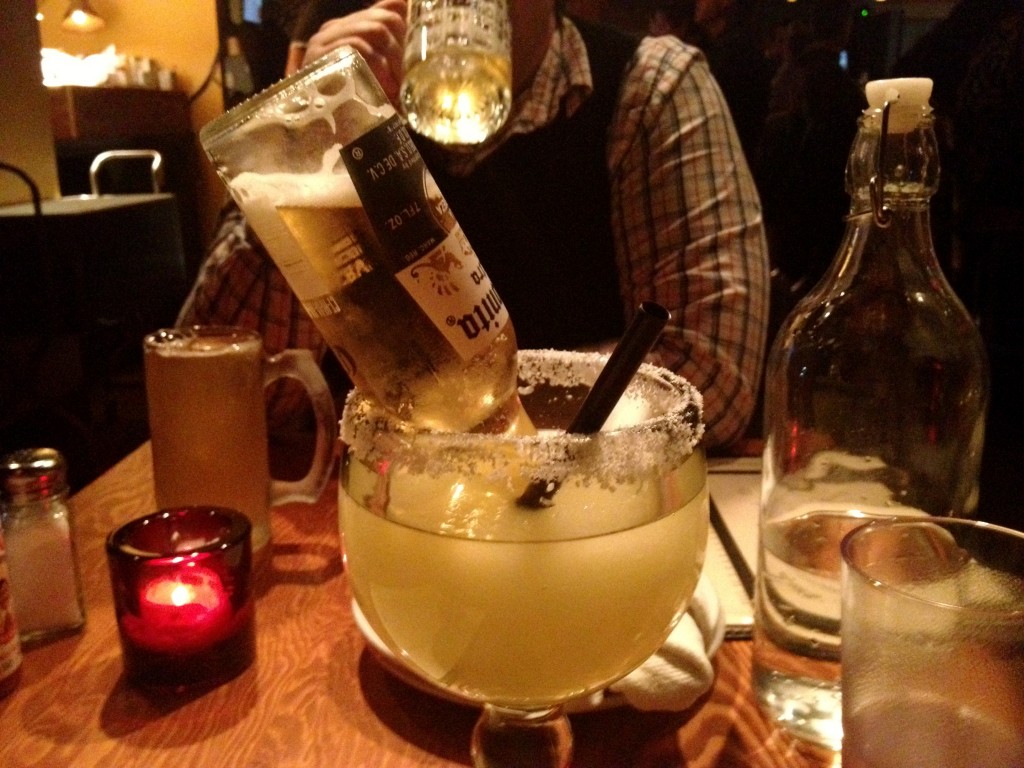 Finally, the night before our vacation in Tucson, we headed over to Trigger. It was 8pm on a Thursday night and there was a 20 minute wait for a seat, so we grabbed a spot at the bar and had a drink.  I was excited that they had Pacifico and Negro Modelo on tap, although I ordered off the cocktail menu.  I had a Paloma, which is tequila and Fresca. Fresca is kind of an underrated soda. It's so good yet so few places serve it.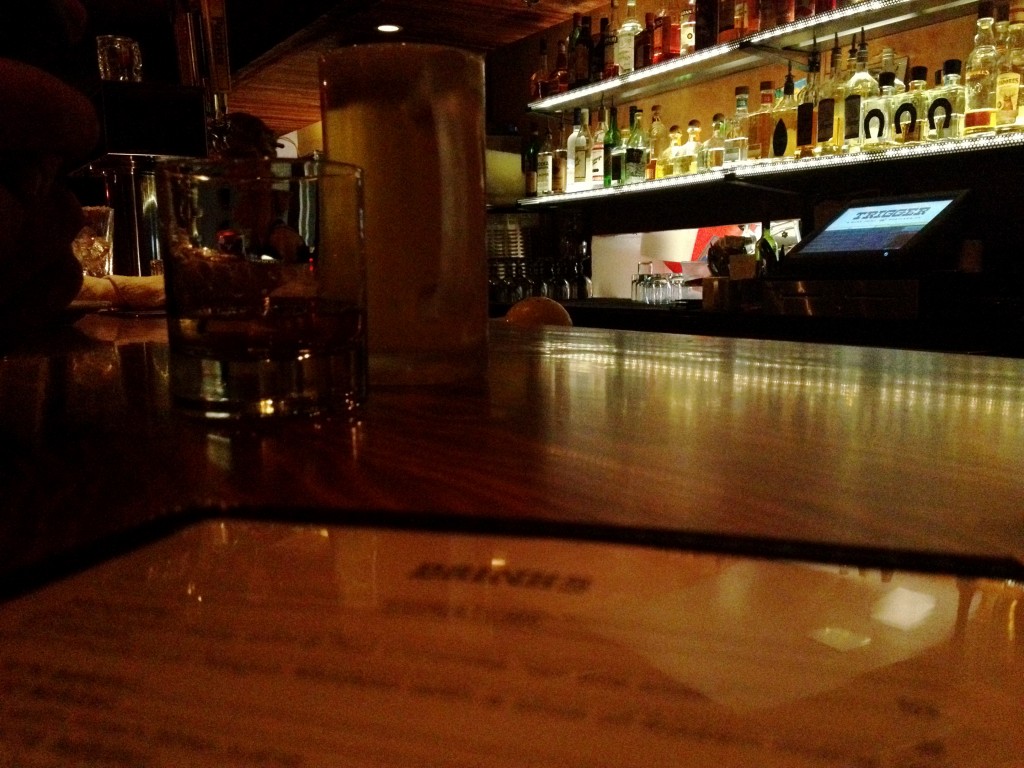 Once we were seated at our table, I could watch the TV on the wall playing old westerns.  I like that kind of thing.  One reason I was excited to try the food, as much as the cocktails, is that Trigger is owned by the same people who own Bunk Sandwiches, which has become a Portland foodie destination over the last few years.  I mean, if Anthony Bourdain make a point to stop, it has to have some serious food, right?  We could not resist the "Queso Dip Delux" which comes with guacamole and smoked brisket. (Sorry the photo is embarassingly blurry.  Taking photos in dark restaurants is hard.)  Once it arrived neither Jacob or I spoke until it was gone…which took about two minutes.
As for the rest of the menu, they have a creative selection of tacos, we ordered the fried avocado and smoked chicken.  They were just okay. I really liked the pork shoulder quesadilla which came  with a spicy sour cream sauce.  I really wish now I had tried the enchiladas or the posole, and I bet the nachos are pretty killer.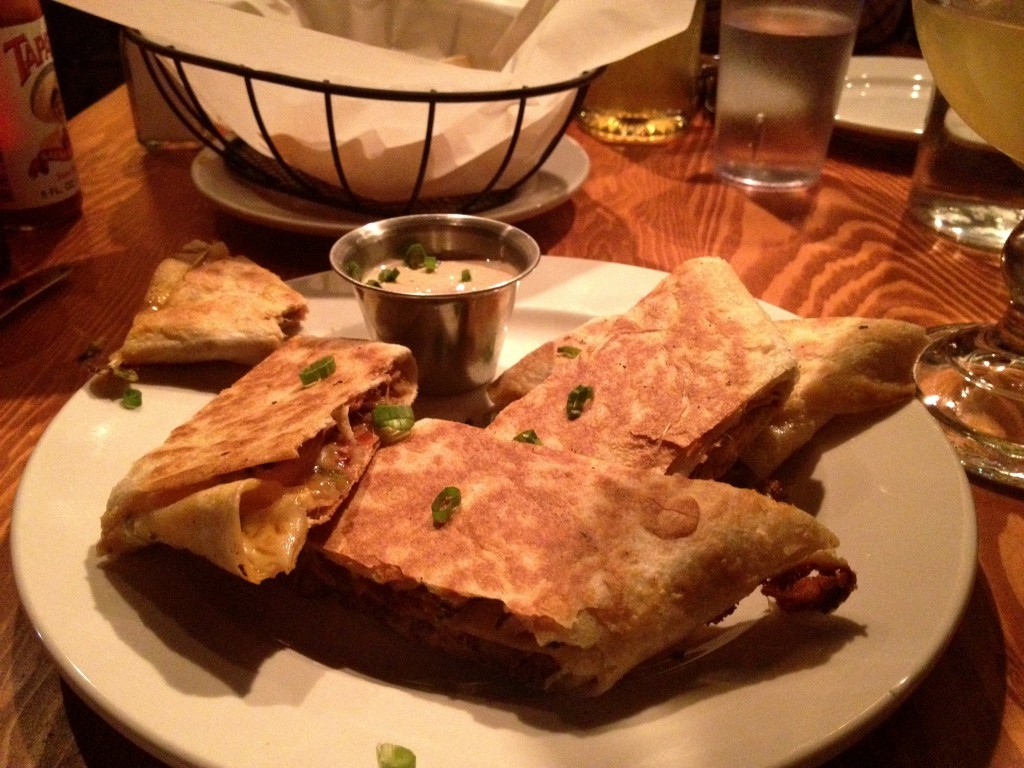 Will I return to Trigger?  Yes!  Will I go for dinner… probably not… but drinks and snacks for sure.   Queso dip all day long!
128 NE RUSSELL STREET (under the Wonderball Ballroom)
PORTLAND, OR