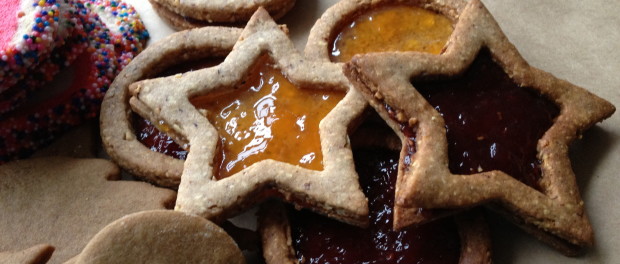 We just finished.
12 pounds of sugar and 5 pounds of butter later… Jacob and I just finished our annual Christmas baking spree.  A couple years before we got married, we didn't have much money for gifts, so we decided to just bake cookies.  T next year we started trying candy recipes and now it's become a major annual operation.   This year we made 8 types of candy and 4 types of cookies.  I'm exhausted and very excited to get it all to the post office.  But overall, it went REALLY well this year.    In the past we have struggled with fudge and toffee, but both came out perfectly this time.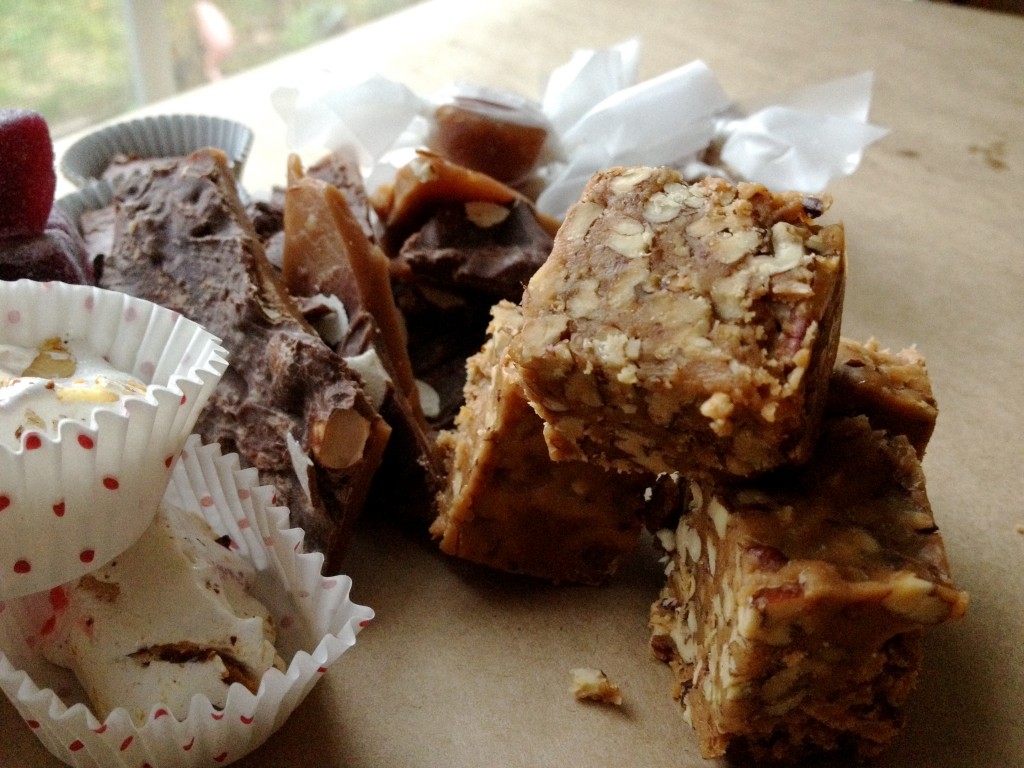 Candy making is a challenge for me.  It is unforgiving.  You can't let your focus stray.  You can't put some dishes in the dishwasher.  You can't check your email.  You have to just stand next to the pot and watch. Second matter in candy making.  One degree too hot and the whole batch is ruined.   Its a good challenge for me, as a constant multitasker.  I'm forced to stand and watch and wait.  Patience.
So… here is what we made:
Nougat from The Joy of Cooking.   I normally would not recommend recipes out of this book, but the "Candy and Confections" chapter is excellent.  Their recipes and instructions have helped me troubleshoot problems a number of times.  Making nougat is a lot like making marshmallows.  You cook a sugar syrup, then pour it over beaten egg whites and beat the heck out of it in a Kitchen Aid mixer.  I thought mine was going to start smoking it was working so hard, but the candy came out looking beautiful.
Fruit Jellies from The Joy of Cooking.  These are so easy.  You make a fruit juice concentrate (we did Blackberry this year) mix it with gelatin, then pour the entire thing into a hot sugar syrup.  The hard part is cutting them up later.  Sticky bugger.
Classic Fudge from the Joy of Cooking.  As I said, I've had a number of failures with fudge recipes from other books.  So I turned to Joy of Cooking, which suggested using a Kitchen Aid mixer for the beating at the end… what a difference!  Our fudge is smooth and melty this year, as opposed to the hard gritty stuff we've made in the past.
Vanilla Bean Caramels with Fleur De Sel from Annie's Eats.  These are basically your classic caramels, but with a little extra salt and the tiny black flecks of vanilla bean.  It takes far longer to cut and wrap them, than it does to cook.
Apple Cider Caramels from Smitten Kitchen.  These are featured in the brand new Smitten Kitchen Cookbook and they are AMAZING.  They are meant to be made with REAL fresh-squeezed cider… Not just a gallon from the store.  Next fall, make these after a trip to the pumpkin patch and where they sell the good unpasteurized stuff.
Cherry Lollipops from the Joy of Cooking.  This was just an experiment, but they came out looking beautiful.  But I had to go to the candy supply store to get the flavoring and the right type of food color.  Very easy, just cook sugar and water to the hard crack stage add the flavor and color, then pour into a mold.
Aunt Bill's Brown Candy from Molly Wizenberg aka "Orangette" in Bon Appetit.  This is hands down the candy I most look forward to, but  it's also the most challenging.  The first year, it took us 3 batches before we got one to work.   I'm not sure how to describe it… kind of like a brown sugar fudge with lots of pecans.   If you try to make it, make sure you have a partner there to help.  It is really difficult stirring at the end.
English Toffee from Joy of Cooking.  I'm not sure what I did wrong last year.  I tried to make toffee twice and both times, it turned into a crystalized mess, but this year it was perfect.  Maybe my new candy thermometer? I just love the texture of toffee, it's that perfect middle between hard candy and caramel.
Now the cookies!
Peanut Blossoms from Betty Crocker.  Bisquick, sweetened condensed milk, peanut butter and a hershey kiss.  Perfection.  One of my most requested cookies.  Just goes to show, you don't HAVE to have fancy ingredients for great cookies.
Rainbow Spiral Cookies from Sprinkle Bakes.  I was looking for a colorful and fun cookie for some contrast and these caught my eye on Pinterest.  They were a little tricky to make, but turned out pretty cute.  I used leftover cherry flavoring from the lollipops and it might be a little too much… Hopefully it doesn't overwhelm the others when we ship them.
Lintzer Sables from Dorie Greenspan via Chow.  I've always loved the way lintzer cookies look, so I thought I'd try them this year.  Pretty much every recipe on the entire Internet is a version of Dorie Greenspan's; I jut happen to print mine off of Chow.  They look gorgeous and they have a very nutty flavor.
Gingerbread Cookies from wrapping paper.  Yes, wrapping paper.  Years ago someone gave my mom a gift wrapped with paper that had recipes all over it… and my Mom tried the Gingerbread Recipe.  We all loved it and it became our family's go-to Christmas Cookie.  The are soft in the middle, crispy on the edged and perfectly spiced.
That's about it.  Time to hit the gym after all these claories and get them in the mail.
Happy Holidays.