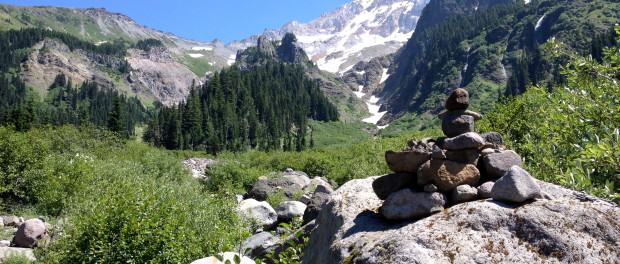 I've been hiking pretty much my entire life. My Dad and Mom would make me go when I was a kid. Not super young, but probably starting when I was about 7 or 8. I usually hated it. Sometimes I would cry. But one day, they took me on a hike called the "Vista Ridge Trail" on the north side of Mt. Hood. We hiked uphill through the woods for a couple hours, then all of a sudden we arrived in paradise. There were wildflowers everywhere, little fields of snow we sledded down and running right through the middle was the Timberline Trail. That's the moment the idea hatched, that one day I would do it.  I would hike the Timberline Trail all the way around Mt. Hood.
So 20 some years later, I'm married to a guy willing to give it a try.  We debated for a long time on where to start our adventure and finally settled on the place where most people start, Timberline Lodge. If I did it again, this time I'd start at Cloud Cap Inn. The first day we hit the trail around 2:30 and headed west towards an area called Paradise Park.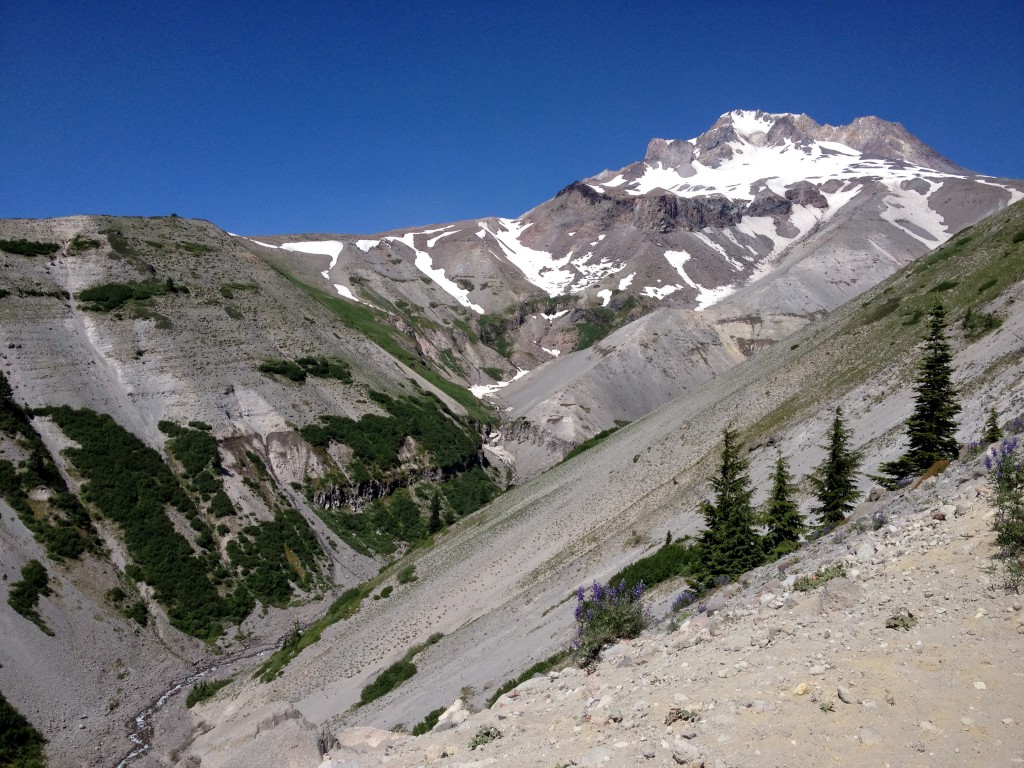 It was tough going. We both had very heavy packs and there was a lot of elevation gain. In the first 3 hours I fell down about 3 times but I was fine. We should have gone further the first day, but when we saw this camping site, it was hard to turn down. We were on a ridge overlooking the origin of the Sandy River.  It was really quite spectacular.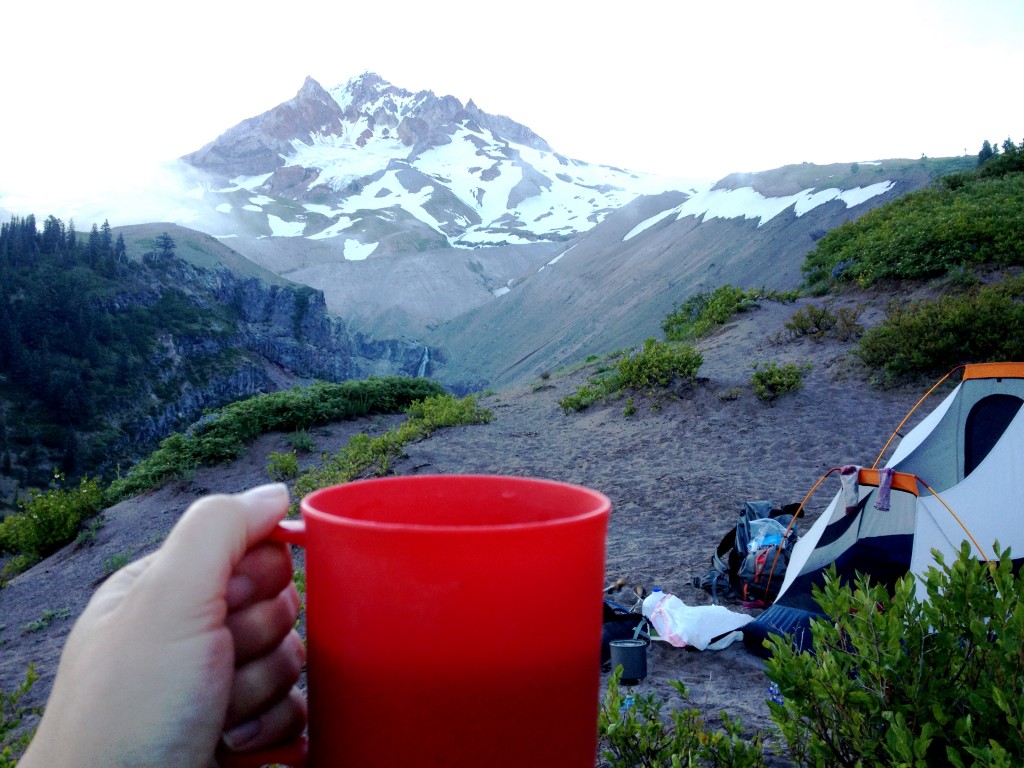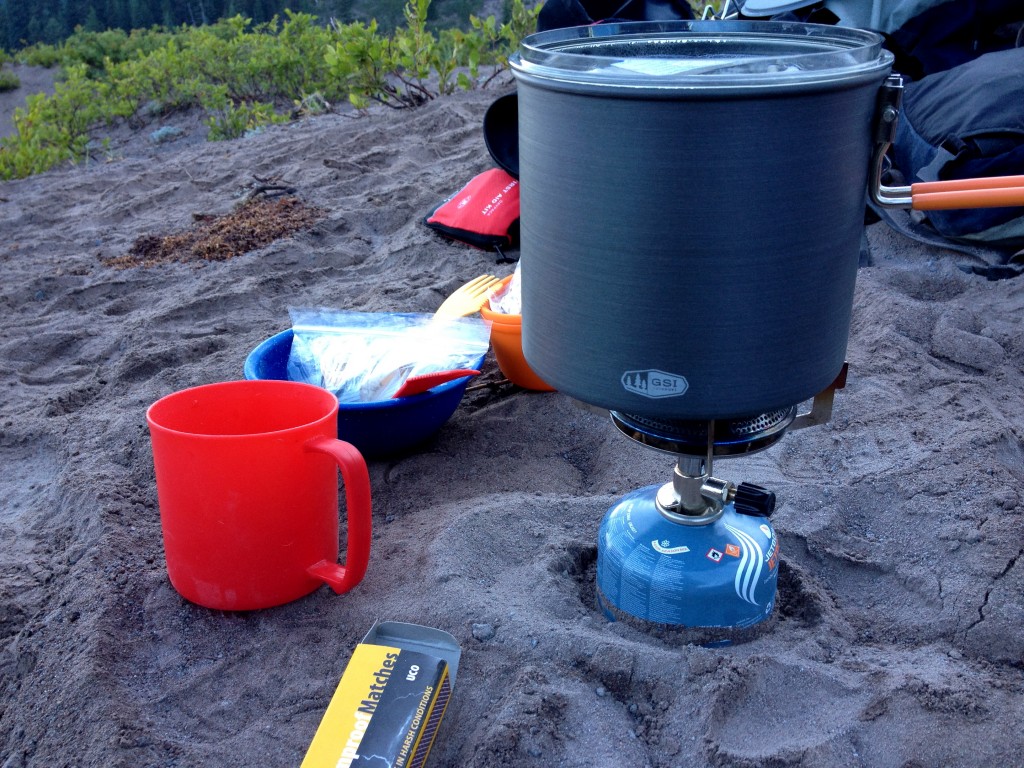 The next day was tough. The steep downhill trail to the Sandy River was hard on my knees. We crossed it (there was a bridge! Little did we know what a luxury that is) and headed over to Ramona Falls for lunch. From Ramona Falls it was quite a slog up hill. We had to stop a lot, but along the way we met some other backpackers named Paul and Deb, who we would end up seeing on and off for the next couple days.
After a couple miles, we had our first big creek crossing. We both changed our shoes to cross and carefully helped Spike across. The water was sooo cold, but we made it. I was amazing at how such a small river could zap so much energy out of us. From there it was another couple miles uphill to Bald Mountain and it was hot. We planned to go an additional 2 miles but decided to make camp instead.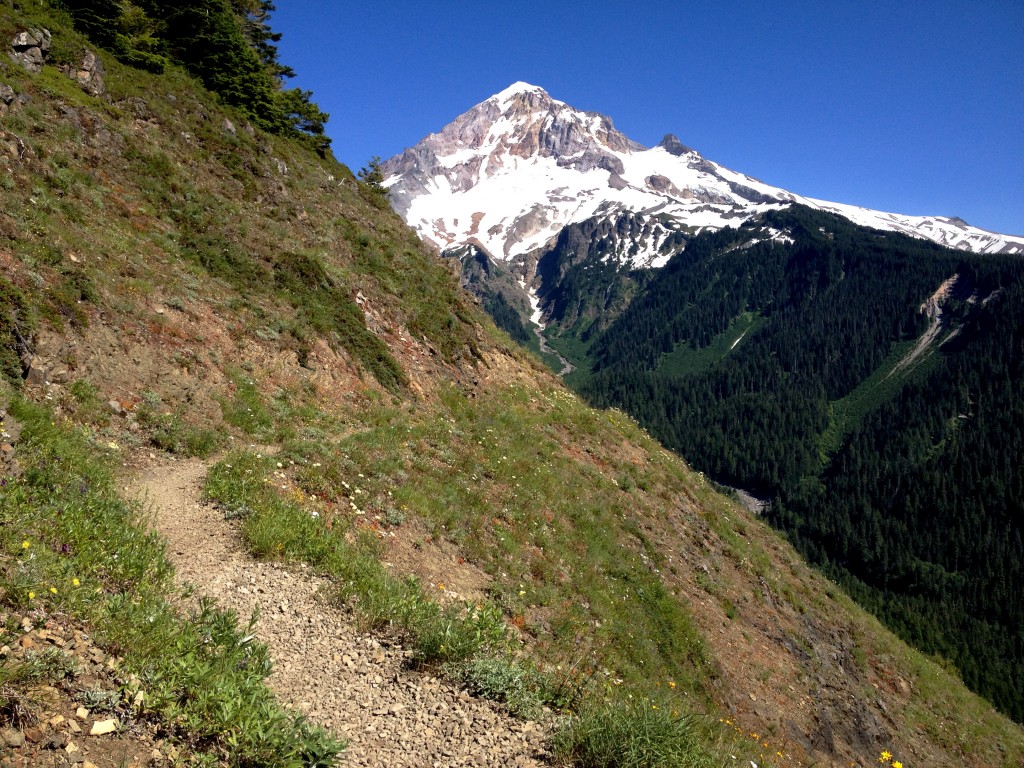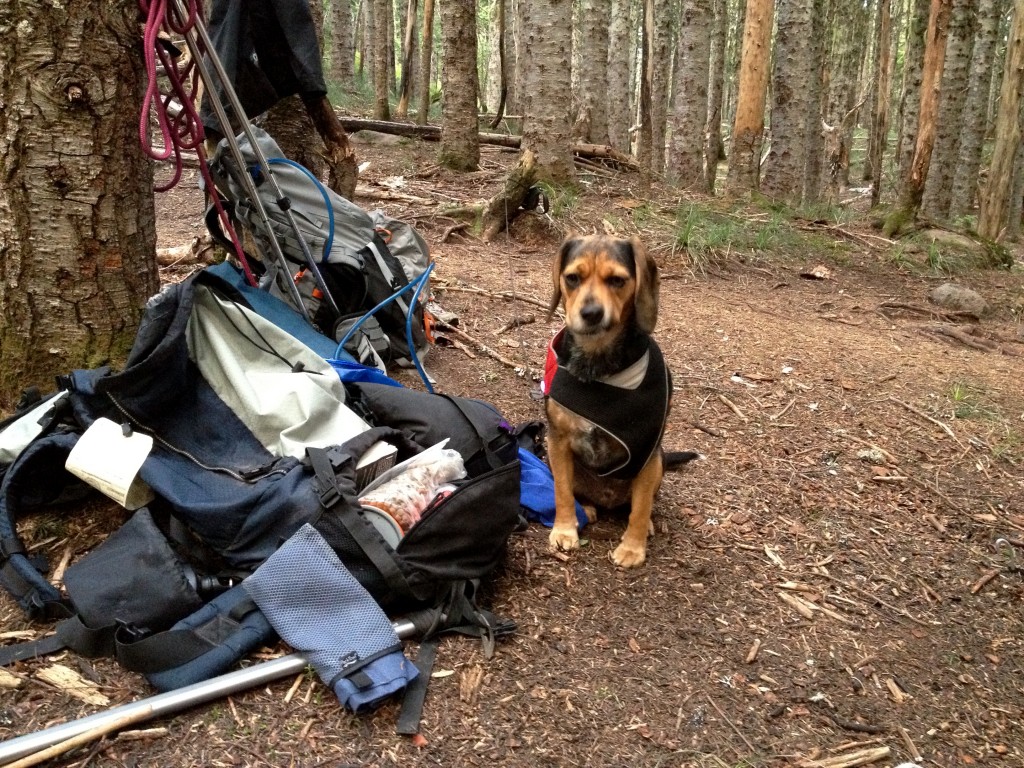 The next morning I made breakfast burritos with spam. I was expecting to like the stuff… But I did not. Way too salty!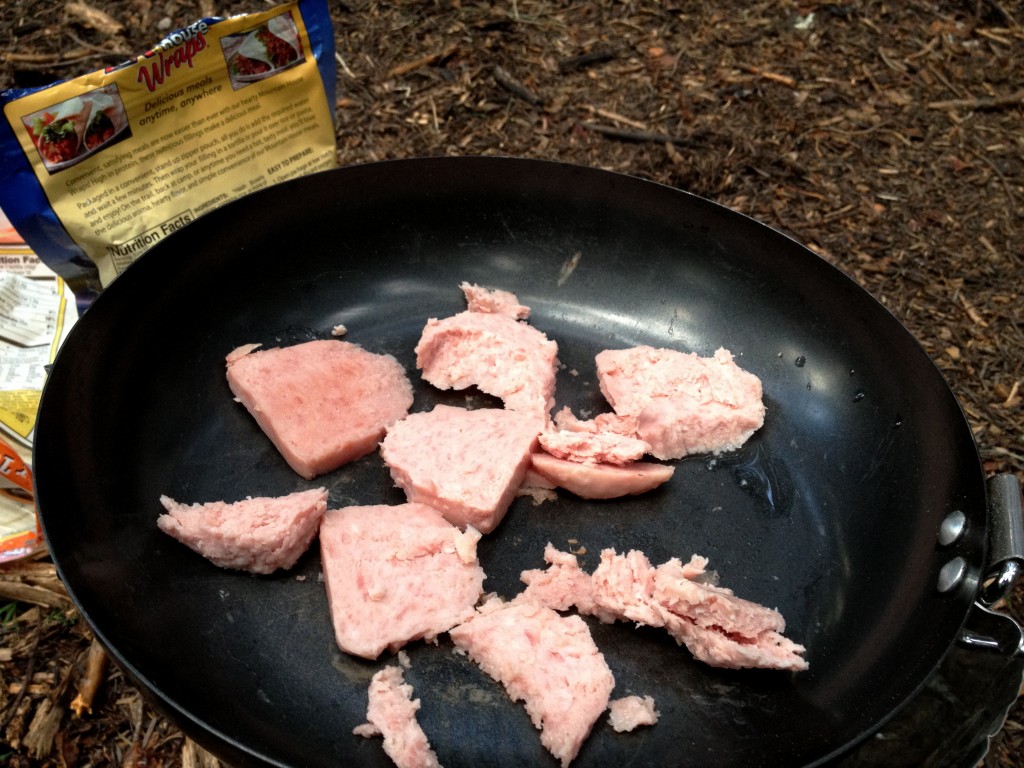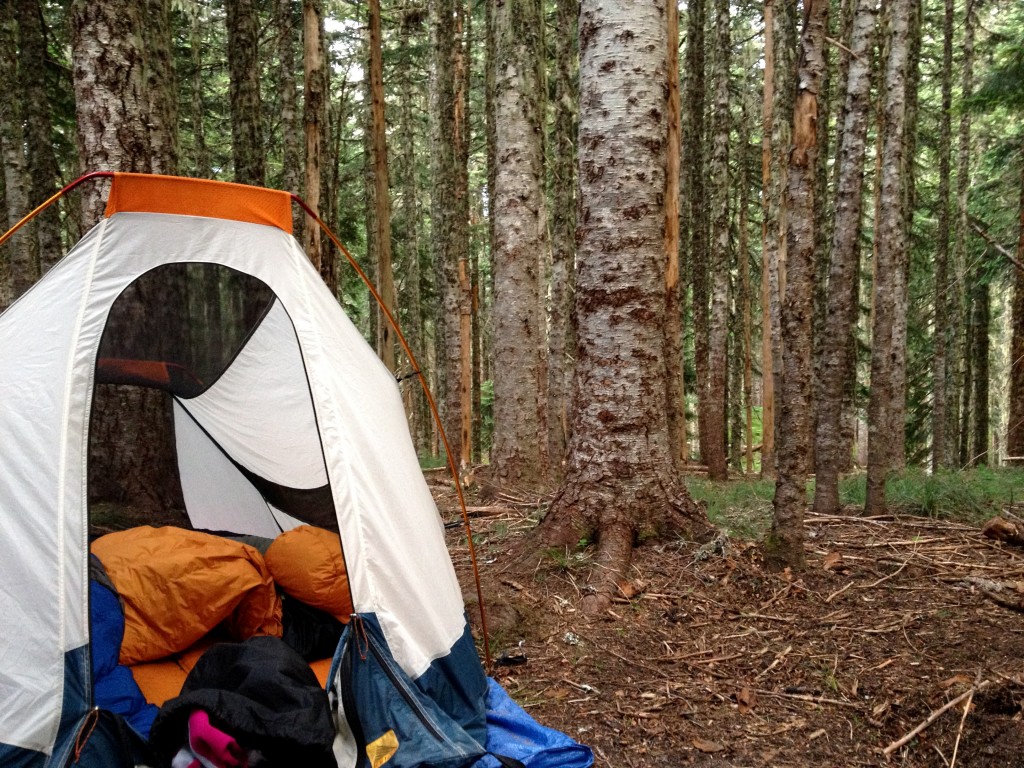 The adventure really started when we left camp Monday morning. I was looking forward to the north side where we would go thought the Vista Ridge area…and it was pretty much what I was expecting…there were lakes, meadows, snow fields, but also entire ridges ravaged by fires, down trees and far too many creek crossings.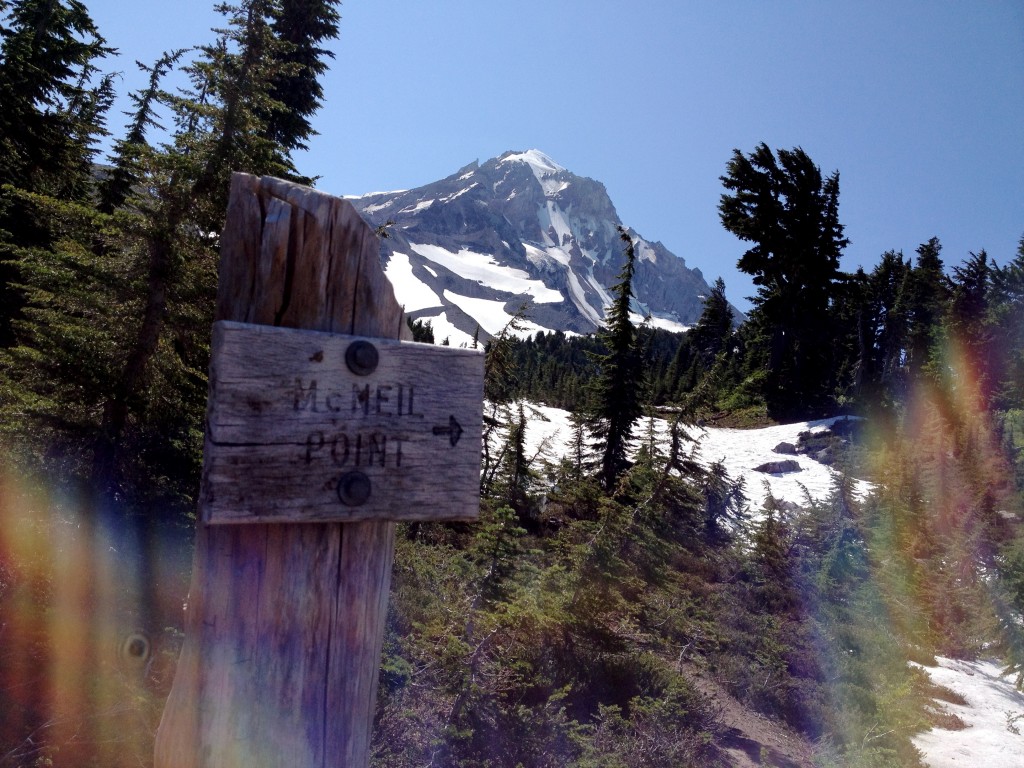 Most were easy to cross. A couple quick steps and you were over without getting wet… But some were still covered with snow. You had to scurry across one at a time hoping that it was still frozen solid enough to hold our weight. This was especially scary for Jacob who weighs more than me and carried a very heavy pack.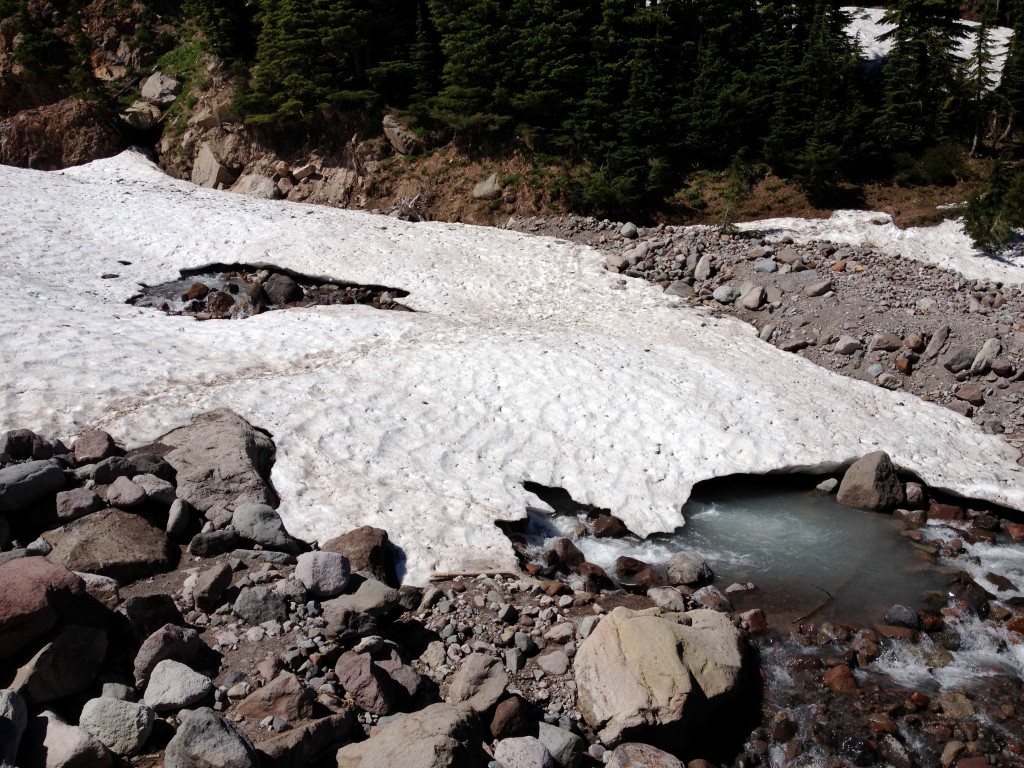 There was one creek I found particularly terrifying. It's called the Coe Branch and it was running fast and higher than the others. There was a log bridge of sorts but it looked pretty sketchy. So we tried crossing I higher up stream. It did not go well. Spike was nearly swept down stream and I was in tears by the time it was over. Little did I know then, I'd have to cross it again the next day.
Later that afternoon we arrived on the ridge above the Elliot Washout. I'd been worried about this spot since we started. Officially the trail is closed and there is no way to get through but according to folks on the Internet, there are some ropes that make it possible.  We explored a couple trails and looked over the edge a bunch, but from what we could see, there was no safe way across. It was so frustrating.  We could see the Cloud Cap Inn just on the other side of the ravine.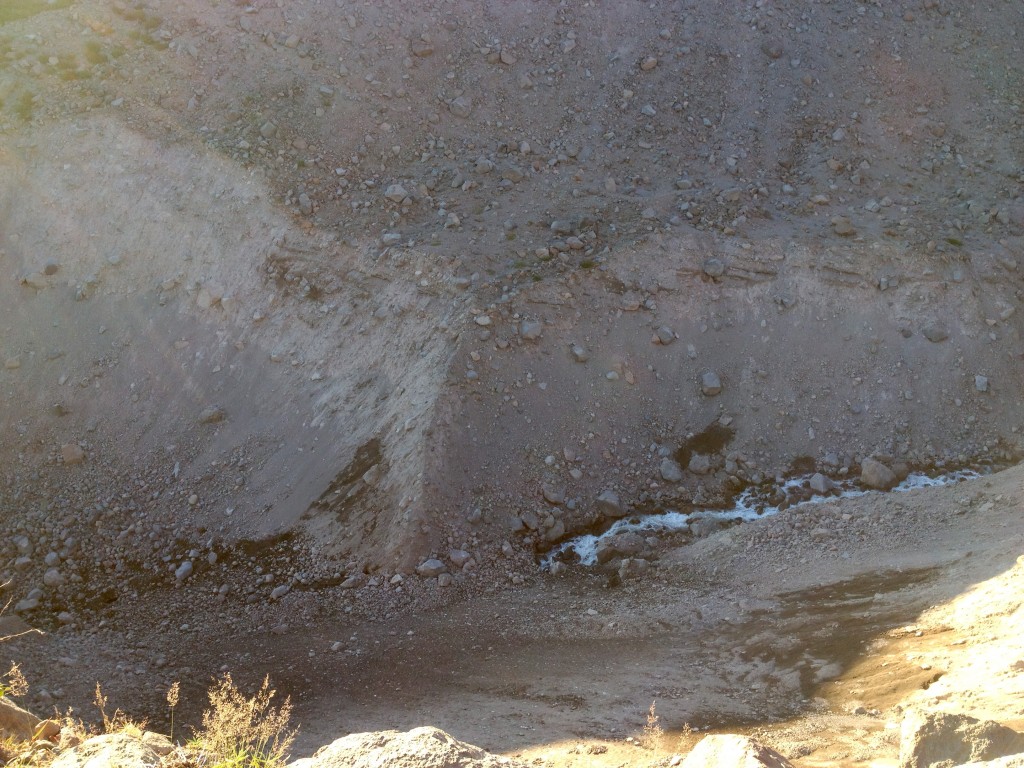 I'm not sure if it was just because I was exhausted or if it was actually good, but we ate an excellent freeze dried dinner that night, Chili Mac with Beef.  Eating out of a bag is actually pretty sweet.  No clean up!
The next morning the other backpacking groups visited our camp to tell us they were turning back and had arranged a ride at the next trail head.   We decided to hike out with them and give up the dream of circling the entire mountain.  We still came close on mileage though… we hiked 38 miles, if we'd finished the trail as planned, it would have been 40.5.
The way out was no picnic: we had to cross the scary river again, although it was much easier with more people, I had a pretty bad fall on a snow crossing, (Luckily I came away with a few scrapes and bruises, it could have been much worse.) and the final 4 miles were through last year's forest fire, so there was no shade and an inch of soot on the ground.
Overall, it was a great trip.  The weather was perfect.  I got my fill of adventure and we all made it home safe and sound.  I don't think I'd do this hike again since you can't actually go all the way around, but I'd like to go finish the part we missed.  As for backpacking, I thought it was pretty fun.  It feels good to be self sufficient.  We were gone for only 3 nights, but if need be, we were prepared for a couple more.