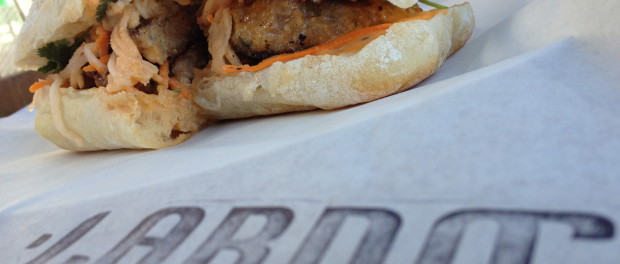 A few months back, we went to the Willamette Week Eat Mobile Food Cart Festival.  It was amazing.  Possibly one of the best festivals I've been to in Portland.  I'll write about that more in a few months, when it comes around again… but in the mean time, let's focus on Lardo.  At the festival, they served up a "Pork Meatball Banh Mi" that blew my mind.  And I declared right there and then, "I must eat an entire sandwich!"  And my quest began…
Now I should say, I'm late to the Lardo game.  Evidently, people have been loving their food for a long time, because I by time I discovered it, they were already moving past their food cart roots and getting a real restaurant.
The "brick & mortar" just opened and I finally made a visit.  Before I talk about their food, let me just say how much I love their logo.  It took me a while to see it, but it's in the shape of a pig!  Genius logo design!
The inside of Lardo, is pretty simple but there is a fair amount of table space.  I know everyone in Portland loves their patios, but I can't help but think of the other 9 months a year when it's too wet to eat outside.  It looks small, but comfortable.  There are about a dozen or so places to eat.  But the patio is where it's at right now.
Unfortunatly, I didn't take any photos of the outside… I really thought I took a couple… but I can't find them, so in the mean time, use your imagnation and instead you get a picture of the bar.
When you arrive, you order at the counter and get a number.  They serve beer and booze.  I did not get a cocktail but they looked good.  Of course, I ordered the sandwich I'd fallen in love with, the Meatball Banh Mi and some fries.  The fries were excellent.  The sandwich didn't not live up to the memory in my head.  I think there was a little too much sauce.  I think it was sort of a Scarlett O'Hara & Ashley Wilkes situation.  The sandwich I'd fantasized in my head never could and never would live up to the dream.  Ohh…. Gone with the Wind.  I need to watch that again.
But this does not mean I won't visit again.  It only means I'll have to try something else!  Like the Cold Fried Chicken Sandwich, Pork Belly, Lettuce & Tomato, or the Smoked Brisket.  Yumm….