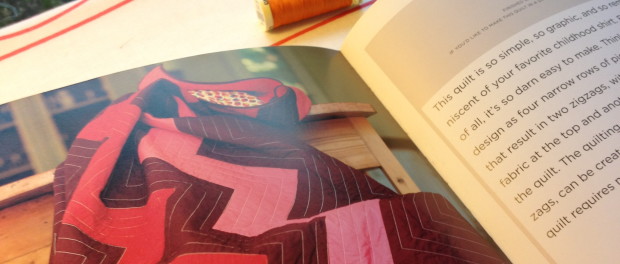 This week, during the middle of May, I completed my pinnacle achievement of this winter.  Wait, what?  Winter is long over…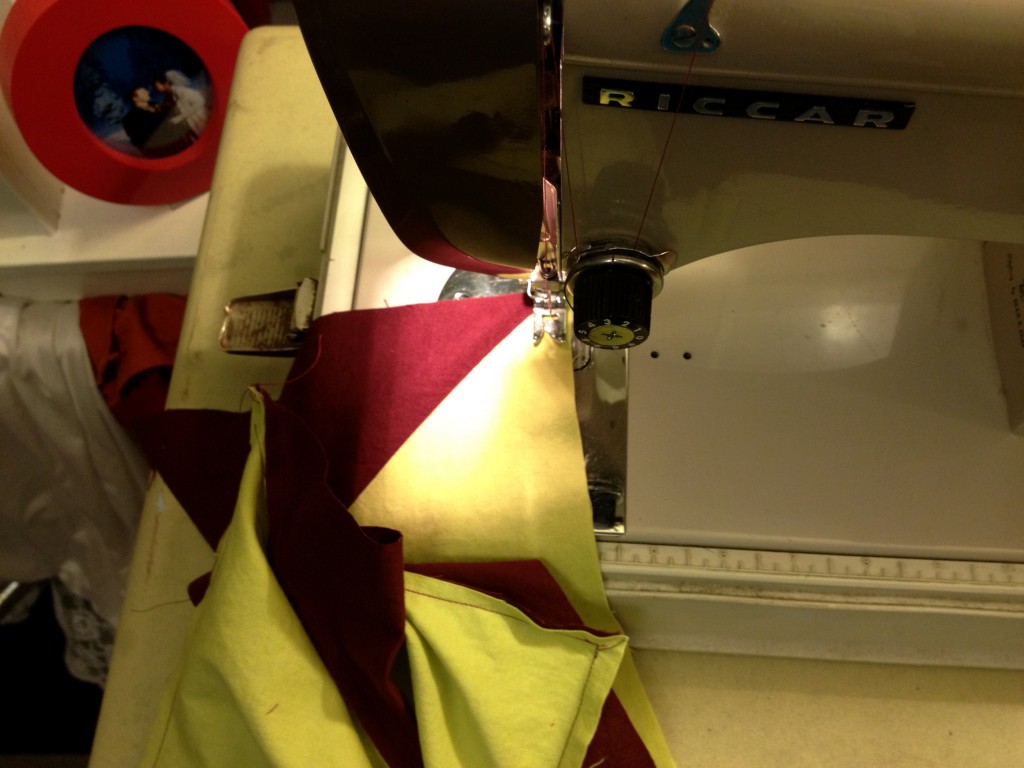 I finally finished a project that "should only take me a month or two".  A quilt that I started in November.  So yeah, that didn't work out very well… but I got it done!!! After many hours of Celebrity Apprentice, the entire Beastie Boy discography,  and "The Decline" by NOFX (punk rock quilting!)  on repeat…it is exactly what I was hoping for.  Tada!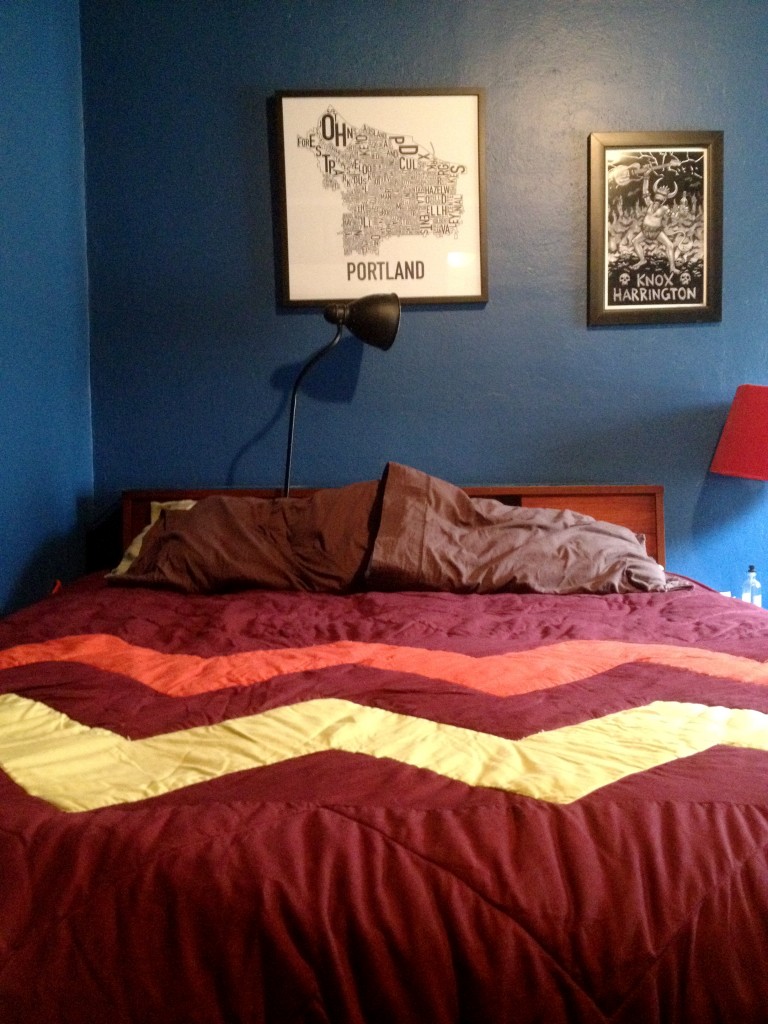 I get a lot of responses when I tell people I'm making a quilt:
"My grandmother is a huge quilter."
"My mom used to do that."
"Wow… a quilt?!??!"
Makes it feel like such an outdated, old-fashioned hobby… well you know what?  I'm bringing sexy back.  You know those bumper stickers that say "Reading is sexy"?  I'm going make one that says "quilting is sexy" because you know what you have when you're done with a quilt?  I blanket!  And blankets go on beds and beds are sexy.  Therefore, by the transitive theorem (right!??!) quilting is sexy.  (Turns out 9th grade geometry did teach me something!)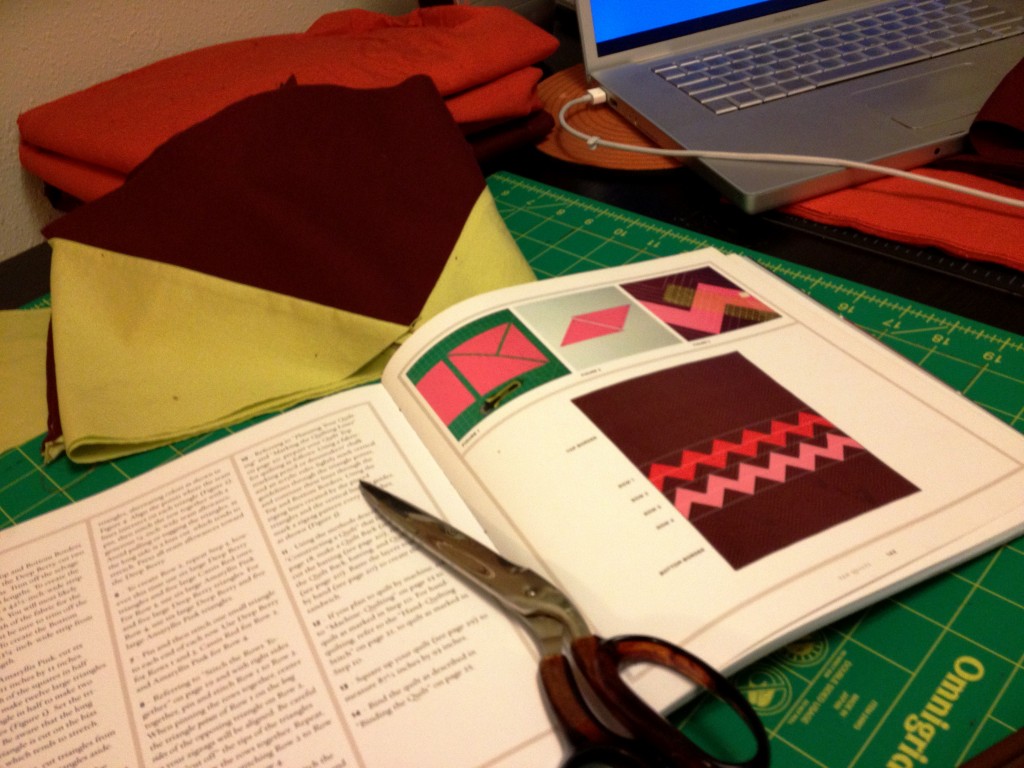 The pattern for this quilt is in book called "Denyse Schmidt Quilts: 30 Colorful Quilt and Patchwork Projects".   By quilting standards, it is pretty easy with two huge solid panels on the top and bottom, a bunch or triangles in the middle.  I machine quilted the zigzag pattern myself and did the binding by hand.  I always forget how much I love sewing things by hand, it's very therapeutic, but strange that I've never gotten into knitting.
This is going on our bed.  (Sexy!)  We have had what most would refer to as "rags" for blankets ever since we got Spike.  Puppies and nice blankets do not mix.  We lost a down comforter and three pillows to him, plus he shredded the blankets we have on the bed now. But finally he's a grown up dog, and the path of destruction is much smaller, so we can finally have nice things again.  Here's a peek at my sewing room, I can't not figure out what I'm watching on the laptop.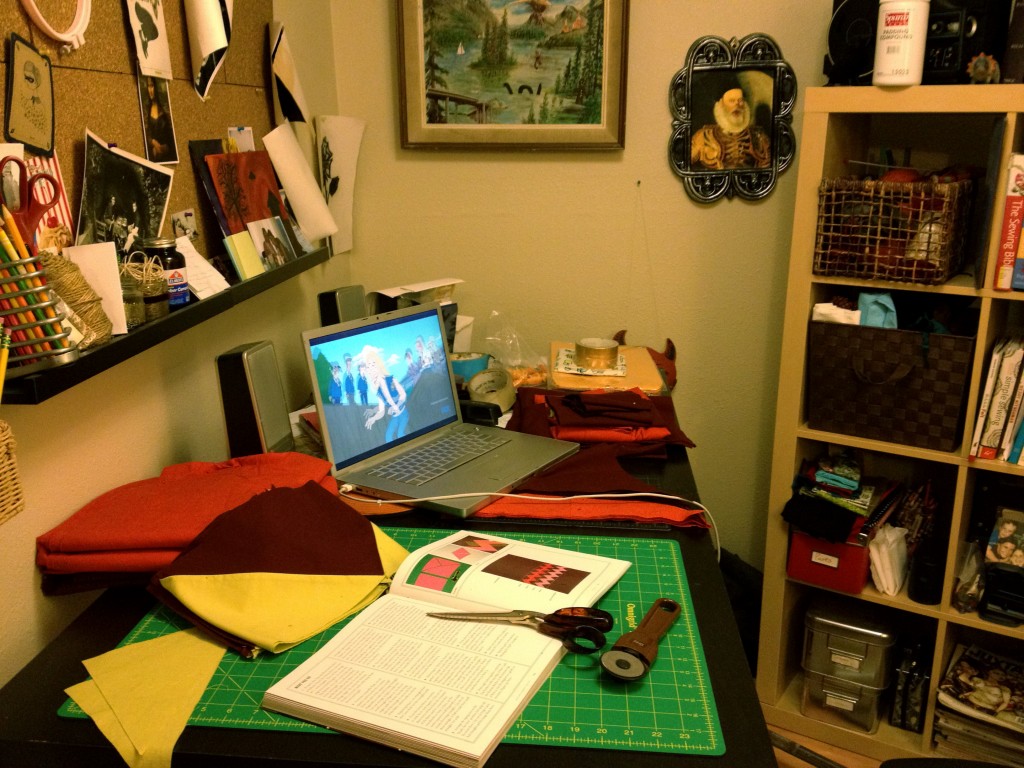 Now that this quilt project is over, I'm already thinking about the next one, but I don't think I'll start another until fall.  I'm going to try making some clothes first!  Stand by for that adventure.