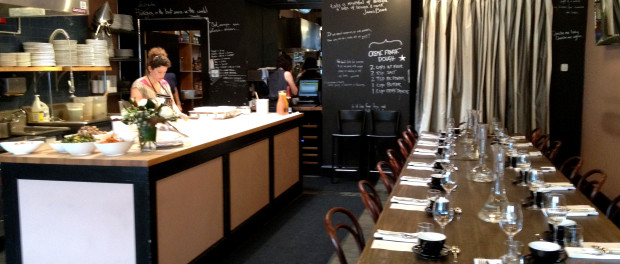 This story is about two ladies who brunch.  Two ladies who love meat and love wine.  Two ladies who decided to "treat yourself" to a meal they've been talking about for years.
As a Christmas gift for my dear friend Gloria, I made brunch reservations at Beast.  A little restaurant owned and run by Naomi Pomeroy, a Portland chef slowly becoming a celebrity with appearances on Iron Chef and Top Chef Masters. It's a "prix-fixe" restaurant, that means it's a fixed menu for a fixed price, but  you can add wine (which of course we did).  It's not a cheap meal, $68 for a six-course dinner, and $35 for a four-course brunch, but it did live up to expectations.
We went to the 10am seating.  It is family style seating so we were at a one of two large tables.  The only thing I didn't like was that our backs were to the kitchen, so we had to turn around to watch the staff prep the food.  Below are pictures of the 4 courses.  All of them were absolutely wonderful, my favorite was the pork and vegetable hash.  If you decide to "treat yourself" you should really consider doing the wine pairing.  It's expensive, but it really added to the overall experience.