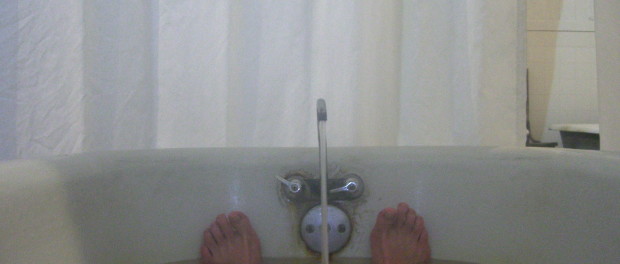 My first thought when I walked into the room I was supposed to be relaxing in: "Oh my god, I've just traveled back in time and accidentally checked myself into a Sanatorium." Except this place was not full of people stricken with consumption, it is full of bathtubs and a couple weird hippy ladies.
I was at Carson Hotsprings Spa, although I really don't feel comfortable calling it a Spa.  If you are a day spa enthusiast, who requires white towels and bathrobes, don't go here.  But it you have a little sense of adventure, don't mind a bit of a rustic experience, Carson is pretty neat.  It's been around in one form or another since 1892.
For the base price of $20, you get a 25 minute soak, and a 25 minute wrap.  There is a room full of 1910 claw-foot tubs, that are filled with water from the spring down below.  It is hot spring water, so it does smell like sulfur.  After your soak, the attendant takes you into another room where there are a line of beds, she swaddles you in sheets and blankets, then leaves you wrapped up for about 20 minutes.  It was a little weird, but ultimately relaxing.  You can add a 60 minute massage on for $60.
Carson is on the Washington side of the Columbia River Gorge.  Get there by driving to Cascade Locks, crossing the Bridge of the Gods (Toll bridge: $1 each way) and driving a short distance east to Carson.  There are signs for the springs.
OPEN: M-TH: 11AM-4PM, FRI-SAT: 9AM-5PM, SUN: 9AM-4PM
PHONE: 509-427-8292 or 1-800-607-3678